With no scheduled match this week, a few of us decided to have a knock-up out the pond. I was a bit late getting there (nothing new there then!) and there were only half a dozen of us fishing today which was a bit of a shame but with the weather still exceptionally mild for the time of year and plenty of fish topping, it was nice just to be out of the house! We decided to use peg 1, 2, 4, 18, 20 and 24 so we would be out of the wind and I was hoping to avoid the chub pegs by the bush so I could have a nice days roach fishing.
Steve P was in charge of the draw bag and when I delved into the sack there were only a couple of pegs left and I was delighted when I saw I'd drawn peg 18 which is probably my favourite peg on the pond. Scotty Russell was on peg 20 with fellow Tackleuk bagger, Ashley Tomkins, in peg 24 and he was hoping the chub would feed today. Steve was in peg 1 with Harry next door and Karl was on peg 4. I mixed up some SSP Baits Dark Silt groundbait before setting the rest of my kit up. Rigs were the usual 0.5 gram Drennan Roach for fishing on the deck at 10 metres and a little Preston Chianti for fishing shallow.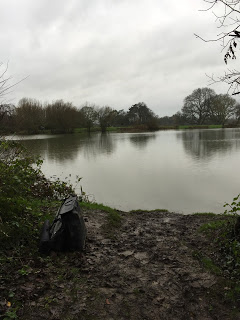 Peg 18 at Dillington
On the whistle I cupped in two balls of groundbait before starting with the deep rig with double red maggot on the hook. The rig never even had to time to settle properly as a small roach nailed the hookbait on the drop. I switched to caster but it never had time to reach the bottom and there were obviously loads of fish in the swim and intercepting the loose feed on the drop. They were mainly roach between 1-2oz although I did drop off a better one when I tried swinging it when I should have used the net and I also struck at a bite where the float was held up and hooked what felt like a better fish only for it to come off after a few seconds.
It was a fish a chuck and after half an hour I had 28 fish but no real quality so I picked up the shallow rig and started getting odd fish but my catch rate slowed right up and I only added another 8 fish to put me on 36 after an hour. I shouted up to ask how Scotty was doing and he replied that he had 26 fish so I was ahead at this early stage. The second hour saw me add another 20 fish including the odd better roach but as ever the number of missed bites was ridiculous! I tried upping the feed, altering the depth and then started changing the shotting, I tried just one dropper, then having a bulk above the hooklength and finally spreading the shot out but nothing really made that much difference.
Hurf turned up and I had quite a good spell catching a couple of clonking roach but I was still missing too many bites. I had another go with the deep rig and had a decent roach first chuck but then it was back to catching smaller roach, so I tried a grain of hemp and missed several bites on that. I even stuck on another section to fish past my feed which prompted Scotty to ask if I'd ever used that section before, cheeky git! I missed a few more bites before finally connecting with a 3oz roach so hemp wasn't the answer. *Thanks to Hurf for the photo.
I had a cracking roach while Hurf was there*
As we reached the halfway point, Scott had caught me up on numbers of fish and it was neck and neck. Neither Ash or Steve had hooked chub yet but they normally put in an appearance at some point and as they're big fish, they would only need a couple to cancel out my roach. I also started to feed a line just off some reeds to my left just to give me somewhere to rest the longer line every now and again and I had odd fish from here including a couple of small perch.
I shouted up to Scotty for an update on how he was doing and he was now on 109 fish while I was way back on 85 although he was still saying I had more quality than him even though I'd seen him net a fair few fish as well. With an hour and a half left I started catching well but I wasn't getting very many decent roach. I'd seen Ash net some decent roach but no chub as yet and Steve looked to be struggling. Scott was still bagging and even had a 4oz perch grab his caster as he shipped out so it must have been solid!
With half an hour to go I set my sights on getting to 140 fish but as the light started to fade it was a roach a chuck and on the final whistle my clicker was reading 144, Scott said he'd finished up with 189 so I knew I'd been well beaten. Harry and Steve had both packed up early and Steve had left the scales with me so I packed up and walked round to weigh Karl in, he'd had a couple of nice rudd and perch on the feeder for 1lb 12oz, then Ash had 7lb 3oz of accidental roach he'd caught whilst fishing for chub and said he wished he'd ignored the chub now.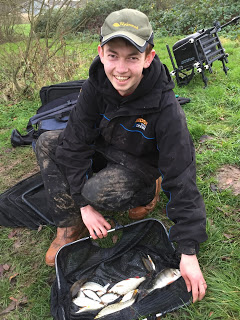 Karl had 1lb 12oz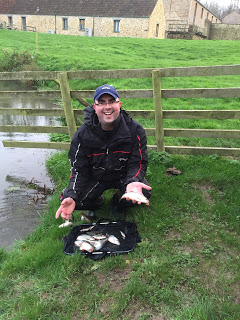 Ash had 7lb 3oz of 'accidental' roach
Then we got to Scott and he had a lovely net of fish that pulled the needle round to 16lb 13oz, he asked what I had and I said probably between 12-14lb and I was pretty close as I weighed 13lb 10oz, so with Scott and Ash in first and third, I was the meat in a Tackleuk sandwich (oo-er!) and picked up £30.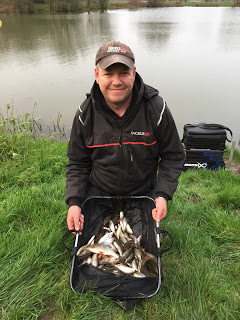 Scott had a lovely days fishing to win with 16lb 13oz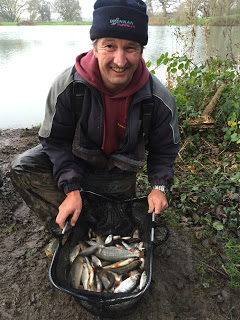 I was second with 13lb 10oz
1 – Scott Russell (Tackleuk) – 16lb 13oz
2 – Jamie Rich (Against Men and Fish) – 13lb 10oz
3 – Ashley Tomkins (Tackleuk) – 7lb 3oz
So a really nice days fishing for the last match of the year and although I'm catching loads of fish and framing, that elusive win still evades me so you'll have to come back in 2016 to see if I can get on that winners podium once again.
Next up – Hebditch's Pond
Coming soon – My yearly review
Check Out – My last match (below)
That just leaves me to thank everybody who has read (and hopefully continues to read!) my ramblings, I really do appreciate your support, feedback and kind comments. As always, if you have any great photos or news or match results, send them to me (via the contact form in the side bar) and I'll stick them on the blog. I have lots planned for next year, more interviews and reviews plus hopefully some guest blog posts (and if anybody wants to submit stories or articles please send them in).
And lastly…..
Happy New Year!