At The Big One, along with 'The Juice' the other new Bait-Tech product that stood out was the Sticky Method Pellets, Dean Barlow gave us a little demo and yes, they looked fantastic for fishing the method, something I just don't do but the more I spoke to Dean, the more I began to realise that confining their use to just fishing the method feeder was doing this great new product an injustice! Once prepared (simplicity itself but more of that later), they can be used for fishing the method but they can also formed into balls and cupped or thrown in or you could even use a groundbait punch to give you uniformly sized nuggets of pellets that can be fed via a toss pot.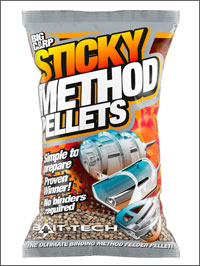 Sticky Method Pellets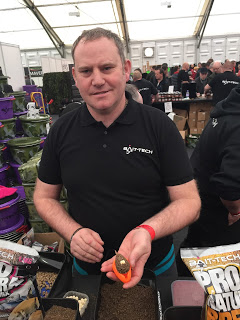 Dean gave us a great little demo
As I said earlier, preparing the pellets is so easy, even I could do it! You simply pour the required amount into a bait box, cover with water for two minutes, drain it off and let them stand for ten minutes and there you have it, perfect Sticky Pellets, ready to go!
My first outings with them proved to be very successful, the first match was in quite windy conditions and this is where the Sticky Method Pellets come into their own, we've all had those days where you go to ship out and as the pole comes off the roller, there's a slight jolt which results in no micros in your toss pot! Now with these micros you can squeeze them into a little ball and ship out with confidence. I drew an area not known for it's silvers form and managed second place on a difficult day, you can read all about it here – Summerhayes Sunday
I was back again for the midweek match and this time drew (or rather Pete drew for me) a really good silvers peg, I've had a lovely day catching skimmers and crucian carp on Bait-Tech 4mm Xpands over Sticky Method Pellets to win the silvers with 15lb 10oz, the full report can be found here – Summerhayes Wednesday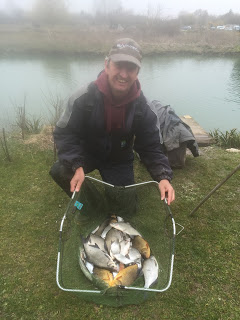 A lovely days fishing
So the early indications are very good but I think adding 'The Juice' to the water before you prepare the pellets might make them even better! I will keep you updated……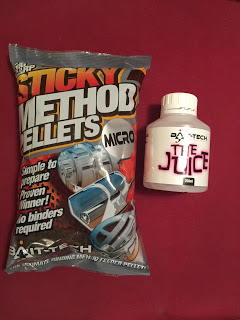 The perfect partnership?
Coming soon – Look out for my reviews of 'The Juice' and Ringers Spring Loaded Bait Punches coming soon.
*Bait-Tech sent me this product for free in exchange for an honest review. All opinions contained in this post are my own.