As I had a week off work, I thought it would be rude not to fish my first mid week match for ages and I was in a really good mood, that was until I received a text from the Torquay Tart informing me he was fishing today, he knows how to ruin someone's day! I was up in plenty of time but got stuck in the same traffic I get stuck in everyday on my way to work! I phoned Pete and asked if he could draw my peg for me and when I eventually arrived at the fishery he gave me the good news I was on peg 18 which was next door to where Adie had won the silvers on Sunday, that'll do, can you draw for me every week please Pete?
Although we'd had frost overnight, the sun was out and it was looking like being a nice day, I collected a couple of nets and drove down to the other end of the lake, I had to pass the Tart who was on his usual flier, peg 29, and we agreed to have a pound on silvers and a pound on carp. My nearest neighbours were Bill Hopping on my right and Martin Addicot on my left, both were several pegs away so we all had loads of room.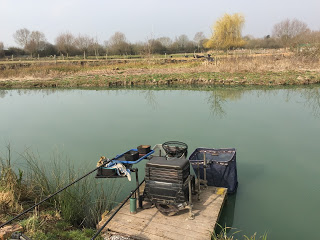 Peg 18 on Longs, thanks Pete!
Being a bit pushed for time I quickly assembled the same two rigs I used on Sunday, a 10 x 11 MW F1 Slim for soft pellet and a 0.4 gram Malman Pencil for fishing banded pellet (not used again) and mixed up some Thatchers groundbait (50:50 natural and dark). Also on the side tray were some Bait-Tech 4mm Xpands and some of the new Sticky Method Pellets, which I'm already very impressed with. I was just about ready when the Tart brought down a cup of coffee for me, maybe he's not so bad after all (although I was still half expecting to find some maggots or chopped worms in the bottom of the mug!).
Pete shouted the all in and I fed three lines at 10 metres, one on the right with a ball of groundbait, the one straight out with quarter of a cup of micros and one to the left with half a pot, a few micros were also deposited on the 5 metre line. I started in the middle of the longer lines and was a little surprised, when after 15 minutes, I still hadn't had a bite! The Tart had already netted a couple of fish and made sure I knew by coughing very loudly every time he did so! I went over the groundbait line and finally had a bite, which of course I missed, I then had a small blade of 2oz or so before catching two slightly better skimbobs around the 4oz mark. I switched back to the middle line but still no bites so it was then onto the left hand line, the float buried and things got better when I slipped the net under a 6oz skimmer. It was short lived though and over the next half an hour, I only added a few small fish from the left and right hand lines.
The Tart was still catching well and it was looking like I might have to borrow his tube of Savlon today! Martin was struggling and Bill had landed a couple of early fish but was now searching around for bites. My first bite off the middle line was a 3lb carp which wasn't the result I wanted and after two hours I hadn't got 2lb of silvers yet! Also after a nice sunny start, the temperature had dropped a few degrees and I had to put my fleece back on. Then out of the blue I've had a decent 8oz skimmer off the middle line, then one of a pound or so and then a flier of the same size and unlike Sunday, this one stayed on the hook and I'd doubled my weight with three fish!
I had a quick look on the other two longer lines which just resulted in the odd small skimbob and tiny roach, back on the main line and a good bite saw a fair bit of blue hydro come jagging out of the pole tip, it didn't feel like a carp and I was really happy when a lovely crucian popped up, things got even better next chuck when it's identical twin joined the party and my silvers total was now around 5-6lb. Another decent skimmer followed and then more blades, much like Sunday, after a couple of fish, it paid to rest the main swim and have a look somewhere else for ten minutes before returning.
Martin landed a nice skimmer and the Tart was still dong well judging by all the coughing! I'd been feeding the 5 metre line all match but when I tried it, the result was just more small fish and I think it needs to warm up a bit before this line comes good. Two more lovely crucians came from the middle line and I was really starting to enjoy myself, I was getting the odd 4-6oz skimmer as well as blades. Martin shouted and when I looked down he had a huge eel in his landing net and as he'd had a couple of decent skimmers and a tench, he was putting a good weight of silvers together as well.
Going into the last hour I was still getting the odd better skimmer and I'd landed a couple of nuisance carp as well and I was just thinking how I hadn't lost a fish all day when I've hooked a carp and as I was bullying it, the hook pulled out, oh well, never mind. Next chuck the rig didn't even settle before the float disappeared and as soon as I struck I knew I'd foul hooked a decent skimmer, I shipped back very carefully and got down to the top kit before the poxy hook pulled out! I went out again and hooked another carp which I gave a bit too much stick and the hooklength gave way. After putting another hook on, I had one more small skimbob before the final whistle. My final tally was 33 skimmers, 4 crucians and 3 carp plus a few small roach which I didn't count.
I packed up and we caught up with the scales as they reached Chris Boulton and he went into the silvers lead with 8lb of motherless minnows! Bill had 50lb of carp to go into the overall lead and then it was turn, my three carp went 11lb 6oz and then my silvers went a bit more than I'd thought when Adie called out 15lb 10oz. Martin was next and his silvers went 8lb 12oz and the eel had to be 3lb+, I tried getting a photo but both the eel and Martin were rather camera shy! The Tart had done well when he weighed 64lb 12oz but as he only weighed 14oz of silvers, it was all square on the side bets.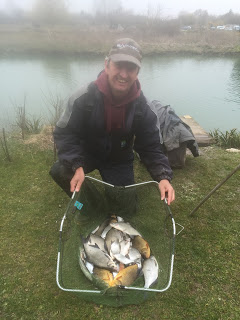 I had a lovely day catching 15lb 10oz of skimmers and crucians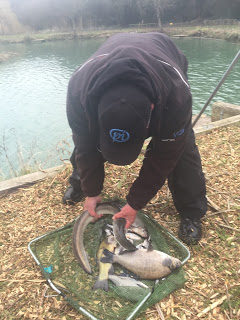 Snake charmer Martin Addicot!
Gary Sparks had a nice net of silvers weighing 12lb odd from peg 33 and then Andy Hembrow pushed the Tart into second place with 71lb+ from peg 36. Back at the results Pete confirmed I'd won the silvers and I picked up £26 to finish off a really nice day.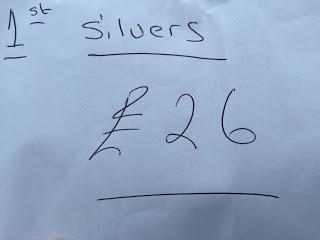 My first silvers win of the year
1 – Andy Hembrow (Taunton) – 71lb+
2 – Brendon Ions (Tackle Trader) – 64lb 12oz
Silvers
1 – Jamie Rich (Against Men and Fish) – 15lb 10oz
2 – Gary Sparks (Summerhayes) – 12lb+
Next up – Hebditch's Pond
Coming soon – Latest Bait-Tech and Ringers reviews
Check Out – My last match (below)