As always I was really looking forward to the Big One as it's a chance to see what's new on the tackle and bait scene as well as getting to catch up with some friends I don't get to see nearly enough. Hurf came along to keep me company once again. First stop was the Gillhams stand and with Stuart and Sean away on a fishing trip, I finally got to meet Dean and Jenni Handley who were helping out on the stand. I'd never met them before but felt like I'd known them for ages through their Facebook posts and what a lovely couple, they're off to Gillhams on Thursday and I look forward to seeing their photos, good luck guys! Website –
Gillhams Fishing Resort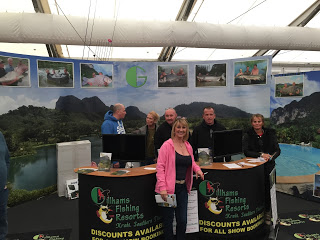 The Gillhams stand with the lovely Jenni in pink and Dean just behind
Then we headed to the Bait-Tech stand, and what a stand it was!, I think this was the first time they were exhibiting and as you'd expect from such a professional brand, it certainly looked the business and was manned by a host of big stars including Andy Neal, Dean Barlow and Dickie Carr to name a few. The lovely Hayley showed me all the new products and the two I'm really excited about are the new Sticky Method Pellets and the additive/glug The Juice. Website – Bait-Tech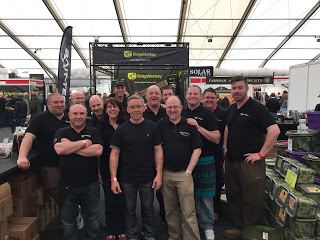 The Bait-Tech crew, what a lovely bunch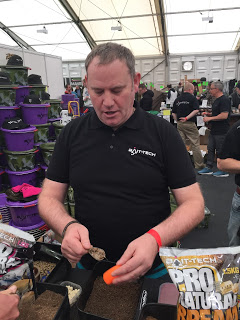 Dean giving us a demo of the new Sticky Method Pellets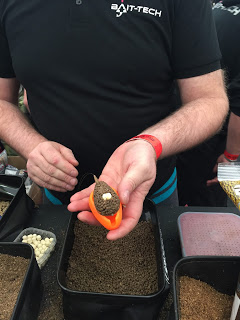 The finished product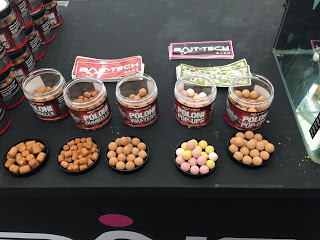 The Poloni hook bait range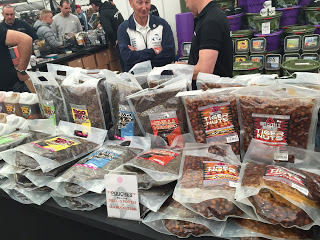 Bait-Tech particles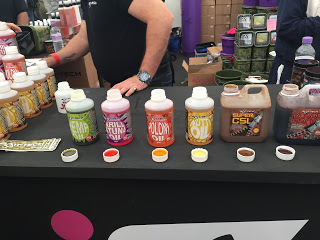 Oils and liquids
Andy Neal is a big fan of The Juice
Dean gave us a little demo of the Sticky Pellets and initially I thought they're a great idea but I wasn't sure I'd use them much as I don't fish the method but after chatting to Dean and having a look, there are many more applications than just the method, you can mould them into small balls for feeding via a pole cup or even by hand or you could use a groundbait punch to get identical size nuggets every time. The Juice looks and smells great and there's been loads of hype around it and I can't wait to try both of these exciting new products. We also had a long chat with Bait-Tech and Matrix backed Jamie Harrison, what a lovely guy and hopefully the next interview on the blog.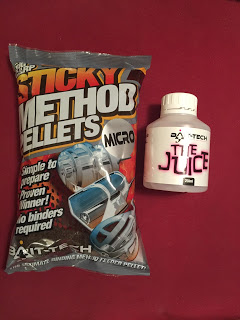 I can't wait to try these out
Other big brands included Daiwa, Guru and Garbolino and for the second year running, we tried to have a chat with Des Shipp on the Preston stand but he's so popular, we couldn't get near him, maybe next year!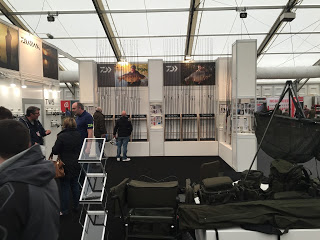 Daiwa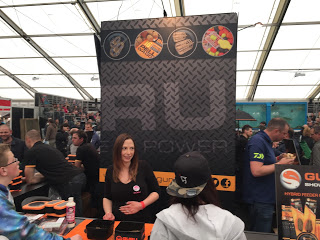 The Guru stand was very popular as always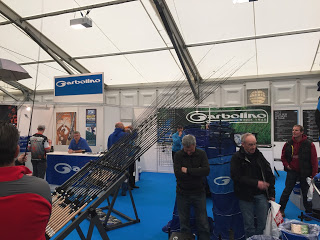 Garbolino
We also stopped and had a chat with Dave Harrell and I picked up some lovely bodied floats which look spot on for the Isle (although I'll have to wait until October now to put them through their paces!). Website – Dave Harrell Angling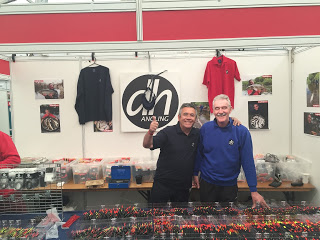 Dave Harrell and floats galore!
The DH13 pattern looks perfect for rivers
The SSP Baits stand looked great and I had a lovely chat with Mark Hoye and Kevin Stacks about their innovative bait range derived from the sports nutrition industry. Website – SSP Baits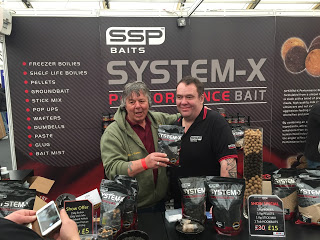 SSP Baits
Phil Ringer was demonstrating the new Ringers Spring Loaded Bait Punch and Chocolate Orange Wafters. The bait punch looks a great piece of kit, they're strong and robust, brightly coloured, float, can be used for bread and meat. Each pack contains a 8mm and 11mm punch and retails for £6.99, look out for my full review coming soon.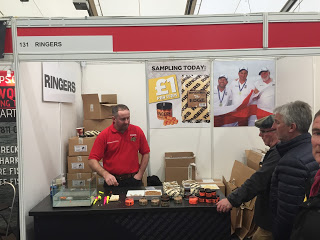 Phil Ringer had some great new products on display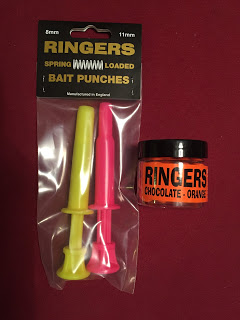 Ringers Spring Loaded Bait Punches and Chocolate Orange Wafters
So another great show and it just seems to get bigger and better every year. If you're going tomorrow, have a great day or if you've never been, make sure you go next year, you won't be disappointed.