Back in February last year, Kitshack contacted me to ask if I'd review one of their Polar Buffs from the new Anglers Collection, if you didn't see it at the time, you can find it here –
Polar Buff Review
I was very impressed with it and at The Big One at Farnborough in March I visited the Buff stand and said I'd love to take one of their UV Insect Shield Buffs to Thailand with me on my next visit. I contacted them just before my latest trip and they said to choose one from the website, I picked one with a rather appropriate scales pattern and it arrived a couple of days later. *Since I've got back the scales pattern doesn't seem to part of the range anymore but there are still some great designs, have a look –
Kitshack Website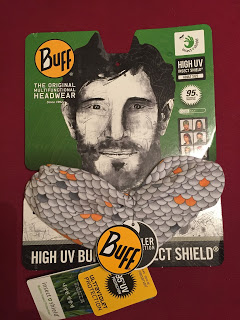 Great pattern!
According to the website, the UV Angler Insect Shield Buff is 'Based on High UV Protection Buff® (so it offers at least 95% protection from harmful UV rays). Insect Shield Buff® has been impregnated with a special long lasting, effective, odourless and convenient form of insect repellent. Effective for at least 70 washes against mosquitoes, ticks, ants, flies, fleas, chiggers and midges.' so it sounded just ideal for Thailand where there are obviously loads of mosquitos that are rather partial to munching on some lily white English flesh! They can be a real pain when you fish into dark and especially when using a head torch as they seem hell bent on getting you to swallow them!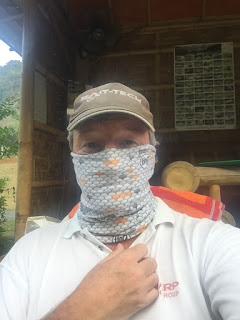 Worn like a mask it protects your nose, ears and neck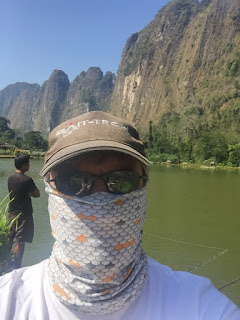 Fully Buff-ed up, worn in conjunction with shades and a baseball cap
My first day at the lovely Exotic Fishing Thailand in Phang Nga and it was hot, very hot, for most of the morning you are sheltered from the heat by the sala but as the sun moves round there is no escape until it starts to go down behind the impressive mountains that overlook the fishery. It was during these periods that I found the UV Protection properties of the Buff indispensable, there are many wears to wear a Buff but just wearing it around your neck protects the vulnerable back of your neck or pulled up over your nose and used in conjunction with a baseball cap and sunglasses, your head, face and neck are fully protected.
Protected in the heat of the day (please ignore the lily white legs!)
I caught lots of fish at EFT with the last half an hour as it got dark, particularly productive. You can read more about the trip here – Thailand Trip and during this period, I would wear my Buff over my mouth and I can honestly say I didn't have any problems with mozzies or any other bugs, I was a little worried that there might be a strong insect repellent smell that would become cloying after a while but this wasn't the case at all. So yet another great product from Buff and it's amazing how much protection you can get from one piece of material, my head was fine but despite using an insect repellent spray, the mosquitos had a field day on my legs! It's a shame they don't make leg Buffs!
The UV Angler Insect Shield Buff retails for £22.00, of course if none of the Angler designs are to your taste, there are some more in the Adult Headwear UV Insect Shield section.
*Buff sent me this product for free in exchange for an honest review. All opinions contained in this post are my own.