With no scheduled match this week we decided to have a little knock up on the river as it would be our last chance before the season ended. We also wanted to have a look at some different swims and five of us met at Coxes before deciding on going to have a look at the Horlicks stretch which I haven't fished for many years. It had changed a lot but there were several nice looking swims in the first field, we decided to try the old pegs 22, 21 and 19 and then, so there weren't any mega walks, pegs 14 and 15 at Coxes.
I pulled out 21 which used to be a great chub peg and although shallow you could often see the fish swimming about. There was plenty of cover and I really fancied I'd get a few today, Harry drew 19 and Steve P was above me on 22 which left Bruce and Hurf on pegs 14 and 15. We'd had another frost overnight which was a bit of a shock to the system after Thailand although it was looking like the weather was going to be glorious today, not so great for the fishing but nice for the anglers.
As I was setting up, the sun came out and the river was a lot lower and clearer than I'd originally thought, I hadn't seen any fish moving but still thought I'd catch fishing against the cover. I plumbed up and only had around twelve inches of depth plus the flow was a lot pacier than I'd expected and my one gram rig wasn't man enough so I set up a 1.5 gram Drennan Carbo (yes, Old Faithful was back!) which sat a lot better in the flow.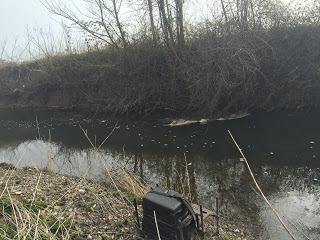 Looks nice doesn't it?
On the whistle I started with the hook buried in a single caster and expected to catch quite quickly but it didn't happen, I then held back against the cover but still no indications, I tried further down the swim, against the far side at 13 metres but nothing. After an hour I was still blanking, Steve above me had only caught a couple of minnows and quick phone call to Hurf revealed he was struggling too with just a couple of tiny chublets plus some minnows. I just kept feeding casters and hemp and trying different areas hoping a couple of chub might show later on. I must admit I was surprised we hadn't caught some small chublets and dace but several frosts followed by a bright and sunny day probably hadn't done us any favours.
After two hours I still hadn't had a bite and Harry walked up and he hadn't either, we sat behind Steve for a while and watched him catch a few more minnows but it was almost like the whole stretch was devoid of fish. Hurf phoned again and said he was still struggling as was Bruce, so it wasn't just us. Another hour passed and Harry decided he'd had enough and to be honest if I hadn't had the scales and the pools money in my wallet, I might have followed him! It wouldn't take a lot to win today so I carried on in the hope I might snare a late chub. I won't drag this out any longer than necessary and you can probably guess that I didn't catch and after the highs of Thailand, I was back to Earth with a resounding bump!
To rub salt into my wounds, Steve gave me a whooping when he weighed 3oz of minnows and took great delight in taking a pound off me. The others got back and Bruce had done well to catch 4lb 2oz of small fish for an easy victory with Hurf only needing 9oz to take second spot. Thanks to Hurf for the photo*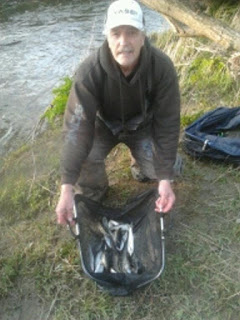 Bruce did well on a tough day to win with 4lb 2oz*
1 – Bruce Hunt (Tiverton) – 4lb 2oz
2 – Steve Hurford (Ilminster) – 9oz
Next up – The Big One
Coming soon – My latest Buff review and next Pondip article
Check Out – My trip to Thailand (below)