After a really stressful time of it for the last ten months, I really needed a holiday and of course Thailand would be the destination. It was all a bit last minute but I really wanted to do some fishing and managed to book four days at Exotic Fishing Thailand in Phang Na, a new venue for me. I arrived at Phuket airport and a taxi took me to the hotel to freshen up before going to have a look at the lake which is set in a stunning location beneath an imposing mountain. Lots of fish could be seen topping and several were landed while I was there and I couldn't wait to get started the next day.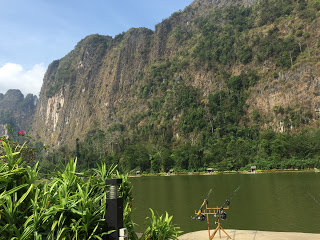 EFT is set in a stunning location
The first day saw me pull out of a couple of fish before finally opening my account with a 15lb Asian redtail catfish, a 44lb Siamese carp followed and then as it started to get dark I lost an arapaima near the cage before catching two Amazon redtail catfish. Had a nice meal and a few beers in the restaurant before heading back to the hotel.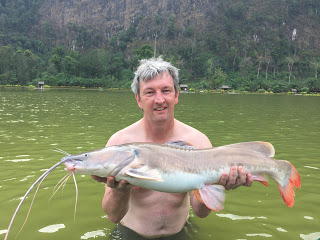 First fish of the trip, 15lb Asian redtail catfish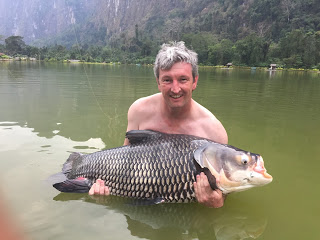 44lb Siamese carp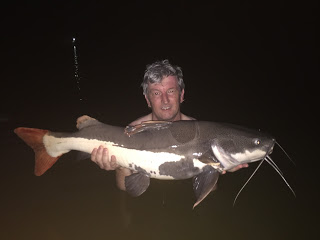 20lb Amazon redtail catfish
The next day I had a couple more Siamese carp of 37lb and 26lb plus a new species in the shape of a 14lb albino pacu, two more pacu followed including a new personal best of 20lb before I hooked a fish that tore off so fast I couldn't keep up and several times I thought I'd lost it before the guide slipped the net under a lovely Chao Phraya catfish of 55lb, another new species. I also hooked a big alligator gar on a piece of chicken that was nearly at the net when it shook its head and threw the hook! Had a good night out in Phang Nga at some Thai karaoke bars.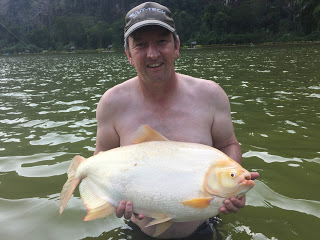 14lb albino pacu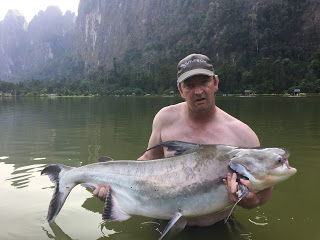 55lb Chao Phraya catfish (new species for me)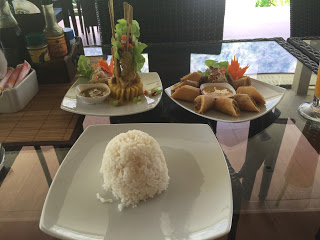 Another lovely meal in the restaurant
It's worth talking a little bit about the some of the rigs used which were new to me, alongside the usual pellet and fish/predator rigs, there is a float method feeder and a cage feeder. Both have a ball of laam (rice powder) moulded around the feeder and the float rig has a pellet hookbait while the bottom rig just has three poly balls threaded on the hook. The fish then attack the ball of laam and suck in the hook, clever eh? Similarly with the float, lots of bait fish attack the laam and predators smash into the small fish so along with carp and pacu, lots of fish like snakeheads and catfish get caught on it!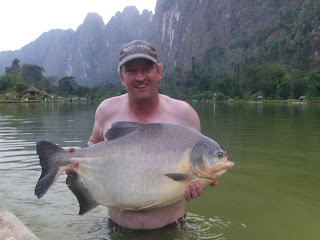 20lb pacu caught on the float
Day three was a little quieter and I had a redtail of 15lb and lost a fish but as darkness fell I had a lovely 25lb Tiger Shovelnose catfish which was one of the fish on my wish list. Then, all too soon, the last days fishing arrived and the action started with another albino pacu but then needing a toilet break I left the guide in charge of the rods and on my return, he had a fish in the net and it only turned out to be a Niger/Ripsaw catfish which was one of the fish I really wanted but as I didn't catch it, I didn't get a photo, it was still nice to see one in the flesh, awesome fish.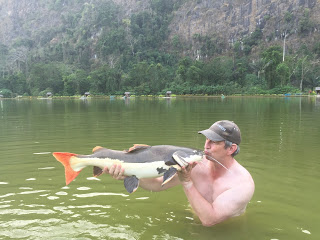 I love Amazon redtail catfish!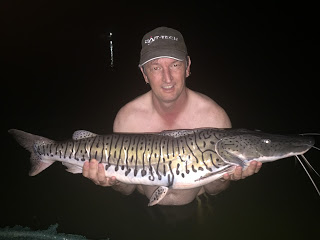 Stunning Tiger Shovelnose catfish
Then I hooked a fish that neither myself or the guide were sure about but it turned out to be a Salween Rita catfish, a very rare one and more than made up for missing out on the Ripsaw. I had a big Asian redtail of 33lb which was a new pb, another Siamese of 35lb on the float and then literally with five minutes to go until the all out at 19:00, the rod with a piece of chicken under a bubble float screamed off and during the fight, I had no idea what it was until it surfaced close in and it was a good sized arapaima, finally caged, it was estimated at 120lb and you couldn't have scripted a better end to my four days of fishing. Not the biggest 'arry I've ever caught but it maintains my record of catching one every trip during my seven visits to Thailand. I ended up with 17 fish of 9 different species and had a great time, if you fancy it, check out the website at Exotic Fishing Thailand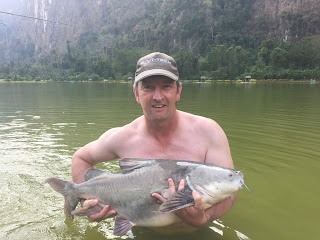 I was very happy with this 17lb Salween Rita catfish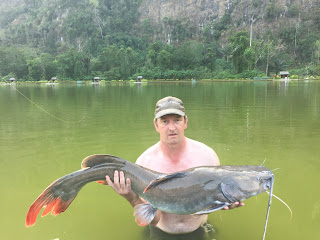 33lb Asian redtail catfish (a new pb)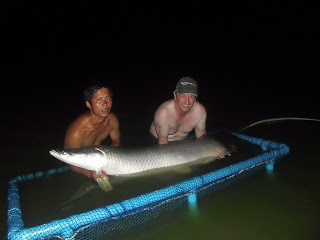 120lb arapaima, a fantastic fish to finish off my four days at EFT
Then it was off to Ao Nang for five days of relaxing, eating and drinking and it was lovely to catch up with Steve Mayo, Tony Wynnick and Richie Hull too. Had some lovely meals, a great massage and plenty of Tiger Lite beer and we even headed to a shooting range which was good fun, before heading back to reality. Best start saving for the next one!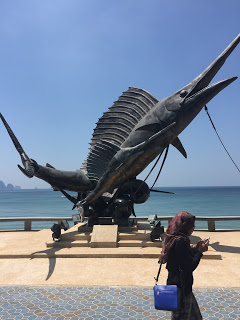 Ao Nang beach front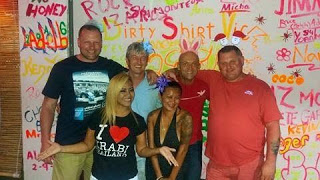 Me with Richie, Steve, Tony and the Crazy Bar girls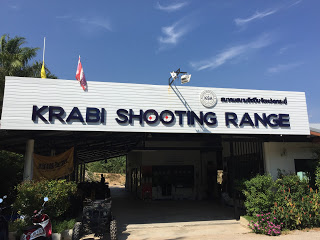 Krabi shooting range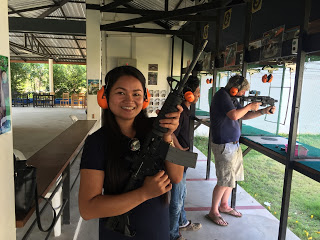 Good fun!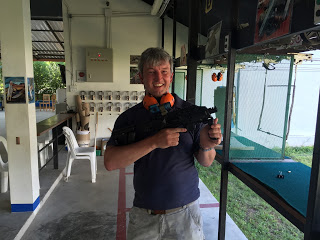 Me with a machine gun
Next up – River Isle
Coming soon – My latest Buff review and next Pondip article
Check Out – My last match below