Over the years we've used several venues in a variety of combinations for Barney's Pairs Match and this year we were using a new one, Hebditchs's pond for one section along with Dillington for the other. I was a little disappointed we weren't using the river as Barney used to love the Isle but both venues have been fishing well and everybody should get plenty of bites.I got to the pub in plenty of time for the draw and had one of Cindy's excellent breakfasts which set me up for the day. Amongst the 22 anglers fishing today there were some new faces and it was lovely to see Simon Garbutt from Taunton who was fishing with Scott Jackson (who had a lovely new hat on!) and Alex Murray from Yeovil who was Ash's partner today. Along with the entry fee, Rob was also running a superpools with the winner of each lake picking up the pot. There would be two sections on each lake with six anglers in the first section and five in the other.
Rob announced the draw and one person from each pair had to go up and as Justin hadn't arrived yet, that responsibility fell to me! I pulled out peg 10 at Dillington for him which isn't great and then peg 4 at Harry's for me, I thought I was one away from the reed peg fliers but Steve P said I was where Fieldy had won the last match with 80lb odd and I hoped he was right! Rob had drawn two great pegs for him and Leighton, peg 14 where I won at Dillington two weeks ago and Rob was on peg 5 again, he was second off it with 56lb the last time we were here and was asking Harry if he could get Wi-Fi installed here as well!
After a short drive, we arrived at Harry's and I was delighted when I saw I was on the same peg where Fieldy had won and it's a great peg that wins more than it's fair share so the pressure was on! In the last match I'd spent too long trying to catch short and was blanking until I started a new line at 10 metres so I wouldn't be making that mistake again. I set up a 0.5 gram Drennan Carp float with a 0.12mm bottom and size 16 B911 for the long line and another to fish at 5 metres at an angle to my left. I attached Frenzee Soft Pots to both top kits so I could feed small amounts of bait regularly. On my side tray I had corn, maggots and some 2mm SSP Dark Silt micros that I soaked and added a squirt of Marukyu Bloodworm Boost Juice.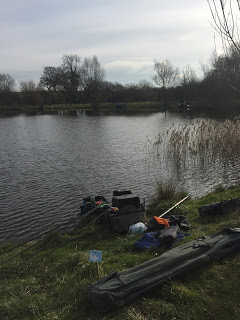 Peg 4 at Harrys, a flier!
On the whistle I cupped in some micros, maggots and corn on both lines before starting with corn on the hook, after several frosts and a really cold wind blowing across the pond I thought it might be hard to begin with but after a few minutes the float slid away and carp number one, around 2lb, was safely netted. I had a bite a chuck for the first hour and put twelve carp between 8oz and 3lb in the net, Alex over on peg 13 was catching well, Simon on my left had netted a couple and it sounded like Rob was getting a few as well.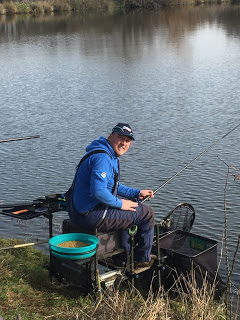 Simon was getting a few on peg 3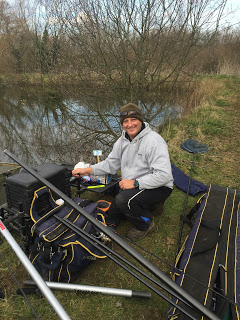 Alex was catching well in peg 13
Going into the second hour I had a couple more but was having to wait longer and longer for bites, so I decided to cup some more feed in and have a quick look on the five metre line while that settled. No indications so I went back on the longer line and the float buried straight away with carp number fifteen, I was just thinking how well it was all going when I shipped back out and the float just sat there! The next half an hour passed with no more bites and Simon said he wasn't getting indications now either, Rob was still getting odd fish and overtook me but looking round the pond nobody seemed to be bagging so no need to panic just yet.
Just as the second hour was drawing to a close I had my first carp in ages and then had quite a good spell, adding another eight carp before things slowed again and I decided to feed another line at 10 metres but at an angle to my left where I would feed small amounts via a toss pot. To be honest this didn't work and I never had a bite there but resting my main line seemed to work because when I went back over it I would get a flurry of fish and I added a further eight over the next sixty minutes.
I also tried double red maggot and caught quite well but then two rudd in two chucks saw me switch back to corn and with an hour to go I was up to thirty nine carp and had no clue what weight I had as some of the carp were very small. I carried on catching quite well and added another eight carp in the last hour, I'd just landed a fish and had a quick check of my watch which showed there were still five minutes to go, I went to ship out only to find out I'd hooked the bottom of my keepnet, still, not to worry, I pulled my net out and removed the hook, rebaited and dropped the rig in while I put the net back in, only to find I'd hooked the bottom of my other net! Eventually I shipped back out, lowered the rig in and Rob blew the whistle to end the match – doh!
I wasn't too upset to hear the whistle as I was freezing cold, I packed up before going to watch the weigh in, Tony Newman had 6lb from peg 1, Steve P had 22lb 13oz before Simon had 19lb and then it was my turn and after three weighs, my 47 carp went 69lb 4oz, Rob was next and saying he didn't have anywhere near that but still had 46lb 12oz, Frank had 7lb so I'd won my section and when Alex had the top weight on the other side with 53lb 7oz, I was the top weight on the lake but by all accounts Justin had struggled out the pond. Thanks to Harry Hebditch for the photos*.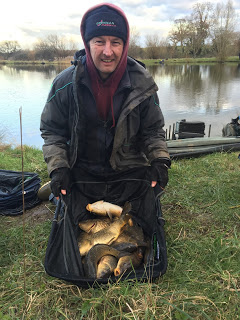 Me with part of my 69lb 4oz (and yes I was cold!)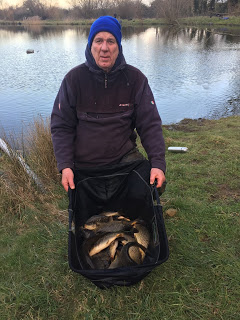 Rob had 46lb 12oz from peg 5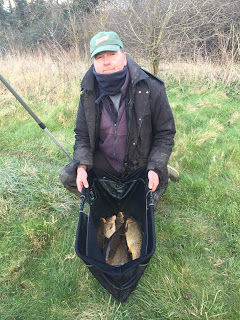 Heardy was second in his section with 23lb 8oz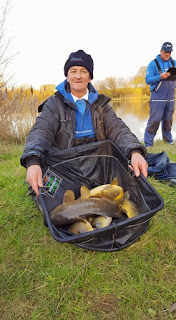 Steve P had some nice carp for 22lb 13oz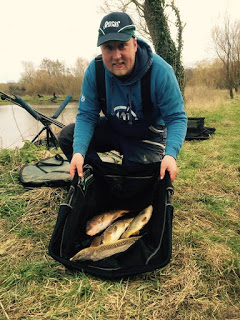 Simon had 19lb from peg 3*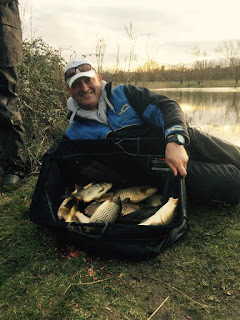 Alex won his section and was second on the lake with 53lb 7oz*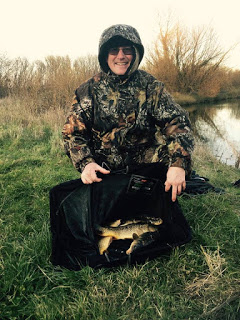 Tony had 6lb from peg 1*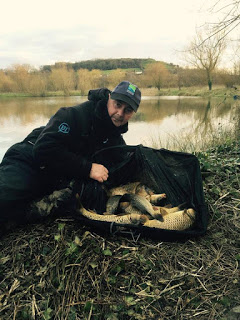 Trevor had 11lb 13oz from peg 15*
Back at the results, we all had chip butties while the results were worked out, Ash had the top weight out the pond with 11lb 15oz from peg 6 so him and Alex would win with a perfect two point score, Bruce had won the other section at Dillington with 10lb 14oz so him and Heardy had three points and second place but it was looking like there were several pairs on six points including us (as Justin had struggled for 6lb 7oz and five points) and when it went to weight we got the verdict and picked up £35 each, I also had £55 from the superpool so a very nice day! Thanks to Scott Jackson* and Steve Hurford** for the photos.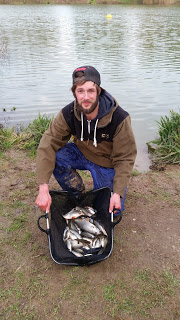 Jake had 7lb 5oz from peg 24 at Dillington*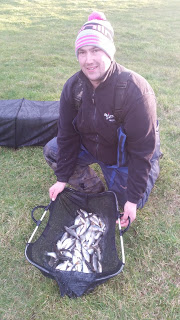 Scott Jackson did well again, this time with 10lb 6oz of roach from peg 24 (and check out that hat!)*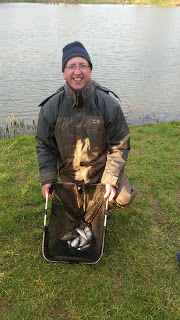 Andy Welch had 2lb 2oz from peg 20*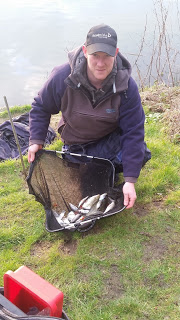 Leighton had 4lb 11oz from peg 14*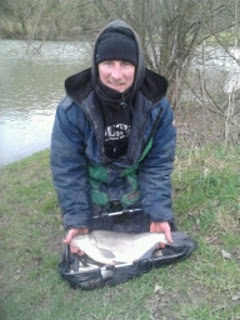 Hurf had 9lb 7oz which included a cracking bream**
Hebditch's Pond
1 – Jamie Rich (Against Men and Fish) – 69lb 4oz
2 – Alex Murray (Sign Solutions) – 53lb 7oz
3 – Rob Cox (Ilminster) – 46lb 12oz
Dillington
1 – Ashley Tomkins (Tackleuk) – 11lb 15oz
2 – Bruce Hunt (Tiverton) – 10lb 14oz
3 – Scott Jackson (Ilminster) – 10lb 6oz
Pairs
1 – Alex Murray and Ashley Tomkins – 2 pts
2 – Martin Heard and Bruce Hunt – 3 pts
3 – Jamie Rich and Justin Charles  – 6 pts (on weight)
So a massive thanks once again to Harry for letting us use his pond, Steve and Cindy at the Royal Oak, Ilminster for looking after us, Rob for organising it and last but not least huge thanks to all the anglers who raised £110 for Harry's charity of choice, The British Heart Foundation.
Well this will be my last blog for a little while as I fly out to Thailand tomorrow for two weeks, after a really horrible, stressful ten months I'm really looking forward to some sun, plenty of relaxing and a few beers, oh and I've got four days fishing booked at a new venue so I'll try and post some photos on the Facebook page and then will post a full report when I get back.
https://www.facebook.com/Against-Men-and-Fish-329159217119993/
I get back on the 11th March and hopefully on the Sunday we're going to have a knock up on the river or out the pond.
Next up – Thailand!!!
Coming soon – My latest reviews and next Pondip article
Check Out – My last match below