I always get quite excited when Bait-Tech launches a new product but for 2016 one product in particular was creating a buzz and, if you'll excuse the pun, really getting my juices flowing! I first became aware of this rather secretive new liquid through Andy Neal's excellent match reports and write ups on the Bait-Tech website. He was using it all over the place, on his maggots, bread, corn, putting it in the water to pump his expanders, soaking his micros and probably even dabbing it behind his ears before a big night out!Now obviously Andy is heavily involved with Bait-Tech and you would expect him to be promoting and pushing this new product but they already have a fantastic selection of liquids in their portfolio, including the brilliant Predator Plus and Krill and Tuna, so what's so special about this one? The early pictures in Andy's reports of a simple white bottle with 'The Juice' written on it in black marker pen just added to the intrigue.
After what seemed like an age, Bait-Tech finally announced it's release and even the finalised packaging was very different to all their previous products. This is what Andy says about it "I've used The Juice exclusively all winter! I've soaked pellets in it, pumped Xpands, covered bread, dowsed maggots and glugged every other bait I've used. I had the best winters fishing I can remember, I seem to catch everywhere I went. I've tried to overdo it…..put too much on, I couldn't, one thing is certain, it doesn't put them off! This now goes everywhere with me!"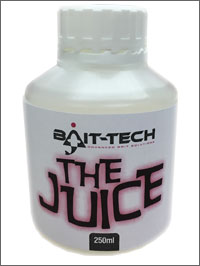 Even the description of 'The Juice' on the website (below), is rather minimalistic and the air of mystery continues, I had to get hold of some!
This Sweet Glug can be used anywhere and on anything.
Available in 250ml bottles.
Sweet success is waiting for you
Versatile use – use on everything
Glug pellets & boilies
The chance to get my hands on the 'The Juice' arrived when I went to The Big One with Steve Hurford and we headed to the very impressive Bait-Tech stand where the lovely MD of Bait-Tech, Hayley, showed me all the new products on display, they all looked and smelt great but if I'm honest I couldn't really remember too much about them, as all I could focus on were the white bottles I could see further along the stand where Andy Neal stood behind them like a modern day guardian of the Holy Grail (in pink!).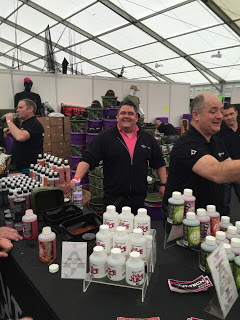 Andy Neal, guardian of  'The Juice'
Finally we reached them and Hayley took the top off a bottle for me to smell and it has a heavenly sweet smell, I can't really be more descriptive than that, it doesn't smell like anything I can readily describe, it's just very sweet! It's also colourless and has very thick, syrupy consistency, ideal for coating hookbaits and using as a glug.
Now I just had to try it out……
For my next match, I prepared some 4mm Xpands by adding some of 'The Juice' to the water for pumping the pellets. On a rather tough day I managed third place in the silvers with 9lb 3oz of skimmers, roach and tench. You can read the full report here – The Juice's first outing for me.
Now I would like to report that ever since it's virgin outing, I've been catching loads of fish using 'The Juice' and winning money hand over fist but that's not been the case. I have always strived to be honest and give as fair a review as I can but a succession of bad draws hasn't helped which just goes to prove that old adage that there's no such thing as a wonder additive and you won't catch fish that ain't there! I have, however, beaten the pegs either side of me in the last three matches and that in itself gives you a confidence boost.
I will update this review as and when I've tried some different applications for this very versatile additive. I also came across this great little tip from Bait-Tech's Dean Barlow which I'll be trying out in the near future.
'The Juice is playing a big part in my fishing and I needed an easier way to get it on my bait quicker. Whilst in match conditions it's difficult to leave baits "glugging" while you fish, so I got hold of some mini atomizer sprays to which I add 80% juice and 20% water.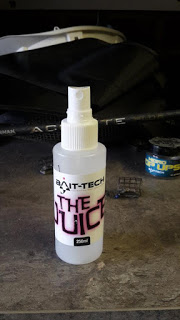 A great idea from Dean Barlow
This enables me to spray my hook baits quickly before each cast instead of having countless pots with hook baits soaking. One tip I use, especially when method feeder fishing, is once it is loaded spray the feeder, this gives it an instant attraction to your bait without compromising the stickiness of you mix which holds on to the method. You can also do this on a normal cage or open end feeder!!'
A great idea and one I reckon would be a hit if Bait-Tech made it available in the shops!
*Bait-Tech sent me this product for free in exchange for an honest review. All opinions contained in this post are my own.