After some decent results on my first three visits of the year, things have gone down the pan somewhat in the last two matches when I drew pegs 10 and 3. I was hoping I might get near a decent silvers area today but that was always going to be difficult with draw bag experts, Ray and Glynn Wickham fishing! After Pete announced the draw, there was the usual scrum to get in the bucket, I went in quite late and when I pulled a ping pong ball out, it had the number 8 on it, not a great silvers peg and I just can't seem to get away from that area. No such worries for Glynn who was on peg 12 where Ray won the silvers last week and Ray was on 32 which is a great peg for skimmers!
Pegs 1-5 had been left out which is an indication of their recent form and Roger Russell was on peg 6 and seems to be suffering a bad run at the draw bag too! Rob Birch was my left hand neighbour on peg 11 which can be very good for silvers but it's a decent carp peg too and it looked like he was setting his stall out for them as he was plumbing up across by the far bank. The usual rigs were assembled, a 10 x 11 MW F1 Slim for the ten metre lines and a 0.3 gram NG XT Mini Gimp for the five metre line. My side tray contained the usual micros, 4mm Bait-Tech Xpands plus I mixed up a little groundbait.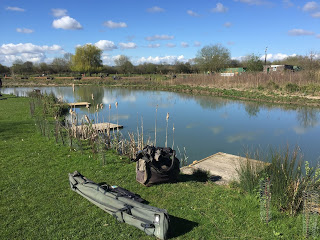 Peg 8, on the plus side it was a gorgeous day!
On the whistle I fed half a pot of micros straight out in front and I used my motor in the car park as a marker for accuracy (well at least I knew it wasn't going to move!) before putting a single ball of groundbait on the other ten metre line, angled to my right and lastly some micros on the shorter line. I started over the longer micros line and sport certainly wasn't fast and furious and it took a while to get an indication, I had a couple of small blades before trying the groundbait line although my first fish from there was a tiny roach which wasn't too encouraging. Roger was in a similar boat and I hadn't seen Rob catching much either.
I had my first decent skimmer on the half hour mark and a few more small fish followed to put me on about a pound after the first sixty minutes. The second hour was a real struggle and I only added a couple of small skimbobs, the groundbait line was a waste of time yet again and I was just starting to wonder where the next bite was going to come from when the float disappeared and the strike resulted in blue hydro jagging from the pole tip. From the fight I suspected it was a crucian and I wasn't disappointed when a lovely 8oz bar of gold popped up. Things got even better when I had a decent skimmer next put in to finish hour two on a high.
Roger and Rob both had decent skimmers although I couldn't really see how Glynn was doing on peg 12. Every time I shipped out I was dripping some micros on the five metre line but as always I wanted to leave it as long as possible before trying it. I was still getting the odd blade from the ten metre micros line and then I've hooked a good fish and again it didn't feel like a carp, it was another crucian but this time one of 2lb+ and not long after I had a pound skimmer to put me on around 5lb of silvers and we hadn't reached the half way point yet!
The next decent fish I hooked was a flying skimmer which was still on after it landed but then the hook pulled out as I was shipping back – bugger! Typically I then couldn't buy a bite and from being in a pretty good position, I was now really struggling. Rob had now switched to fishing for skimmers and was catching quite well, I'd seen Glynn net a couple of decent skimmers and Rog had resorted to catching small roach down the edge. Tiny roach were starting to become a bit of a problem as they knocked the expanders about so I tried a 6mm red Marukyu JPz pellet which are a little more resilient, it seemed to solve the roach problem but I then had to wait ages for a bite. I managed a couple more blades and then had my third crucian but it was slow going. With just under two hours left, it was time to try the five metre line where hopefully the skimmers would be lined up!
I was getting plenty of bites on the shorter line but it was the same story with tiny roach and the odd 2oz skimmer, I tried a JPz pellet and missed a couple of bites before catching four carp in quick succession and soon got fed up of that. Rob looked like he was bagging now as he netted several decent skimmers. With time running out I went back out on the longer line with a JPz pellet and hooked a decent fish which didn't feel like a carp but turned out to be one! I did have time to catch another crucian before Adie shouted the all out. I thought I might have 6lb or so of silvers which was a little disappointing when I had most of that after two and a half hours. Glynn was admitting to 5-7lb of silvers so it could close for the pound if he was telling the truth (unlikely!).
Alan Jenkins was first to weigh and had struggled for a pound of silvers and then Roger had one decent skimmer and a load of small fish for 4lb 14oz, my five carp went 14lb 9oz before my silvers weighed 8lb 14oz and Glynn said I'd definitely won the pound today (yeah right!). Rob had 8lb 12oz of skimmers and I thought he'd had more than that although he was left cursing not fishing for silvers from the start. Glynn then plonked 13lb 9oz of skimmers in the weigh sling which confirms once again anglers can't lie straight in bed!
Jeff Sparks was on peg 15 which was also the golden peg and the bankside grapevine was saying he'd done well on silvers which would see him get half the £150 pot if he had the top silvers weight on the day. When he pulled his net out it looked like it was going to be close and it was very close with Adie calling it at 13lb 1oz, just one more skimmer required, unlucky Jeff. Mark Leahy went into the overall lead with 55lb 3oz from peg 17 and then Bill Hopping had 5lb 9oz of skimmers from peg 19. I didn't see the rest of the weigh in as I took my kit back to the car but at the results, Steve Kedge proved once again what a class act he is with yet another win, this time with 66lb 11oz from peg 23 and Gareth Lennox filled the remaining frame place with 48lb from peg 34.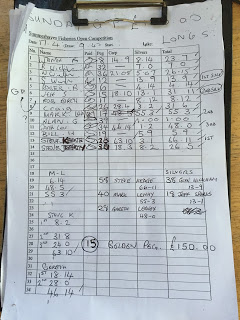 Todays board
1 – Steve Kedge (Somerset Angling) – 66lb 11oz
2 – Mark Leahy (Summerhayes) – 55lb 3oz
3 – Gareth Lennox (Summerhayes) – 48lb
Silvers
1 – Glynn Wickham (Summerhayes) – 13lb 9oz
2 – Jeff Sparks (Summerhayes) – 13lb 1oz
So my poor run continues but the pegs certainly haven't helped! Next week it's on Sellicks which has been rock hard for silvers so be sure to come back for my latest tale of woe! I also have to say I'm loving all the angling on the tv at the moment, River Monsters on ITV on Tuesdays at 7:30 and The Big Fish Off on Thursdays on ITV4 at 8:00, both very different shows but well worth watching.
Next up – Summerhayes
Coming soon – Some more great reviews
Check Out – My last match (below)