With Pete deciding to give Sellicks a rest for a while, it was back on Longs today, I picked Janders up on my way and we were soon pulling into the car park which was already filling up as there were 24 booked in for today. It was already windy with the forecast for it to get worse in the afternoon – great! It was soon time to draw and I should have known better than to have taken the micky out of Martin Addicott on peg 3 last week as I only went and bloody drew it! Janders pulled out 28 on the track side which can be a decent area although I think the wind would have a big influence on some pegs today and holding the pole at even short distances might be tricky.
When I got to my peg, I did at least have some space with an empty peg between me and Jamie Parkhouse on peg 1 and two vacant platforms before Bill 'The Paste' Hopping was on peg 6. Along with my usual side bets, Janders and Glynn, Jamie wanted a pound and I was a little surprised when he agreed to have it on silvers as I knew he'd be mainly fishing for carp today!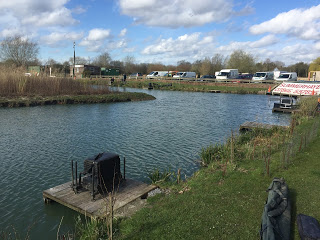 Peg 3 looking up towards the car park
I set up a 14 x 11 MW F1 Slim to fish two lines at ten metres, one with micros and the other with groundbait, rig number two was a 0.3 gram NG XT Mini Gimp for five metres where I would feed micros and leave it for as long as possible before fishing it, unless the wind forced my hand. On the all in I fed all three lines before starting over the longer micros line with a 4mm expander on the hook (no surprise there then!). I had to wait quite a while for my first indication and then missed three on the trot! I finally connected with the fourth one which I thought was a good skimmer until it woke up and turned into a 2lb carp!
I switched to the groundbait line and had a 4oz skimbob before catching carp number two, a few more blades followed and although I wasn't bagging, I hadn't seen much caught at this early stage. The bites soon tailed off going into the second hour and all I added to the net was a few bits and bobs, Jamie P had landed a couple of carp and John Page on peg 38 was catching quite well but other than that it looked to be hard going for most of the anglers I could see. Just as the third hour started I had my first decent skimmer from the ten metre line over the micros but it was a false dawn and with two and a half hours left, I was trying the five metre a little earlier than I would have liked.
I was getting plenty of indications on the shorter line but it was from little roach hitting the expanders and the day was getting even more frustrating, I did manage a 4oz skimbob and then out of the blue I had my second decent skimmer before it was back to missing loads of bites. I put on a banded hard 6mm pellet and this solved the roach problem but it wasn't really the answer as I only added one more small skimmer and four more nuisance carp! Along with the wind picking up, it had got pretty chilly and I wasn't too upset to hear the all out. I knew my meagre catch wouldn't be winning any prizes today but there was still the small matter of the three side bets.
Just as we finished packing up and the weigh in was about to start, the rain arrived – lovely! First stop with the scales was Simon R on peg 37, he had 19lb 12oz before John Page next door went into the lead with 46lb 8oz, Jamie P had 34lb 9oz but crucially his 2oz of silvers meant I was 1-0 up on the side bets as my silvers weighed 3lb 11oz and my six carp went 15lb 13oz. Bill Hopping did really well on peg 6 to weigh 56lb 9oz, he caught well in the latter part of the match fishing in the margins towards peg 7. I took my kit back to the car before it got too soaked and checking the weigh board back at the results, there had been some pretty good weights considering the conditions. My other side bets didn't fare so well with Glynn taking another nugget off me as he weighed 8lb 9oz and Janders gave me a spanking with 3lb 15oz, so I finished up 2-1 down.
Steve Kedge secured a comfortable victory with 75lb 1oz from peg 35, Steve caught short or down the edge on meat. Bill was second and Nigel Wickham was third with 52lb 4oz, John Page was fourth and Jamie P sneaked into the last money place. On the silvers front, Ray Wickham had a nice day weighing 15lb 4oz with Dom Sullivan taking second spot with 11lb 3oz from peg 16.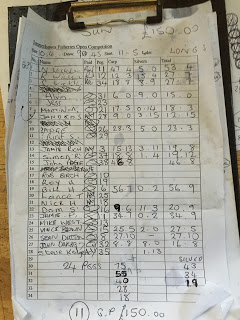 Todays board
1 – Steve Kedge (Somerset Angling) – 75lb 1oz
2 – Bill Hopping (Summerhayes) – 56lb 9oz
3 – Nigel Wickham (Summerhayes) – 52lb 4oz
4 – John Page (Thyers Tackle) – 46lb 8oz
5 – Jamie Parkhouse (Exeter) – 34lb 9oz
Silvers
1 – Ray Wickham (Summerhayes) – 15lb 4oz
2 – Dom Sullivan (Maver) – 11lb 3oz
3 – Alvin Jones (County Gardening) – 9lb
It's on Longs again next week so make sure you come back to see if the weather's any better? if I can actually catch some fish? and if I can take a £1 off of Glynn?
Next up – Summerhayes
Coming soon – Some more great reviews
Check Out – My last match (below)