A double header at Summerhayes for me this weekend as it was a Bank Holiday (well it would be rude not to!), Sellicks and Lily today and Longs tomorrow. I picked Janders up on my way and we were soon pulling into the car park, it was nice to Mike Hosgood (who comes from somewhere near Exeter I believe!) as I hadn't seen him for ages and most of the usual faces were also in attendance. I paid my pools and Pete said there would be two equal payouts today, one for silvers and one for carp with the top three in each collecting an envelope. He also said that small carp would no longer count as silvers which I have to say I agree with.
The draw was announced and I hung back a bit, hoping the pegs on Lily would go quite quickly, Janders went in and pulled out peg 4 on Sellicks which can be a really good peg for silvers and when somebody said all the Lily pegs had gone (I hoped they weren't lying!), I stuck my hand in the bucket and picked one of the few remaining balls, I opened my hand to reveal Sellicks peg 20 and I'd only gone and drawn the same peg as last week, that'll do!
As I took my kit to the peg, it was quite windy and somebody said rain was forecast for later, what a great start to May! My neighbours today were Steve Kedge on peg 22 on my left and Rob Birch on my right on peg 18, Exeter Mike was on 16 and Ads Palmer was up on 14. I got the same two rigs out as last week and plumbed up the same three areas so all I needed to do now was catch the same weight as I did last week! On the whistle I cupped in half a pot of 'Juiced' up micros on all three lines (just like last week) before starting on the left hand line (yep, all sounds familiar!) with a 4mm Bait-Tech Xpand on the hook.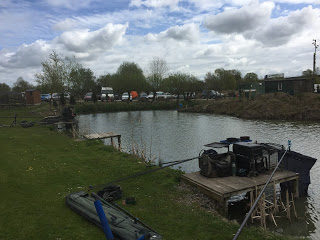 Peg 20 looking down towards the car park with Steve Kedge setting up in peg 22
But then very unlike the last match, the float just sat there for ages, eventually the float did disappear and as soon as I struck I knew I'd foul hooked a carp, it took me a good while to get it in the net as the hook was right in the tail! I did manage a little skimmer but the only other action in the first hour was another carp, this one hooked in the mouth. So at this stage last week I had around 2.5lb in the net, this week I'd be lucky if I had 2.5oz! Things were definitely not going to plan. I'd seen Steve catch a few carp but Rob was struggling like me.
The second hour wasn't great, I was missing quite a few bites and the wind was being a pain but I did land my first decent skimmer around a pound although on closer inspection it might well have been a hybrid or even a good sized silver bream, I wish I'd taken a photo as I'm sure Russell Hilton would have been able to identify it for me. I had another blade and also a carp hooked up the bum which had me convinced it was a skimmer until it got within netting range.
Things started to look up in hour three when my next decent fish was a nice crucian around 1.5lb and when I followed it up with a pound skimmer I thought I might still be able to put a decent weight together, it didn't look like many silvers were being caught on our lake and when Adie walked round and said nobody was really catching on Lily either, I thought 6-8lb might be good enough to get in the money today. I probably had 3-4lb so if I could get putting the odd fish in the net over the next three hours I hopefully wouldn't be too far off.
It started to get really cold and I had to put my coat on as it also kept trying to rain, what a lovely day! Steve was now bagging and putting a big weight together, Rob and Exeter Mike were getting odd carp but I was really struggling for the odd small skimmer and every now and again I would foul hook a carp, landing three and losing two. With two hours to go I had a quick go on the shorter line but only had a couple of knocks so it was back on the longer line and battling with the wind.
Going into the last hour I managed one small skimmer from the five metre line and that was my last fish. I ended up with six carp (five of them foul hooked!) plus ten silvers (one crucian, two decent skimmers and seven small skimbobs) for about 4lb which I didn't think would do any good as apparently Glynn had caught a couple of decent skimmers over on Lily.
I packed up and took some of my kit to the car just as Janders turned up, he said he'd had a tench, a good crucian plus a couple of skimmers so it could be close for the pound. The scales soon arrived at Steve's peg and after several weighs his total carp weight was 93lb 9oz, then it was my turn and the six carp went 14lb 7oz before my silvers weighed 4lb 13oz. Rob didn't weigh and then Mike had 47lb 15oz of carp, Ads had 72lb 8oz of carp from peg 14 but was pushed down to third place by Alvin who had 80lb 13oz from peg 12. As the scales headed to Lily, I took the rest of my stuff back to the car.
I caught up with the scales again just as they finished on Lily and unbelievably I was still the top silvers weight, Glynn had two skimmers for 4lb 1oz (and paid me a nugget) and Roy Hughes had 3lb 5oz which just left the last four pegs on Sellicks, Jess Jordan had 61lb 12oz from peg 8, Alan Jenkins had 36lb from peg 6 before we got to Janders to see which way our side bet would be going, he had a level 3lb of silvers so I pocketed his nugget although as he also had 18lb 13oz of carp he wanted the records to show he'd beaten me on overall weight today! Last to weigh was Bill 'The Paste' Hopping and he didn't disappoint as he plonked 94lb of carp on the scales to narrowly take the victory.
So Bill, Steve and Alvin were the top three carp weights and then I was the silvers winner picking up a very nice £70, Glynn was second and Roy was third.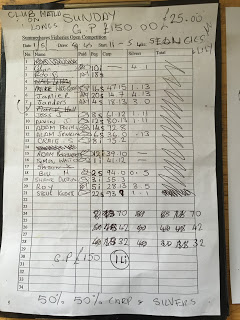 Todays board
Carp
1 – Bill Hopping (Summerhayes) – 94lb
2 – Steve Kedge (Somerset Angling) – 93lb 9oz
3 – Alvin Jones (County Gardening) – 80lb 13oz
Silvers
1 – Jamie Rich (Against Men and Fish) – 4lb 13oz
2 – Glynn Wickham (Summerhayes) – 4lb 1oz
3 – Roy Hughes (Summerhayes) – 3lb 5oz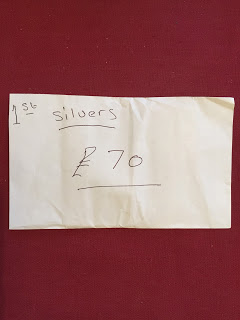 Another nice envelope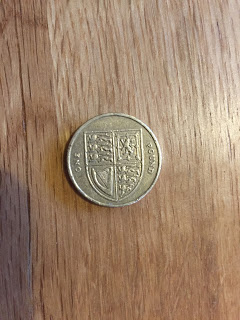 And almost as good, a nugget from Glynn!
Next up – Summerhayes (Longs)
Coming soon – My next review
Check Out – My last match (below)