The latest angler in the hot seat is none other than the recently crowned Fish 'O' Mania champion, Andy May.
Against Men and Fish – Hi Andy, firstly, massive congratulations on your richly deserved Fish 'O' Mania win and thank you so much for agreeing to do this interview as I know this must be a very hectic time for you!
Can you tell us a little bit about the final, what preparation you did for it and the key tactics/decisions that helped you win the title?
Andy May – No probs at all, yes it has been proper hectic but amazing as well. The final itself was a little different this year in that you had to come through a previous day semi-final which was held on the Suez and Moors canals at Cudmore. Luckily I managed to win that match after drawing a flier and qualify for the main event. Again, I managed to draw a proper good peg in permanent peg 20 (Sky peg 5 on the day) in the final. During the week leading up to the final I'd been on the Arena lake once, and between me and my bank runner, the awesome Andy Bennett, we came up with a plan to fish slop at 13 metres shallow and worms, casters and groundbait short for everything swimming. On the day it was a tad windy but I still went for the long shallow approach as I didn't think anyone else would bother. I started on the method but that lasted about 5 minutes as looking round everyone was catching on the pole. I went on it and it was solid with all sorts of fish and for 2 hours it was a bite every cast, catching mainly small f1s, barbel and ide. I noticed some fish swirl on my groundbait though so had to give it a go. I hooked 2 fish very quickly, one which fell off though but the wind was too strong to get any decent presentation. We then made the decision to forget the long line and concentrate on one swim short. Luckily the fish stayed there for the rest of the match but I had to keep changing the way I fed the groundbait and feed the casters as I wanted them down on the deck but the fish kept on wanting to come shallow! Andy quickly sussed the best thing to do was feed the groundbait very stodgy so they had to follow the ball down and attack it. The bagger Bennett really was amazing and proper calmed me down going into the last half an hour when I was getting a bit giddy!
And what plans have you got for the prize money?
Ha ha, my wife has taken care of all that! No, I'm going to get a new van, we have already had carpets fitted, new sofa is on its way, but, we have put most of it away for our two children, Oliver, 6 and Leah, 3, for when they are older. Oh, not forgetting the holiday to Florida that my little lad requested live on TV as well!

Andy with a rather large cheque!
What's your favourite method?
Without any doubt the stick float. It just takes me right back to when I was a kid fishing the rivers with my Dad, in particular the rivers Dane and Weaver, it's just an awesome sight seeing that float go under before whacking into a dirty great big chub! In fact I've just had a couple of hours tonight after a coaching session and had 10lb of big dace, chub, roach, brown trout and some baby barbel. Awesome!
And your favourite species of fish?
I think most people will know its the chub, you cant beat them. I caught two in the fisho final, only around 8oz a piece, in the last 15 minutes and both of them got a kiss!
Do you prefer commercials or natural venues?
Definitely natural venues, its how I was brought into this fantastic sport by my Dad, fishing on rock hard venues and appreciating everything I caught. Obviously I love fishing commercials too as everything is so handy and you don't have to walk over 17 fields through mud and long grass and get chased by bulls and horses to get to your swim……but, I still do all that now when I go pleasure fishing. Personally I don't like pleasure fishing commercials but I could go on a natural venue for hours and hours pleasure fishing.
If you could give the readers one tip to improve their catches, what would it be?
As a fishing coach I see lots of common mistakes, but the single most important aspects of fishing are the feeding and presentation. Making sure you're not fishing too heavy, keeping that bait going in little and often and having multiple swims on the go.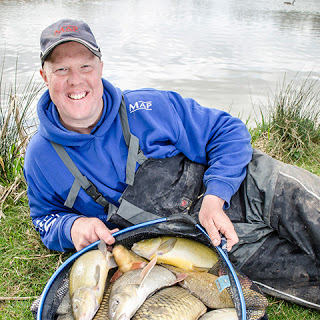 Another great net of fish for Andy
You're backed by Bait-Tech and MAP, how much do you get involved with new product development and are there any new and exciting products coming out from either company that you can tell us about?
We have around four consultants meetings each year, haha, most of them end up like this……sit around a table for 10 minutes, followed by….pub…..club….bed.! I absolutely love being involved with MAP and Bait-Tech, its just like being in a big family and we all help each other out, our drinking sessions are a bit legendary though. I remember one of many times with the MAP boys when we did a tackle store opening in Kent, we were supposed to be fishing a match the day after but, errrr, it didn't materialise seeing as we got in at 4 am. I think we had to leave the rooms by 10am. I then proceeded to drive 60 miles the wrong way down the motorway home…it took me 9 hours to get home as I had to stop off in 4 service stations for a sleep….never again! Oh wait, It happened all over again the week after…haha! Anyway, about new gear, we are constantly working on new products in an already very busy market. All I will say is watch out for the MAP seatboxes, they are a bit good!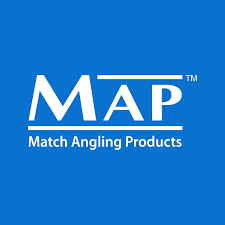 You've got a long list of big match wins under your belt and now you've added Fisho to your CV what title would you like to win next?
Another Fisho would be nice, oh and a Maver Match This, maybe a Whiteacres festival. Im not greedy! I'd love to get over to Ireland soon to do the festivals and I think its something im going to do when the kids are a little older.
As well as being a top flight match angler with all the prep that's involved, your commitments to your sponsors at angling shows and events, you're also a very successful angling coach, how do you fit it all in? And what do you like to do in your free time? (if you have any!).
I have a fantastic wife (Louise) and an awesome family. I couldn't do what I do without them, they have given me so much support over the years. Also my sponsors MAP and Bait-Tech, without their awesome products I couldn't be doing the coaching and competing in the events like I do. To be fair I don't have much free time. A day consists of getting up early then coaching until 4pm, back home for 5pm, then its a couple hours of play time etc with the kids, bedtime for the kids and then its usually around 8.30 to 9pm. Then its tea time and then bed time….and repeat the next day. I do love my office though, it really is the best office in the world!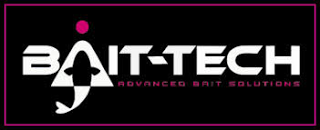 Before I let you go, here are some quick fire questions for you,
What's your biggest fish?
46lb 8oz catfish
And your biggest match weight?
427lb from Cobhouse fisheries
Your favourite venue?
River Dane
What's your favourite drink?
Definitely not Desperado, which was what I was drinking on the Kent Night! It will have to be cider in the summer and Jack Daniels Honey in the winter, oh, I love Vimto too!
Favourite meal?
Indian, lamb Rogan josh or chicken tikka masala, with cheese and garlic naan bread, onion bhajis and some pompadoms and the chutney tray….wowsers…..you can bollocks to the lime pickle though..errrr!
Favourite film?
Gladiator or 300….hmmm!
TV show?
Ben and Holly's Little Kingdom!
Preferred reading?
Errrr, I tend to just look at the pictures…haha!
What music do you listen to?
Without doubt, Oasis. Although, I do like a bit of angry rap, Eminem, Dr Dre and 50 Cent
And finally, what's your idea of a perfect day?
Wake up, big breakfast, fish a match, win, pub, beers, ciders, whiskeys, bed!
The above is great but I love spending time with my wife and kids
Well thank you Andy, it's been an absolute pleasure, from Against Men and Fish