Now a towel isn't the most exciting bit of kit I've ever reviewed and it certainly won't catch you any more fish but it is one of those things that you don't miss until you haven't got one!From wiping your hands after mixing your Pro Natural groundbait to keeping them dry and slime free before eating your sandwiches, it's always useful to have a towel in your carryall and the latest product from the Bait-Tech stable is just the job.
Other uses include,
covering your groundbait bowl to stop it drying out in hot weather (or turning to mush on wet days)

wiping that expensive pole down at the end of the day

worn as an apron it stops your jeans or trousers from getting covered in groundbait or fish slime

and you let the world know you're a big fan of the best bait around!
In the firms distinctive pink and black colour scheme it's 100% cotton, washable, features an adjustable strap and is plenty big enough at 80cm x 50cm.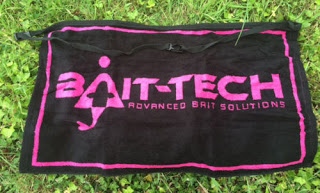 You can get one for just £9.99 (with free delivery in the UK) by just clicking on the link below,
http://www.ebay.co.uk/itm/Bait-Tech-Apron-Towel-Pink-Black-/252479078889
Yet another great product from Bait-Tech
*Bait-Tech sent me this product for free in exchange for an honest review. All opinions contained in this post are my own.