After a disappointing match last Sunday, I was hoping my drawing arm would be back on form this week. I got to the pub nice and early and although Rob was there he wouldn't be fishing today as he'd done his back in, hope it's better soon mate. After a nice sausage sarnie, I had a quick look at the pegs in today and as always I fancied 108 or 120 and also 109 was in for the first time this series and it normally holds a lot of big chub. Along with Redbridge, there were three pegs in below Isle Brewers which have been pretty consistent and above Hambridge was in again, although I was hoping to avoid them after struggling last week.
The draw was announced and as people started delving into the bucket I was listening out, hoping to hear the pegs at Hambridge had gone, I heard Fieldy say he had one and Hurf was looking disappointed with H5 where I was last week but nobody was admitting to the last one and when I stuck my hand in the bucket there were only a couple of balls left and I was convinced I was down there again. I opened my hand and straight away I could see the numbers 1 and 2 so I knew I wasn't at Hambridge, as I revealed the last number it was a 0 and I'd only gone and drawn my dream peg, the weir pool at Isle Brewers.
Rich S had drawn the other Hambridge peg, Justin was on 108 and Steve P was below him on 109 and both are capable of doing big chub weights. Adie was on 126 again with Stuart and Karl Aplin on 128 and 129. I parked up and started to take some of my kit across the field as it's a bit of a walk and then Steve very kindly let me borrow his trolley/barrow thingy – cheers mate. I reached my peg and it certainly looked the part and as good as I remembered it. After getting myself comfortable, I set up two rigs, a 1.5 gram Drennan Carbo to fish the deep water just off the main flow out in front of me at 8.5 metres and a 1 gram bodied float for the tail of the swim where, from experience, I knew the fish could often be found. Both rigs had size 18 B611's to 0.10mm and as per usual, the side tray contained casters, maggots and Bait-Tech Super Seed Hemp.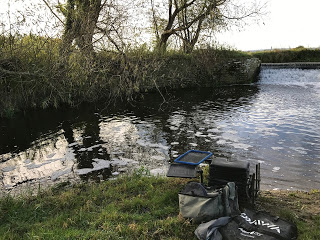 What a lovely looking swim!
We were only fishing five hours today and as 10:30 arrived I started with the heavier rig in the deep water at 8.5 metres (just to the right of the tree branch hanging down in the centre of the photo above) I also fed to the left where there's a back eddy where the main flow leaves the weir pool. I was into fish straight away on caster, mainly small dace along with the odd chublet and gudgeon and it was a bite a chuck. I started missing a few bites so switched to double red maggot which improved things and I added a couple of better dace as well.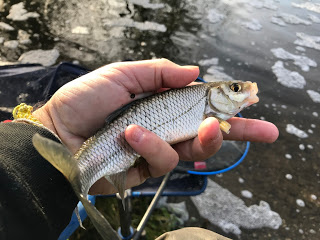 I had some nice dace
I was still feeding hemp and caster to the left but would wait until the other swim started to fade before trying it. I had 37 fish after an hour for around 2lb or so and needed some bigger fish to show if I was going to do a good weight, the trouble was, I was starting to catch more gudgeon than dace so not wanting to try to the left just yet, I stuck another section on and went out to 10 metres. The float settled before sliding under and the strike saw a nice amount of Drennan Aqua elastic exit the pole tip, I gently shipped back and slid the net under a nice roach, if I could catch more of that stamp it wouldn't take long to put a weight together.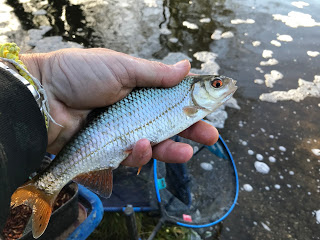 Going a section further out saw me net my first roach
Next chuck I had another and I was hoping it would be like shelling peas, a nice dace followed but then it was back to catching gudgeon, dropping back to 8.5 metres resulted in another flurry of dace and chublets but I was having to chase them around a bit. A low and clear river combined with bright sunshine probably wasn't helping much although I still added another 32 fish in the second hour. I then hooked a stubborn little fighter that turned out to be a lovely ruffe, the first one I'd caught for ages.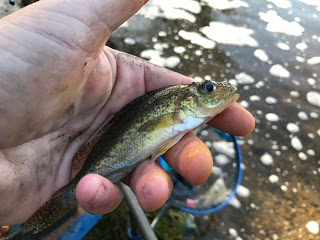 I even added a ruffe to my mixed bag!
Over the next hour I kept putting fish in the net including another ruffe and some nice roach from the longer line but I could only get one at a time before having to leave it for a bit. I reached 100 fish with two hours to go and it was time to try the left hand line for the first time. First put in, the float buried with a nice chublet the result and I really thought I was going to bag up, I caught well for a bit but again they went skittish on me and I started getting more gudgeon. I only added 24 fish in the penultimate hour although they were of a better stamp.
The last hour was similar and I added another 24 fish including another nice roach from the 10 metre line to finish up with 148 fish (plus a couple of minnows), I thought I had low double figures but I knew it wouldn't be enough today. Steve P phoned to check we were finishing at 3:30 because Justin had caught a chub late and thought we were fishing six hours, I confirmed we'd finished and asked Steve how he'd got on as he was sounding a bit chirpy, he replied that he'd had seven chub!
I packed up and Steve and Justin soon arrived to weigh me in, my fish went 12lb 6oz and although I'd had a lovely days fishing I was little disappointed I hadn't done better off the peg but then again if we'd fished the normal six hours, I'd have been nearer to 15lb which is par for the peg. Next was Steve and he had a lovely net of chub that pulled the scales round to 18lb 7oz, they were in mint condition and out of interest I weighed the biggest one which was an impressive 4lb 3oz, a cracking fish, he lost two as well so there were obviously a few there! Justin had one nice chub and a few roach for a level 4lb from 108.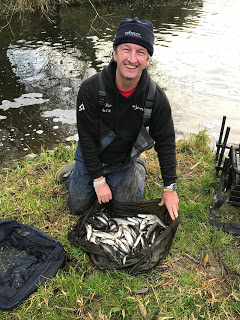 Another really enjoyable days fishing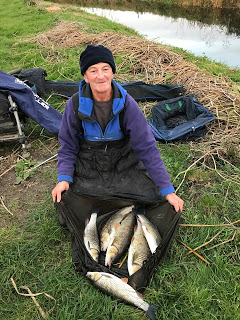 Steve had a lovely net of chub weighing 18lb 7oz
Back at the results and the lads from Hambridge were already back, Fieldy had 5lb 7oz which included a nice chub and a good perch, Hurf also had a nice perch in his 5lb 6oz catch and Rich had 3lb 2oz from by the bridge. So it had fished better than last week but it's still not hit top form yet and can't compete with Redbridge or Isle Brewers at the moment. It will be a different story in a few weeks or if we get some rain. Adie, Karl and Stu arrived back from Isle Brewers and Adie had done well again and weighed 15lb 1oz from Barney's Bend to push me down into third place. Karl had a nice net of quality roach and dace for 8lb 2oz from 129 and Stu on 128 had 1lb 9oz. Thanks to Steve Hurford* and Adie Bishop** for the photos.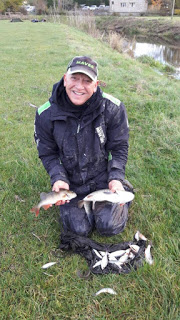 Fieldy had 5lb 7oz which included a decent chub and a nice perch*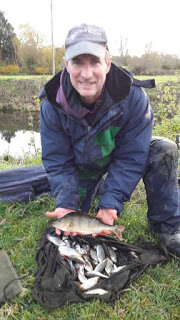 Hurf also had a nice perch in his 5lb 6oz*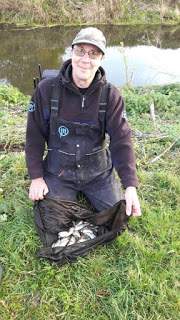 Rich had 3lb 2oz from H4*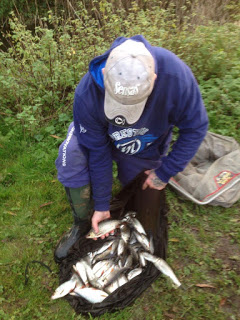 Camera shy Adie had some cracking roach for 15lb 1oz and second place**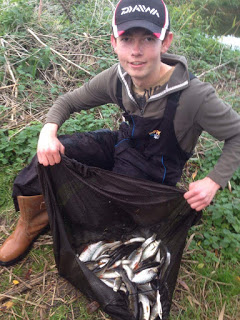 Karl had a nice day to weigh 8lb 2oz from peg 129**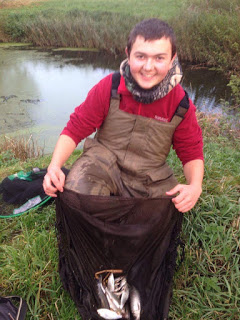 Stuart had 1lb 9oz from 128**
1 – Steve Parker (Ilminster) – 18lb 7oz
2 – Adie Bishop (Taunton) – 15lb 1oz
3 – Jamie Rich (Against Men and Fish) – 12lb 6oz
So another really good match with double figures needed to frame and some decent back up weights, I picked up £22 for third place but had to give a nugget to Steve who won his second river match of the campaign with the biggest weight so far.
In the Royal Oak league you can drop your two worst results but as we've only fished three matches, I've listed the top seven with the two best results counting,
Jamie Rich – 3 pts (dropping a 3)
Graham Field – 3 pts (dropping a 3)
Adie Bishop – 3 pts (dropping a 5)
Karl Aplin – 4 pts (dropping a 20)
Steve Hurford – 4 pts (dropping a 30)
Rich Studley – 5 pts (dropping a 5)
Steve Parker – 5 pts (dropping a 6)
Next up – River Isle
Coming soon – Some more great reviews
Check Out – My latest review (below)