Now that the blog is associated with Bait-Tech I thought it was high time I treated myself to a new hoodie. In the past I've always used a local shop to get the blogs name embroidered on hoodies, sweatshirts and polo shirts etc but as Bait-Tech have a shop on The PrintBiz website (
www.theprintbiz.com
), I thought I'd take a look. Once on the site it was just a case of going to categories and clicking on the Bait-Tech logo.
There's a great selection of merchandise, everything from t-shirts and joggers to caps and mugs all with the Bait-Tech brand emblazoned on them and with most of the clothing you have the option to have your name or club or in my case, blog's name, embroidered (up to 50 characters) free of charge. The hoodies certainly looked the business and are described as a 'High quality heavyweight hoodie' with 'Embroidery to FLB and right arm and print to rear' and were very reasonably priced at £26.

Sizes available from small to 4XL and in a variety of colours,
Military Green (Dark Olive)
Khaki (Light Olive)
Chocolate Brown
Bottle Green
Black
Red
Royal Blue
I was a little disappointed that burgundy wasn't on the list as that's the colour I've sort of adopted for the blogs clothing so went for black which you can't go far wrong with. I added the text I wanted embroidered in the relevant box, which was as follows,
Jamie Rich
Against Men and Fish
and submitted my order, postage was £3.50 (free for orders over £50), this was late Friday evening and I got home from work the following Tuesday to find a package had been delivered via courier, fantastic service. The hoodie certainly felt like it was good quality although I don't profess to be an expert on such matters, it fitted nicely and the various Bait-Tech logos (both embroidered and printed) looked spot on. My only little gripe was the embroidery I'd requested (see above) differed slightly from what I actually received (see below),
Jamie Rich
Against Men & Fish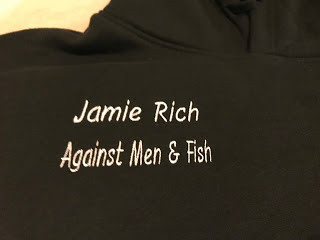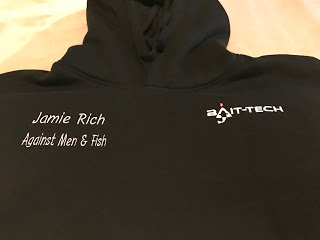 Front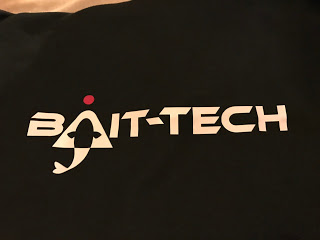 Back
Now I know this is a very minor issue and overall I am very, very pleased with this product and the service but it will niggle me as the blog is called Against Men and Fish. I still fully intend to order some more polo and t-shirts but I will give them a ring before I order just to make sure it's right next time.
Update – There has been an overhaul of the clothing shop and there is now a section for match and another for carp, items have been added including burgundy which pleases me very much. I will order some t-shirts and polo shirts over the next couple of weeks and update this review further. Also if you are interested there is a discount code for Against Men and Fish readers, contact me for details. In the meantime, check out the two new shops on the following link