The river was still flooded at the start of the week but by Wednesday it was fishable again and looked lovely although the temperature has dropped a few degrees and we would be in for a chilly one today! I got to the pub in plenty of time for one of Steve's sausage sarnies before having a look at the pegs being used today and to be honest I didn't really mind where I drew as they were all capable of winning. Rob asked Adie if he wanted him to take out 120 because of the walk, Adie said no as he hasn't drawn it in six matches and was unlikely to today and of course then went and drew it!
By the time I went to draw there were only two balls left so Rob took them out and asked me to pick one, I went for his left hand and he opened it to reveal peg 29 which was in for the first time in a few years and was one of the pegs I'd looked at last Saturday, Rob ended up on peg 27 which I really fancied and Hurf was the rose between two thorns on 28 which also looked really nice when I walked the stretch last weekend. Elsewhere Steve P's drawing hand was back on form (after drawing for me last week!) as he was on 14 today, with Fieldy below on 15. Rich S was on 108 with Karl on 109 and Paul H, Justin and Stu were on 126, 128 and 129.
I got to the river and was quite surprised how clear it was although there was quite a bit of pace on it, the swims looked really good and Hurf almost came skipping back through the copse after seeing his! After two trips I was at my peg and got my box set up before surveying the options, the main flow was along the far bank where there was lots of cover and from memory I knew there was a nice bit of depth so I set up a 1.5 gram Drennan Carbo (yes I still have a few left!) to fish there and a 1 gram bodied float for fishing in the middle of the peg where it was a little shallower and the water was a little steadier. Both rigs had size 18 Kamasan B611's to 0.10mm and the side tray contained the usual casters, maggots and Bait-Tech Super Seed Hemp.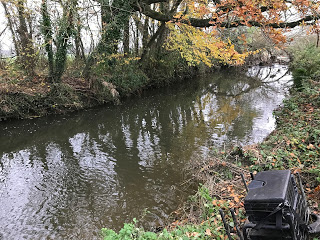 Peg 29 looked lovely
By the time I'd had a coffee, Hurf shouted down it was time to start, I started with the lighter rig down the middle with the hook buried in a caster and normally if there are lots of small fish present, you'll catch quite quickly but after half an hour or so I hadn't had a touch which was a tad worrying. Hurf phoned me and said he hadn't caught either so I tried maggot just to see if I could get a minnow to avoid the blank and holding back down the middle at about 8.5 metres I had a couple of little knocks before catching a tiny little minnow and that was enough of that!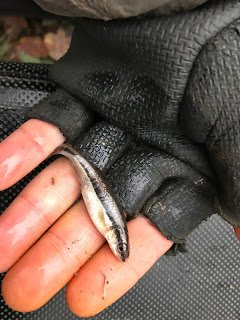 Blank avoided – just!
I tried the deeper rig tight to the far bank and under the overhanging cover but nothing resembling a bite and I was already fearing the worst! It had also got really cold and I had to put my coat and gloves on. Then a decent fish rolled down the peg which got me interested again, Rob turned up on the far bank and said he'd only had two minnows and Hurf was still blanking so it looked like it was fishing really hard. Another hour passed and I was running out of coffee fast, Hurf phoned again and said he'd spoken to Karl who said they were struggling at Redbridge and even Adie in 120 was only getting odd fish although he did say Stuart was getting a few down on 129. Another chub rolled, this time a little closer and daft as it may sound seeing as I only had a minnow in the net, I still thought there was a good chance I'd catch in the last hour (poor deluded fool!).
After a further half an hour it was time for a wander, I passed Hurf on the opposite bank who said he still hadn't caught, I then got to Rob who said after he'd been to see me earlier he went back and started catching some nice dace and roach, I walked down to Hurf who was trying to catch a minnow but still hadn't had a bite before crossing the river via the shallows to get back to my peg. Despite trying maggot again, going 14.5 metres down the peg and upping the feed in the last hour, I never had another indication. I packed up and Hurf credited me with an ounce (which is the lowest weight we record) before we went up to weigh Rob in, he had a nice net of dace and roach which went a level 6lb.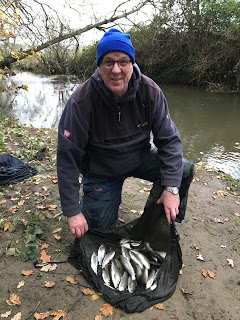 Rob had 6lb which included some lovely dace
Back at the results and a lot of the fancied pegs hadn't produced although the top three weights all broke double figures, Justin won on the day with 13lb 3oz of roach and dace from peg 128, Steve P continued his good run on the river with 11lb of dace and chublets from peg 14 and Paul Homewood had lots of small fish for 10lb 8oz and third place from peg 126. Rob won our section and young Stuart Aplin did well to win the other section with a nice net of roach and dace from peg 129. Thanks to Graham Field* and Stuart Aplin** for the photos.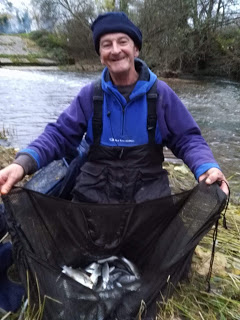 Steve 'The Pole' Parker was second with 11lb from peg 14*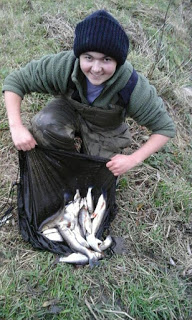 Stuart Aplin with his section winning 7lb 12oz**
1 – Justin Charles (Ilminster) – 13lb 3oz
2 – Steve Parker (Ilminster) – 11lb
3 – Paul Homewood (Taunton) – 10lb 8oz
Sections
A – Rob Cox (Ilminster) – 6lb
B – Stuart Aplin (Ilminster) – 7lb 12oz
So a really disappointing day for me but as far as the league's concerned not an awful lot has changed because you can drop your two worst results so the table won't really start to take shape until round five, but anyway here is the leader board as it stands,
Steve Parker – 2pts (dropping 4 + 6)
Graham Field – 3pts (dropping 3 + 3)
Jamie Rich – 3pts (dropping 3 + 5)
Adie Bishop – 3pts (dropping 4 + 5)
Karl Aplin – 4pts (dropping 5 + 20)
Rob Cox – 4pts (dropping 4 + 30)
Steve Hurford – 4pts (dropping 20 + 30)
Next week it's the Xmas Fayre so even if I blank I'm guaranteed a prize! Joking aside if it's cold again and we don't get any rain between now and then it could be really hard again (now where can I get a bigger flask!).
Next up – Xmas Fayre
Coming soon – Some more great reviews
Check Out – My last match (below)