It had been cold all week and when I woke up this morning to the hardest frost of the year so far, I knew it was going to be hard going today. I got to the pub in good time and there was a great turn out of twenty anglers as the numbers were swelled by the likes of Andy Welch, Paul Adams, Fred Brown, Tony Newman and Ned who always fish the Xmas match. John Dursley and Baz were back for this one and it was nice to see Heardy and Bruce again and even Neil Dring was fishing for the first time in ages. I was chatting to Hurf as I devoured a sausage sarnie and I have to say I was a little worried he might get cold ears and said I hoped he had a big hat!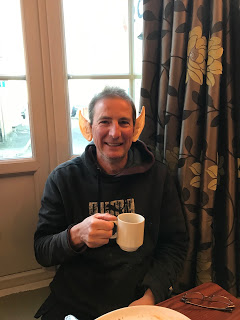 Steve 'Spock' Hurford enjoying a coffee in the morning
Looking at the pegs being used today, there were a few I didn't really fancy and Heardy said he wanted to avoid 92 at North Bradon at all costs after he'd struggled on it the last time he fished with us. He didn't know whether to go into the draw bucket early or wait until somebody else pulled it out, in the end he decided on the latter and I hung back as well. As people started to draw their pegs and write their names on the boards, nobody was admitting to 92 and I started to worry it was going to be left in the bucket but with only a few left to draw, Bruce pulled it out. I stuck my had in and there were only two balls left, I picked one and when I looked it had the number 14 on it, that'll do! Heardy had the last one which turned out to be 23, it wouldn't have been my first choice but as they haven't been fished for ages they were a bit of an unknown quantity.
Elsewhere Hurf had drawn below Hambridge and Steve P was on 126 at Isle Brewers, Baz had ended on 120 again but was unsure how it would fish after Adie had struggled there last match and Justin was on 108 at Redbridge. I got to the river and showed John Dursley and Rich S where pegs 15 and 19 were before taking my kit up to the weir pool. The first thing I noticed was that the massive tree that had been right across the peg had gone!, secondly the river was very low and gin clear which could make it a struggle today.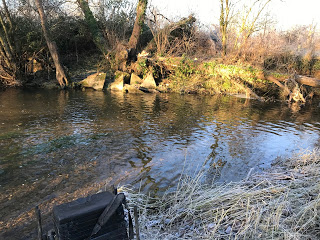 Peg 14 minus the tree!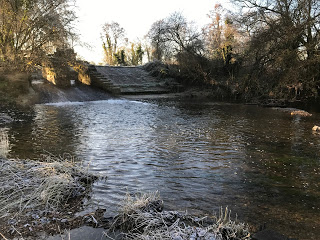 Looking up towards the weir
I set up a 0.5 gram Dave Harrell DH16 float on a fairly long line for fishing towards the tank traps and a 1 gram bodied float for fishing back up towards the weir just off the main flow, both rigs had size 18 B611's to 0.10mm and I had maggots, casters and Bait-Tech Super Seed Hemp on the side tray. I was ready with a bit of time to spare for a change, so I poured a coffee and popped down to see John on peg 15 for a chat before it was time to wander back ready for the start at 10:30.
I shipped out the lighter rig with two red maggots on the hook and was expecting to have to wait a while for a bite, but the float sailed away and a small chublet got me off the mark. More followed and it was a bite a chuck, all chublets around 1-3oz and at this rate I'd be on for a decent weight. John appeared at the top of his peg and asked how it was going, I told him I was getting a few and he said he'd only had minnows.
But then sport slowed and after 20 fish in the first half an hour, all of a sudden I was struggling for a bite, I thought it might be a case of nicking a few fish from an area before resting it and trying somewhere else. I tried the heavier rig up towards the weir just off the main flow but never had a bite there which was a bit worrying as the last two times I'd been here, I'd caught well up there. After ten minutes I went back by the traps with the lighter rig and had a few more chublets quite quickly to finish the first hour on 26 fish.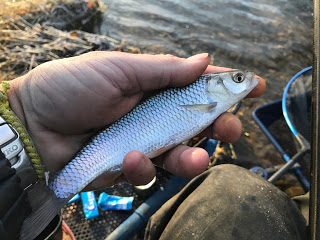 I was catching quite a few mini chub
I kept trying up towards the weir and even went to 13 and 14.5 metres right up past the island but never had an indication and the only place I could get bites was by the tank traps. I did get my first nice dace and was hopeful I'd get a few more. I had a text from Baz in peg 120 saying he hadn't had a bite so if I could keep putting odd fish in the net I thought I'd do okay.
I was having to go closer and closer to the concrete traps to get bites and I got snagged a couple of times. With a couple of hours to go Fred phoned from above the road at Hambridge to say he hadn't caught yet although Paul Adams was getting the odd small fish so it sounded like it was fishing really hard, he did say he'd phoned Justin on 108 at Redbridge and he'd had three chub so would be there or thereabouts.
Going into the last hour Rich S turned up and said he hadn't caught in 19 so had packed up early, while he was with me I had a few more chublets and then as the light faded I was fishing caster and holding back near a big submerged branch and had another three chublets to finish with a flourish. I ended up with 65 fish (one dace and the rest chublets) plus two minnows and thought I had 5lb or so. I was quite surprised I hadn't had more dace or any roach or gudgeon.
I packed up and walked down to start the weigh in with Andy Welch on peg 24, the peg looked really good but he'd struggled for 4oz which was two chublets and minnows, Martin had fared worse in peg 23 with seven minnows and a bullhead for an ounce, Rich didn't weigh and then John had 1lb 2oz from peg 15. My fish went 6lb 12oz which was a little more than I thought but I didn't think it would be enough to frame today.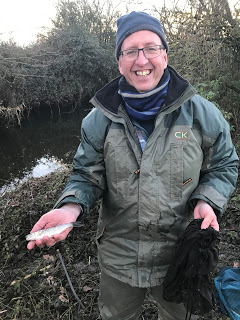 Andy had 4oz of mainly small fish!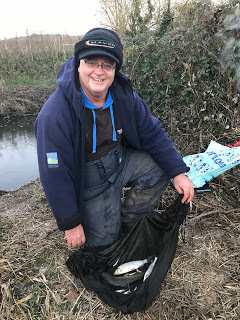 John had 1lb 2oz from peg 15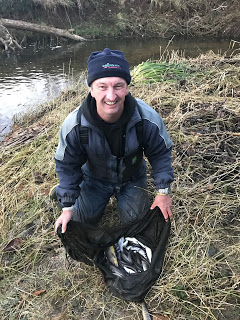 My fish weighed 6lb 12oz
While I was loading the car, Steve P phoned me and said Isle Brewers had been tough going, Rob was top with 5lb 14oz from 124 followed by Tony with 4lb from 128 and Karl with 2lb 4oz from 125, Steve and Jake both weighed 8oz from 126 and 129. I was just about to drive back to the pub when Bruce turned up from North Bradon and he'd had 8oz of minnows and Neil had blanked in 96. I knew Justin had beaten me but I started to think I might sneak into the frame. Thanks to Tony Newman for the photo*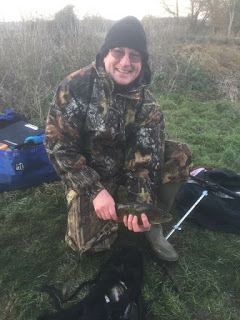 Tony had 4lb which included two lovely perch from peg 128*
As I arrived back at the Oak, the first person I saw was Adie, he had blanked at Hambridge although the two above him had caught well, Hurf had 8lb of roach and young Stuart Aplin had done well again as he weighed 6lb 9oz of quality roach. Justin had found two more chub and weighed 18lb for a comfortable win, a brilliant weight on the day. That's his second win in as many weeks and also his second Xmas Fayre win on the trot, well done mate and you wouldn't bet against him doing the hat trick next year! Thanks to Adie Bishop for the photos**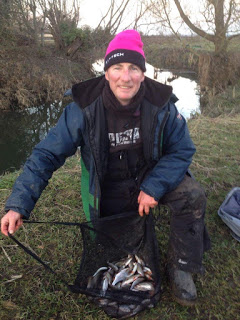 Hurf had a nice net of roach weighing 8lb for second place (nice hat too mate!)**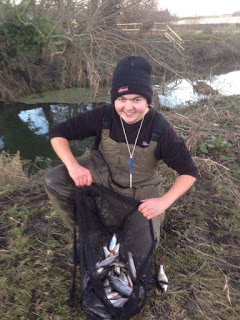 Young Stuart had some quality roach for 6lb 9oz from H2**
All the anglers then had a lovely hot meal which was just the job after a freezing cold day followed by the prize giving, I was called out in third place and chose a lovely selection of cheese, biscuits and beer and also picked up £20 from the super pool.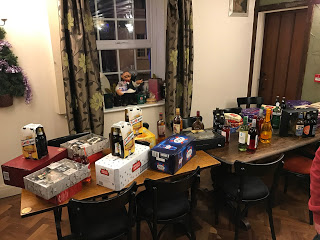 Great prizes for everyone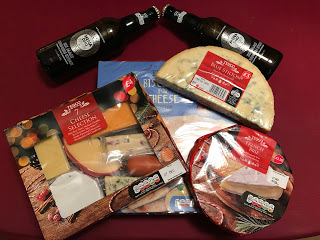 Say cheese!
1 – Justin Charles (Ilminster) – 18lb
2 – Steve Hurford (Ilminster) – 8lb
3 – Jamie Rich (Against Men and Fish) – 6lb 12oz
It was hard going for the majority and some really good pegs didn't produce today but that's winter fishing, it can be feast or famine and considering how cold it was overnight, the leading weights were still pretty good. When you consider that the winter league on the mighty River Wye (which many consider the best river venue in the country) had 72 anglers fishing and only 18 caught (yes that's 54 blanks!!!) and some of those who caught only had minnows, it just shows how unpredictable sport can be at this time of year. The River Tone, on the other hand, fished it's nuts off with numerous 20lb bags of roach from a section nobody wanted to draw, it's a funny old game isn't it?
The forecast is for warmer weather in the week and I think we could be in for a good match next week although I think we need to leave the top end of the river alone unless we get some rain.
The club would like to thank Steve and Cindy at the Royal Oak, Ilminster for laying on a great spread and looking after us so well, Rob for organising a great match and getting the fantastic prizes and John Dursley at Enterprise Angling for donating the mystery weight prize (which Justin also won!).
Finally, it's that time of year again, I've entered the UK Blog Awards in the Lifestyle and Travel categories and I'd be eternally grateful if you could spare a couple of minutes to vote for me (just click on the image below, enter your details and choose Lifestyle and Travel from the drop down list, you can vote more than once, just not on the same day. Voting is only open for a couple of weeks so I'll try not to bang on too much about it!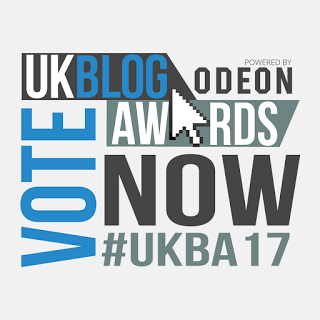 Next up – River Isle
Coming soon – Yearly review
Check Out – My last match (below)