After the Baltic temperatures of last Sunday, it was all change again in the week as the weather turned really mild and some rain on Saturday was very welcome too. All the signs were there for a very good match, we just needed the fish to play ball now. I got to the pub nice and early and it was lovely to see Paul Homewood and Baz Morgan again and Ashley Tomkins was also booked in for today (we reckoned he'd been doing a rain dance so we'd go out the pond, but it hadn't worked!). Looking at the pegs, I have to say I didn't really mind where I drew with the exception of 106 at Redbridge but only because we hadn't used it for ages and it was a bit of an unknown quantity. I'd asked Steve to bring me on a few pinkies and there was a message on the box that made me chuckle!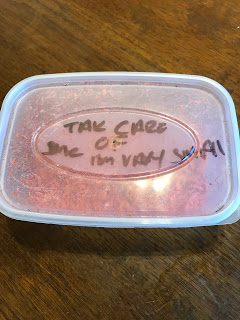 'Take care of me I'm very small!'
As always I had a master plan and would hang back and wait until somebody else drew 106 before I stuck my hand in the bucket and as always, the bloody thing was still in there with just three of us left to draw. Eventually Justin went for it and he pulled out 106, Ash was next in the bucket and ended up with 109 which left me with the last ball that turned out to be 125 although I had the choice of 124a as well. I got to the river, parked up and as I took my kit out of the car, the clip holding the strap on my Matrix 'Superbox' (I use the term loosely) broke which meant I had to carry my box across the field, thankfully it's not too long a walk.
I dumped it by 125 before walking up and having a look at 124a, they both looked nice but I opted for the former as over the years it's won loads of matches whereas the latter can be a bit hit or miss. I sat quite low on the peg so I could fish the pole but with it being very shallow I set up two rigs with long lines so the pole tip would be well away from the float. The first rig was a 0.2 gram Drennan AS1 to fish three sections to hand and the second was a Dave Harrell DH16 0.6 gram, both had size 18 B611's to 0.10mm. It wasn't until I stuck a plummet on, that I discovered just how shallow the peg was and I couldn't find anymore than twelve inches anywhere! There was also quite a bit of weed still about and I was starting to think I'd chosen the wrong peg.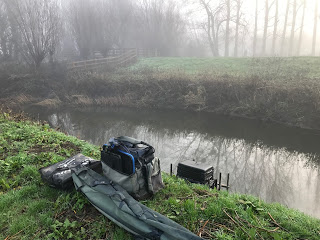 It was quite a foggy/misty morning
I was ready with about 15 mins to spare so went up to see Paul Homewood on peg 124 and have a natter, it looked nice and I thought the river would fish well today. I finished my coffee and walked back to my peg and started with the three sections to hand rig, I flicked the rig out but it wouldn't run through because of weed so I tried somewhere else and the float buried and on the strike, I saw a good fish flash in the shallow water and I swung in (when I probably should have used the landing net) a nice roach around 6oz – great start.
Any thoughts of bagging up soon disappeared when no more bites followed so I stuck another couple of sections on and tried down the middle of the peg, I was feeding casters, maggots and Bait-Tech Super Seed Hemp and added a couple more roach, a chublet and a gudgeon but already it felt like I was chasing them around the peg a bit and there was more weed than I initially thought as the rig was still dragging under. I tried flicking the rig across where it looked like a clearer run, I had a tiny gudgeon and then had a clonking roach and started catching really well.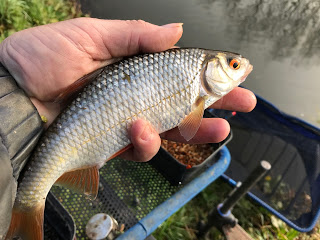 I was getting some lovely roach
I had nine fish in the first 30 mins but after going across I was up to 22 after an hour and although I was getting the odd gobie, most of the fish were quality roach and I started to think a really good weight was on the cards. I then hooked a fish which felt more substantial and landed a nice chub around the pound mark and with just over an hour gone, I probably already had 4lb in the net and was really enjoying myself.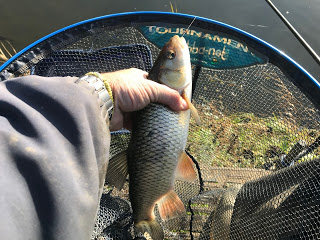 A nice chub around a pound was very welcome too
But after a foggy start, the sun came out and although it was turning into a lovely day (crazy weather for December!), I knew it wouldn't do me any favours in a swim less than a foot deep. My plan was not to venture too far down the peg too soon as I didn't want to chase the fish out of pole range so I kept plugging away but only put a few fish in the net over the next hour or so. I added another section and had a couple of fish straight away but then it slowed up again, then I heard a car pull up and then a chap appeared on the road bridge and took a photo of me, I didn't recognise him to start with but it was Hurf who had come down for a look round, right on cue the float sailed away and he got an action shot of me shipping back with a nice dace on. Thanks to Steve Hurford for the photo*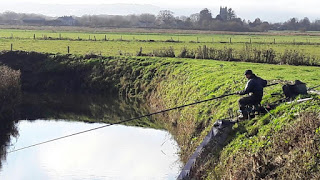 Me in action*
He sat with me for a bit but bites were now hard to come by although I did have a couple of gudgeon while he was with me. He left me too it and I kept adding sections on but didn't really get the response I'd hoped for especially when I went to 13 metres across to stick ups where I thought the fish would be. With around two hours to go, Paul came to stretch his legs and said he was getting the odd silverfish but was having problems with minnows, I was back fishing near the top of the peg when out of the blue, I hooked another chub, this one around 12oz although it was full of casters which is never a good sign.
As we approached the last period of the match and the light started to fade, I started to get a few fish again and ended up with 54 roach, chub, dace and gudgeon plus a couple of minnows and I thought I probably had a similar weight to last week. I took some of my kit back to the car and collected the scales before going to weigh Paul in, he'd found some quality roach late on and weighed 5lb 10oz, then it was my turn and I wasn't too far off with my estimate when Paul called it at 7lb 10oz, which was a little disappointing after such a great start.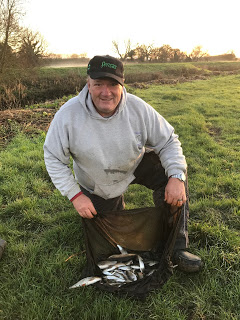 Paul had 5lb 10oz which included some nice roach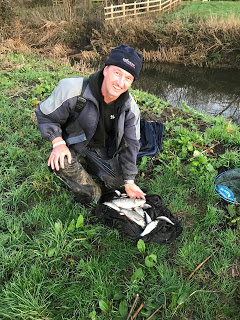 I had 7lb 10oz from peg 125
As we were loading the cars the anglers from below the bridge arrived back and I was surprised when they reported it had been a real struggle, Steve P had 12oz (mostly small fish!) from peg 129, Rich S had 2lb 2oz on 128 and Adie had loads of small fish for 5lb 8oz from 126. Thanks to Adie Bishop for the photos**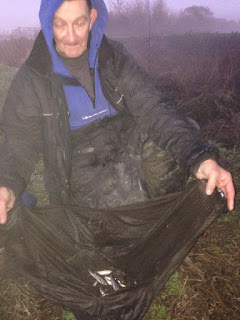 Steve P had mostly small fish for 12oz**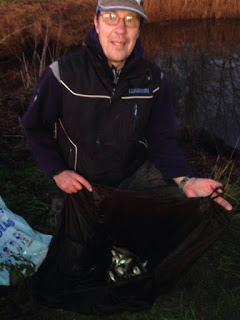 Rich had 2lb 2oz from peg 128**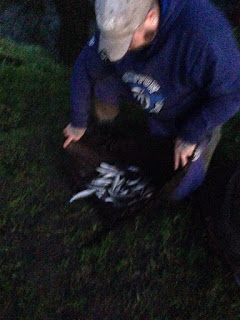 Adie had 5lb 8oz from Barney's Bend**
Back at the results and Hambridge had fished its knackers off with Baz Morgan having the top weight from H4 with 21lb 2oz of roach although it might well have been quite a bit more as they didn't realise the scales bottomed out at that weight! Below the bridge Rob had another cracking net of roach weighing 15lb 3oz and Fieldy had 13lb 12oz, I thought they'd be second and third but oh no, there was a 16lb 6oz weight of chub and roach from Redbridge, yep, you guessed it, Justin on peg 106! Thanks to Stuart Aplin*** and Rob Cox for the photos****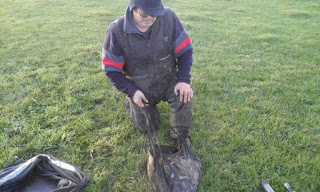 Baz had 21lb 2oz of roach (possibly more!)***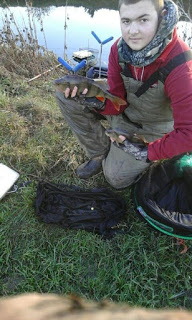 Stuart Aplin had two nice perch for 1lb 15oz from H5***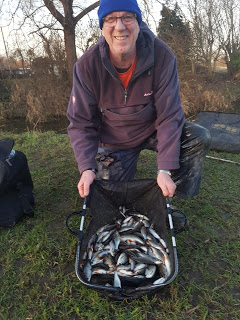 Rob was third with 15lb 3oz of roach****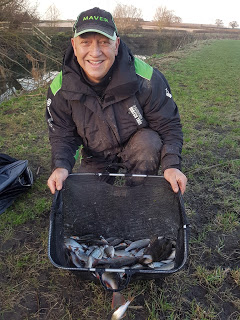 Graham won his section with 13lb 12oz of roach and perch****
The other two pegs at Redbridge struggled with Ash not weighing and Karl having 6oz so I ended up winning my section and I picked up £20 plus nuggets off Paul and Steve.
1 – Baz Morgan (Somerset Angling) – 21lb 2oz
2 – Justin Charles (Ilminster) – 16lb 6oz
3 – Rob Cox (Ilminster) – 15lb 3oz
Sections
A – Jamie Rich (Against Men and Fish) – 7lb 10oz
B – Graham Field (Taunton) – 13lb 12oz
After five matches and dropping the two worst results, the league standings are,
Jamie Rich – 5pts (dropping 3 + 5)
Graham Field – 6pts (dropping 3 + 3)
Steve Parker – 6pts (dropping 6 + 6)
Rob Cox – 6pts (dropping 4 + 30)
Justin Charles – 6pts (dropping 30 + 30)
Adie Bishop – 7pts (dropping 4 + 5)
Next Sunday there's the rescheduled V.E.S. match on the river and that's it for the year although I'm thinking of maybe having a knock up out the pond in the week after Xmas if people are interested.
Before I go, just another plea for a minute of your time to vote for me in the UK Blog Awards (just click on the image below, enter your details and choose Lifestyle and Travel from the drop down list. Voting is only open for a couple of weeks so I'll try not to bang on too much about it!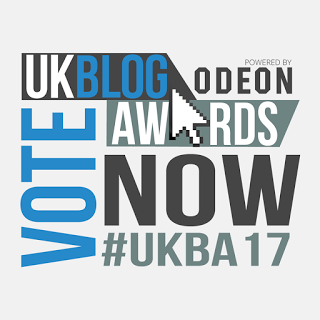 Next up – River Isle
Coming soon – A look back at 2016 and my next review
Check Out – My last match (below)