After a cold and frosty start to the week by Saturday the weather changed yet again, getting milder and we had a fair old drop of rain too, enough that I actually thought we might end up out the pond (I wish we had now, which might give you a fair idea of how this blog is going to go!). A few of us met at the Little Chef for breakfast (including Terry Morgan who was fishing his first match on the river for a fair old while) before meeting at Coxes to do the draw. The river looked spot on, with pace and a tinge of colour and I thought we'd be in for a good match.
Looking at the pegs in today, I fancied Isle Brewers or Hambridge but there were also two pegs in at North Bradon, 92 and 96, the latter can be a great peg as it holds some big chub and Hurf had double figures off it not that long ago. The other peg however, is a real no hoper, it's known as 'The Roach Hole' although I can't remember anyone doing a weight of roach off it since I was junior! (yes that long ago) although Neil Dring did win a match with 18lb of chub five or six years ago. The last time I had it, I weighed 3lb odd but it's been pegged a few times recently and the top weight from it was Martin Heard with 4oz, it's really not very good and I pitied the poor angler who was on it today (you can see where this is going can't you?).
Anyway Rob announced the draw and I ended up holding the bucket, which suited me as I would go in last when hopefully the dreaded peg 92 had gone. People started drawing their pegs and I was listening out for some poor sod to start groaning but it didn't happen and with two balls left, Adie stuck his hand in the bucket and ended up with peg H4 where I was last week, so resigned to my fate I pulled out the remaining ball and yep, it had the numbers 9 and 2 on it. I was seriously gutted and felt like going home but you can't because you have to stay to weigh the other angler in. I know it's a nightmare trying to find decent pegs and there are loads of good ones dotted around in different sections but it's what to put with them, I did it the other week with pegs 14 and 15, although I'd rather have been on either of those today as at least they have some form.
I headed to the river, trying to be positive, fish have fins after all and you can never predict what will happen in match fishing (look at 124a the other week). Karl followed me as he was on 96, we parked up, unloaded the kit and I showed him where his peg was before heading to mine. It looked lovely with loads of trees and branches in the water and surely there had to be a chub or three living there. I set up a 1.5 gram Drennan Carbo with a size 18 B611 and 0.12mm bottom, plumbing up the bottom was all over the place and the river was a lot pacier than I'd first thought, the only steady water was tight across but the low branches would make striking problematic.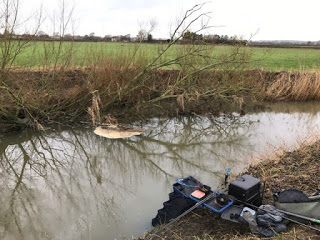 Peg 92 looked nice
Karl turned up for a chat before the start and said he'd phoned his brother Stu who'd had the choice of pegs 124a or 125 and had picked the latter as fish were topping in it, that meant nobody was in 124a and with 129 not in either, there were two great pegs that I'd rather have been on than where I was currently sat. Karl headed on back and as the start time arrived I began with double red maggot fishing under my feet but I got snagged straight away so went across with a the hook buried in a caster. Normally if there are a few fish about you get an early indication but this didn't happen which wasn't really a surprise.
We'd had a few showers but the rain was getting heavier and just to add to the fun, the wind was picking up as well. I finally had an indication and the caster was nipped, next chuck I had a tiny dace so at least I hadn't blanked, a few minnows followed but striking was a nightmare even with only four inches between the float and the pole tip. I tried a few other likely looking spots and even shallowed up to fish at 14.5 metres in the tail of the swim but nothing and the only place I could get indications was tight across in front of me.
After an hour Karl arrived again and said he hadn't had a bite and had spoken to Stu who was catching some nice roach. While he was sat with me I tried double caster but got snagged up and lost a hooklength so it was back to burying the hook in a caster and catching the odd minnow. In a bid to try and get rid of them, I upped the feed but it didn't really seem to have much affect. Karl walked back to his peg and I saw I had a missed call from Hurf, phoned him back and he said he'd had a chub, along with some roach and gudgeon so I started shining my pound up in readiness for later.
The wind was making presentation a nightmare and I went up the tree a couple of times which did nothing to improve my mood and when you're having a bad day, time seems to pass very slowly, we'd also decided on fishing six hours today and it felt like six weeks! I did catch a second tiny dace along with some big minnows but I was going nowhere fast and with Fieldy on a decent peg, I started to think my league was over.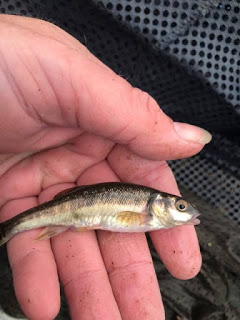 Monster minnow!
With about an hour to go, I finally caught a chublet but at an ounce I wouldn't be threatening the podium places today, then something rolled in front of me and I got excited for a minute but I think it was actually another of our furry friends. With about 45 minutes to go, Karl arrived with the scales and said he'd packed up as he couldn't fish his swim which was now a mess of boils and he'd had an otter go through his peg. While he was with me I had a real purple patch, catching another little chublet and a gudgeon, I also went up the tree again right at the end and lost another hooklength which rather summed the day up.
My haul of two dace, two chublets, a gudgeon and twelve minnows pulled the needle round to an impressive 6oz and it had been a miserable day. We got back to the cars and then Karl went and got his pole as he'd managed to get three sections stuck together, we couldn't get them apart and I had no idea what we were going to do about it, luckily we managed to get one section apart and then he drove back to meet to others with his pole sticking out of the passenger window like a medieval jouster! Back at the results and with an angler on each end pulling and Hurf tapping the offending section we finally got them apart.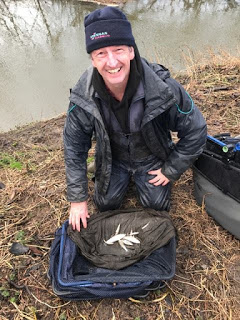 My mixed bag of 6oz was mainly small fish!
As for the fishing, it had been really hard again, Terry had the top weight with a nice net of quality roach weighing 10lb 13oz from peg 128 but then the weights dropped right off with young Stuart and Hurf tying for second place with 3lb 13oz. The anglers at Hambridge had struggled again and Justin had the top weight there with only 3lb 8oz. I ended up fourth in my section which wasn't as big a disaster as I first feared as Fieldy also had four points. Thanks to Rob Cox* and Steve Hurford** for the photos.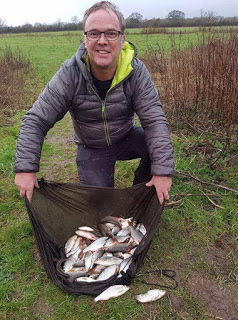 Terry had the top weight with 10lb 13oz of quality roach from peg 128*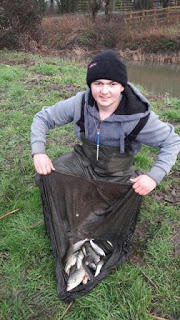 Stuart did well to finish second with 3lb 13oz**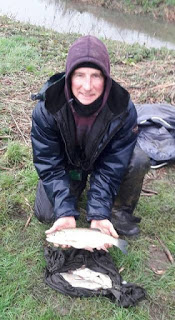 Hurf had a chub and some nice roach for 3lb 13oz**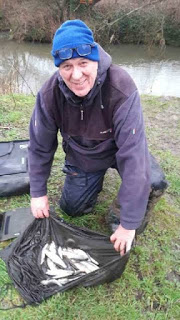 Rob won the section with loads of small fish for 3lb**
1 – Terry Morgan (Ilminster) – 10lb 13oz
2 – Stuart Aplin (Ilminster) – 3lb 13oz
2 – Steve Hurford (Ilminster) – 3lb 13oz
Sections
A – Rob Cox (Ilminster) – 3lb
B – Justin Charles (Ilminster) – 3lb 8oz
So with one round to go, it's still very tight with just two points between the top three, here's how it looks after eight matches and dropping the two worst results.
Graham Field – 12 pts (dropping 3 + 4)
Jamie Rich – 13 pts (dropping 5 + 5)
Rob Cox – 14 pts (dropping 6 + 30)
Adie Bishop – 18pts (dropping 5 + 5)
Steve Parker – 18 pts (dropping 6 + 6)
Stuart Aplin – 21 pts (dropping 5 + 5)
It's the open next week and Rob has switched it to the pond which hopefully should see us all get a few bites, spaces limited to 18, so if you fancy it get your names into Rob asap.
Next up – Dillington
Coming soon – My next great interview and my first guest blog
Check Out – Last weeks lovely day (below)