More horrendous weather during the week with loads of rain and strong winds so Rob made the right decision to swap venues and hopefully with some colour in the pond, we should all get some bites. Although when I woke up we'd had a frost which probably wouldn't do us any favours. After another really good Little Chef breakfast we headed to the pond for the draw, there was a good turnout and it was great to see Andy Welch who always fishes the Open and Gordon Aplin who won this match last year with only 1lb 15oz, conditions were pretty similar again with the pond chocolate coloured and I hoped it would fish better this time around. Big Frank and Nick Payne were also fishing their first matches for a while.
I paid my pools and Rob decided to also run an optional £5 super pool, which I think is a great idea, looking at the pegs I didn't really mind where I drew with the exception of the hero or zero pegs by the bush (1 and 24) or peg 15 which is on a high bank and awkward to fish with the fence just behind you. When the draw was announced I decided to try and get in early for a change and went in fourth or fifth but didn't look to see what I had. I heard Big Frank say he had 24 and when Nick said he was on 1, I felt it was safe to have a look, I was on peg 13 which is on the bottom bank and an area I really like. Hurf was on 20, Rob would be able to see if his Wi-Fi password still worked in peg 19 and Steve P was on peg 10.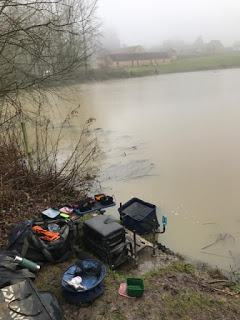 The pond was very coloured
I got to my peg and it was still quite misty and there was a definite chill in the air, after setting my box up, the first job as always was to mix my groundbait which was Bait-Tech's Pro Natural Dark which I use for all my silvers fishing on natural venues and I also added a glug of 'The Juice' to the water for mixing the groundbait. This end of the lake tends to be a bit deeper so I opted for a 4 x 16 Preston Chianti with a size 18 Kamasan B611 barbless (http://www.gooutdoors.co.uk/sale/fishing/) to 0.10mm. On the side tray I had maggots, casters, Bait-Tech Superseed Hemp plus I'd asked Steve to get me some disco pinkies and like the last time he wrote a little message on them which almost made me feel guilty for using them!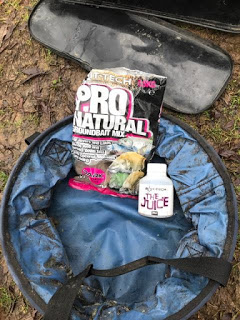 Pro Natural Dark and 'The Juice', an awesome combination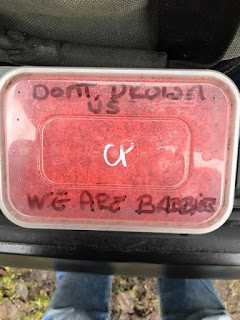 Steve's pinkie message 'Don't drown us we are babies'
I said to a few people that I thought it might take a while before we started getting bites but as I was setting up there were quite a few small fish topping which I hoped would be a good sign. Rob shouted the all in and as I cupped in two balls of groundbait at ten metres, I saw Fieldy opposite me on peg 4, swing in a small fish so that was my theory out the window! I put two pinkies on and shipped out, fed a few casters and a pinch of hemp, the float settled and dipped before sailing away and a 2oz roach got me off the mark. I had another seven in as many put ins and probably had a pound in the first 15 minutes, a great start!
My next couple of fish were tiny so I tried single maggot which didn't really help, double maggot was better although I was having to wait quite a while for bites. Most people seemed to be catching small fish and Adie on peg 18 had netted a skimmer on the feeder. After an hour I was on 26 fish and shouted up to ask Steve how he was doing and he said he had around a dozen fish, I replied saying I thought he had a clicker and he said yes he did, so I asked why he wasn't using it and he said he was and that it had 19 on it!!!! Work that one out!
I kept trying caster but was having to wait ages for bites and went back to pinkies and maggots, I was still catching small roach with the odd 3-4oz fish and thought if I could catch around 20 fish an hour at an average ounce and a half apiece, I wouldn't be far off 10-12lb which I thought would be a good weight today. The next hour was similar although things started to slow up as we approached the half way point, I started coming half a section closer and also fishing to the right and left of my feed and I'd get a couple of fish before going back over my main catching area.
Justin on peg 7 had a good bream and a skimmer on the pole and Adie had also added a couple more skimmers, Rob and Terry 'The Toast' Morgan on peg 17 were catching lots of small fish but I still felt I was doing okay. So far all my fish had been roach but in the fourth hour I hooked a fish which pulled a bit more elastic out before I netted a 4oz chublet, some better roach also put in an appearance and I was still on course for a decent weight although both Adie and Justin were getting odd skimmers on the feeder and Hurf had landed a good fish too.
With two hours left I started catching more fish on caster including my second chublet although I kept having spells where I'd bump or miss several bites on the trot which was very frustrating, I also lost a good roach as I unshipped the top kit and I hoped it wouldn't cost me. I was slightly ahead of my 20 fish an hour target and then with fifteen minutes to go I hooked into a decent fish and elastic streamed from the pole tip. After the initial run it didn't do a lot and I carefully shipped back and was surprised when a 2lb chub popped up, it didn't give me too many problems and was a welcome bonus. I still had time to land another couple of roach and my clicker was reading 128 when Rob called the all out. I thought I had around 12-14lb with that chub but wasn't sure it would be enough to beat the bream and skimmer weights.
I packed up and took my kit back to the car before going to get some photos of the weigh in, Frank didn't bother the scales on peg 24 and I have to admit I wouldn't have wanted that peg today, Hurf had 2lb 8oz which included a lovely tench then Rob had a nice net of roach weighing 7lb 14oz, Adie had six skimmers for 6lb 3oz which surprised me as I thought he had more than that, Terry had done well to catch 248 fish for 8lb 9oz from peg 17. Leighton had 2lb 4oz from peg 15, another peg I really don't like and Rich had struggled for 14oz from peg 14. I was last to weigh in my section and the needle settled on 12lb 6oz but I didn't think it would be enough to beat Justin.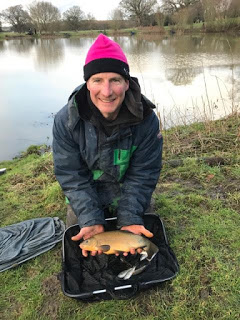 Hurf had a lovely tench on the feeder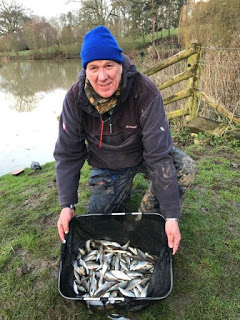 Rob had loads of small fish for 7lb 14oz from peg 19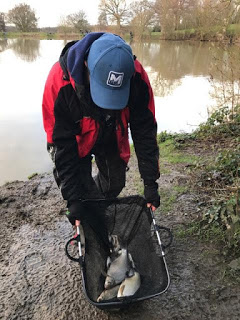 Adie had six skimmers and a few bits for 6lb 3oz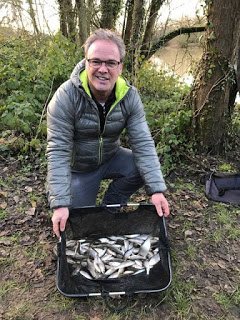 Terry had 248 fish for 8lb 9oz from peg 17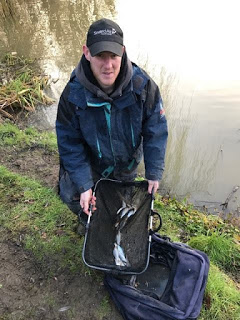 Leighton had 2lb 4oz from peg 15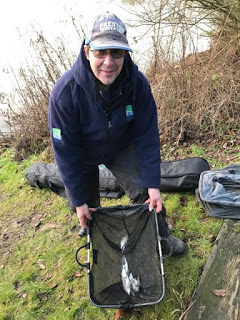 Rich S had 14oz from peg 14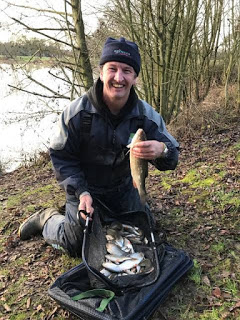 I had 12lb 6oz of roach and a bonus chub
Back at the results and it was close, very close in fact but Justin had won it with 12lb 8oz, Andy Welch had the next best weight in that section with 7lb 12oz from peg 6 which included a lovely bream and just behind him was Graham who had 7lb 11oz from peg 4. Gordon had 5lb 12oz from peg 2 but had lost a good perch at the net and Steve P had 4lb 2oz from peg 10. Stuart had 2lb 11oz from peg 8, beating his older brother Karl off the next peg and Nick didn't weigh in peg 1. Photos courtesy of Karl Aplin*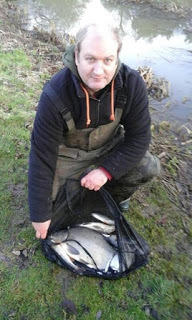 Justin had the top weight on the day with 12lb 8oz of bream and skimmers*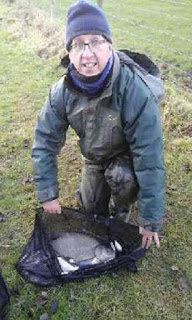 Andy had 7lb 12oz which included a big bream*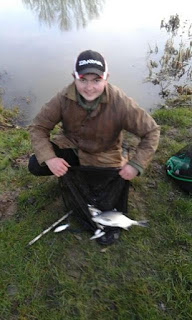 Stuart had 2lb 11oz from peg 8*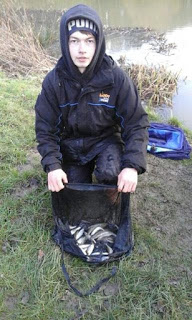 Karl had 1lb 12oz next door on peg 9*
So I ended up in second place and had nice pick up of £75 thanks to the superpool but was left cussing all those missed/bumped fish and that's twice in recent weeks I've been 2oz off winning, but still a really enjoyable day and pounds off Hurf and Steve were the icing on the cake.
1 – Justin Charles (Ilminster) – 12lb 8oz
2 – Jamie Rich (Against Men and Fish) – 12lb 6oz
3 – Terry Morgan (Ilminster) – 8lb 9oz
4 – Rob Cox (Ilminster) – 7lb 14oz
Sections
A – Andy Welch (Ilminster) – 7lb 12oz
B – Adie Bishop (Taunton) – 6lb 3oz
Next week it's the final match of the Royal Oak league where I'm currently in second place but it's all very tight with only two points separating the top three.
The draw will be at Upper Coxes at 8:45 and for those that want breakfast, meet at the Little Chef at 7:45.
Next up – River Isle
Coming soon – Some more great reviews
Check Out – Last weeks disaster (below)