After having a lovely day last Sunday, I spent most of the week praying for rain but it was dry and cold and it looked like we'd be in for another tough match on the river for the last league match. We even had a light dusting of snow on Saturday and waking up the following day, it was bitterly cold. A few of us met for breakfast before heading to Upper Coxes to do the draw. I was hoping to pull out a peg at Isle Brewers but wasn't too upset when I drew H4 at Hambridge where I'd done okay a few weeks back but then somebody realised we were a peg short and had to redraw, second time around I drew 129 at Isle Brewers, it can be a good peg but has tailed off somewhat in recent weeks.
As far as the league was concerned it was between Fieldy, Rob and me and we'd all drawn in the same section so I needed to beat Graham to win the league and avoid a total blowout to hold onto second spot. Easier said than done though with Rob on 128 and Graham on 124, both pegs that have won recent matches. We got to the river and as we started taking our kit to the pegs it we soon realised how cold the wind was and it was whipping across the fields and it would be even more exposed for those at Hambridge. I really expected it to be rock hard today and had said to Adie earlier that I thought 5lb would be a good weight today.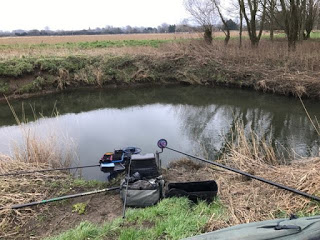 Peg 129 at Isle Brewers
I set up a 1 gram Drennan Tipo with a size 18 Kamasan B611(http://www.gooutdoors.co.uk/) to 0.10mm and on the side tray I had maggots, casters and Bait-Tech Superseed Hemp. I started with single red maggot on the hook just to try and catch a minnow to avoid the blank, first put in at 8.5 metres in the middle, the rig settled before the yellow tip disappeared and I swung in a tiny minnow, job done, blank avoided, or it would have been if I hadn't missed the keep net with it! Next chuck I had another and blow me if I didn't do the same thing again! This time it landed on the bank so after scrabbling about I finally managed to retrieve it and get off the mark.
I buried the hook in a caster to see if I could catch a proper fish and inched the rig through, the float sailed away and this time some elastic came out before I swung in a 4oz chublet, this could be better than I'd first thought. Any thoughts of bagging up soon disappeared when every run through resulted in either a minnow or the end nipped off the caster. I did catch a couple of tiny gudgeon but was going nowhere fast. Just before the first hour was up, the float sunk from view and this time the strike resulted in something more substantial shaking its head, I shipped back carefully before netting a chub around a pound and a quarter – bonus!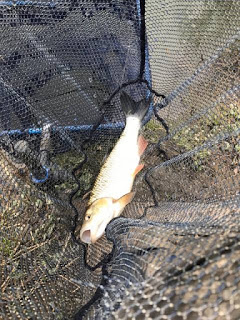 Hopefully I'd get a few more….
Not long after, a very cold looking Rob turned up and said he hadn't had a bite yet although he did say Terry 'The Toast' had caught on 126 and young Stuart was getting a few just above the bridge in peg 125. After watching me catch a few minnows and a gudgeon, he left me to it and went back to his peg. I kept trying different areas of the swim but the result was the same, a slightly better fish did top in the tail of the swim and I flicked the rig down there but it was miles overdepth and it just wasn't right.
In a bid to try and avoid the minnows I had upped the feed and put double caster on but it wasn't working and they were still being a real pain. Around the half way point, Rob arrived again and he still hadn't had a bite, while he was sat with me I went back to single caster and the next bite resulted in a 3oz dace and not long after I had a better one of 4oz but the action was short lived and it was back to minnows and the odd gudgeon. Then Hurf came for a walk round and said that Fieldy had been struggling but tried fishing a waggler in the shallow tail of the swim and had started catching really well. He also reported that Stu was getting some nice roach and as peg 125 is really shallow, it got me wondering if perhaps the fish in my swim were in the tail.
With two hours left, I had to try it for my own peace of mind so I got off my box and set up a shallower rig, it was still around three foot deep in the tail and I tried fishing 13 metres down the peg but nothing. Baz phoned from Hambridge and they were struggling down there as well, he hadn't had a bite for three hours but then had a pound perch out of the blue. I tried fishing across to the far bank above me and had a few minnows and Hurf said he was heading off when I hooked what felt like a dace or chublet only for it to come off as I shipped back so he said he'd stay and watch a bit longer but when the next couple of fish were minnows he did bid me farewell.
I went back to fishing down the middle and was just going through the motions, catching minnows and gudgeon when with 15 minutes to go and the light starting to fade, I had another dace and then I had my first roach which was about 4oz, I then bumped a decent fish before catching another roach and had a gudgeon just as the six hours came to a close. A really frustrating day as there were obviously fish there but they just didn't want to feed. Terry soon arrived with the scales and was admitting to three pound plus so I knew I hadn't beaten him. My fish went 2lb 13oz and I hoped the two fish I'd bumped weren't going to cost me.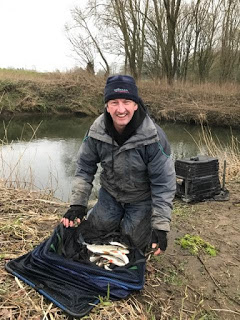 A frustrating day for 2lb 13oz!
Rob had blanked so at least I was guaranteed second place in the league, then we got to Terry and he had a nice net of dace and chublets weighing 4lb 11oz and I said he would probably frame with that, Rob said he wasn't so sure as Fieldy had weighed 14lb of chub, perch and roach and Stu had 10lb 2oz of quality roach! Photos courtesy of Rob Cox*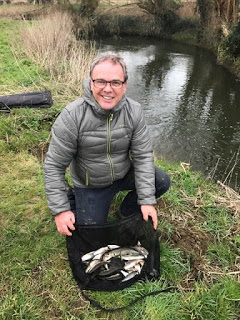 Terry was third with 4lb 11oz from peg 126a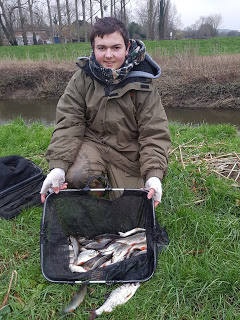 Stuart had a nice net of quality roach for 10lb 2oz and second place*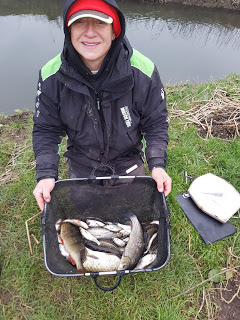 Graham had a lovely net of chub, perch and roach weighing 14lb to win the match and the league*
Back at the results and Hambridge had fished really poorly with Adie having the top weight there with 3lb followed by Baz with 2lb 9oz, Rich with 1lb 5oz and Karl with 5oz, Steve P hadn't weighed. So I actually ended up winning the section money of £15 by triple default! (I'm not proud!), finished second in the league and took a pound off Steve so not too bad a day.
1 – Graham Field (Taunton) – 14lb
2 – Stuart Aplin (Ilminster) – 10lb 2oz
3 – Terry Morgan (Ilminster) – 4lb 11oz
Sections
A – Jamie Rich (Against Men and Fish) – 2lb 13oz
B – Adie Bishop (Taunton) – 3lb
Final Royal Oak League Positions
1 – Graham Field – 13 pts (dropping 3 + 4)
2 – Jamie Rich – 17 pts (dropping 5 + 5)
3 – Adie Bishop – 19 pts (dropping 5 + 5)
Next week it's the final match of the V.E.S. Precision league and that's pretty tight with Adie on 8 points, Steve P on 9, me and Fieldy on 12 and Rob on 13 and with the way the river is fishing anything could happen!
Congratulations to Graham on winning the league and the club would like to thank Steve and Cindy at the Royal Oak, Ilminster for all their continued support and massive thanks to Rob for all his hard work organising the matches.
Next up – River Isle
Coming soon – Some more great reviews
Check Out – Last weeks lovely day (below)