I didn't get to fish the Perry St League last year due to the dates clashing with the Isle matches and I have to say I missed it, so I was delighted when Les phoned and said this years dates were back to normal. The last time I fished it, I'd done well fishing pellet shallow and meat at five metres and in the margins but a lot can change in eighteen months so I jumped at the chance to fish when Les said there was a space in this weekends match. I was hoping it might give me an idea of what to expect but with it still being only March, I also added some maggots to the menu.
We were meeting at the Millfield café for breakfast and as I walked in, everybody else was already there and greeted me with various boos and hisses, it was really nice to see everyone until I noticed the Torquay Tart lurking in the corner! He didn't put me off my food though and I have to say it was great value at £5.50, the service was really quick too and I heartily recommend it. I hadn't seen most of the guys for a long time and in the intervening months, Les had turned into Santa Claus as he was now sporting a big white beard, it was also lovely to see the sexiest man in angling, Steve Chant, as well as Bish, Picky, Hoff, Oz, Chilly, Dave, Butch, Mike Smith and Howard.
Then it was off to the pond for the draw and Exeter Mike, Bushy, Mark and Shane met us there, as always people were hoping to draw one of the corners as peg 1 had won the last match and apparently there were loads of fish moving in 10 and 11. I pulled out peg 14 which I was fairly pleased with until the Tart said he was opposite me on peg 7. The corners went to Les (peg 1), Bushy (peg 10) and Picky was on 11 so I checked my pockets to make sure I had a pound to pay him, Mike Smith was on the fourth corner (peg 20).
I set up three rigs, a little J-Range inline dibber (brilliant floats) to fish up in the water with banded pellet, a 0.4 gram Drennan Carp for the five metre meat line and a little Trabucco dibber for fishing up the edge, all three had size 16 Kamasan B911's to 0.14mm. On the side tray I had maggots, 6mm pellets plus 6mm meat to which I added a good squirt of the new Bait-Tech Liquid Plum. Les hooked a carp on a bare hook before the start so there were obviously a few fish there and odd carp could be seen moving about out in the middle so hopefully we'd get a few bites.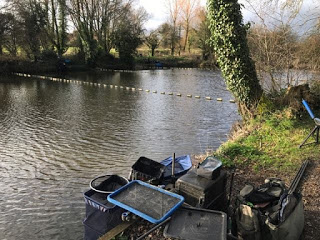 Peg 14 looking up towards peg 10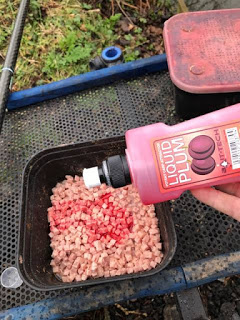 Bait-Tech's Liquid Plum
On the whistle I cupped in half a pot of meat at five metres and meat, maggot and pellets up the edge to my left at eight metres before starting at 11.5 metres with the shallow rig and banded pellet. I was flicking out five or six pellets regularly and also feeding meat by hand on the shorter line. I did miss a bite early on but it certainly wasn't fast and furious. Mark on peg 8 had an early carp as did Hoff on peg 2, although he lost a couple as well. I shouted across to the Tart that he was getting battered off the next peg again but then Butch next to me had a carp and I was in the same boat!
I finally got off the mark with a 4-5lb fish but that was my only action in the first hour, I fed the inside again but wanted to leave it as long as possible before trying it. Bish on peg 4 had started getting a few and having an empty peg next door obviously wasn't doing any harm. Chanter in peg 6 had three fish in quick succession and then the Tart had one as well. Things got even worse when he had another quite quickly and the crowing started and he held up a pot of bristle grease saying he didn't have any Vaseline but would that do to ease the ass whooping I was getting!
Then he hooked a big fish and although I wasn't panicking yet, he was pulling away from me, but then it snagged him in some tree stumps on the inside and after much faffing about, he lost it, I didn't laugh (much!) and reminded him of that thing called 'Karma'! There were obviously a few fish there as he added a third and he shouted over that he'd lost my number when he got a new phone and could I let him have it again, I wasn't sure I could face all the gloating texts so I made one up but I'm not sure he believed me!
Quite a few carp could be seen cruising about and I managed to tempt one by carefully stalking it (although some may say mugging!) and during the third hour I managed a couple more good fish around 4-6lb each to just edge ahead of the Tart who had lost another. I had a go at five metres and missed a bite but that was it and with lots of fish still mooching about out further, I fed the inside line again and went back out with the shallow rig.
Around the pond, Les was getting a few, Hoff had a couple but had snapped a top kit, Oz was struggling in peg 3, Bish was bagging and was way ahead of everybody else and if anything his swim was getting stronger and stronger. Chanter was stuck on three fish but still looked gorgeous, the Tart was trying to mug fish and slapping and all the while trying to drop me in it! Bushy had landed a few in peg 10 but I couldn't really tell how Picky was doing although by all accounts, Howard in peg 12 had caught some lumps. Exeter Mike had a couple of carp on my right as did Butch on my left but then I couldn't really tell how the rest were doing on my side.
I had two more decent fish shallow and started to think I could be on for a good weight when the wind picked up, it got colder and started to rain. No more indications shallow and I could no longer see them swimming about, so I tried the five metre line but that wasn't the answer and neither was the margin swim. Then to make matters worse, the Tart had two fish quite quickly to go level on numbers with me and then added another to go ahead and I didn't know what to do next. I could see Bish was catching a lot of his fish on his short line so I decided to stick with meat at five metres for the last hour or so.
Nothing for twenty minutes or so and I was just thinking about trying the shallow rig again when the float sailed away and before I could strike, elastic was streaming from the pole tip, it was obviously a decent fish and I took my time with it before netting a nice mirror of around 8lb and that was the last of the action for me and although I'd missed a couple of bites, I was pleased I hadn't lost any fish. As I packed up, Exeter Mike said he'd had three carp and that Howard had seven and Picky had five. I took my kit back to the car and asked how the others had got on, Chilly was admitting to seven carp and some skimmers from peg 17 and he had an empty peg next door as well and Mike in peg 20 also had seven so it could be tight between us.
The scales started with Les 'Santa' Braunton in peg 1 and he set the pace with 57lb 8oz, Hoff had 15lb 4oz from peg 2 and Oz had landed a lump on the whistle to finish with 18lb 6oz. Then we got to Bish and after three weighs, his total was 78lb 10oz which would give him a comfortable victory. Chanter didn't weigh and then the Tart had 26lb 4oz and conceded his pound which I didn't want to take in case I had to give it back again! Mark on peg 9 had 6lb and then Bushy went into third place with 45lb from peg 10. Picky had five carp for 17lb before Howard put some lumps on the scales for 35lb 4oz which included one that looked to be 10-11lb.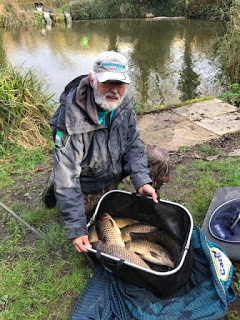 Les had 57lb 8oz from peg 1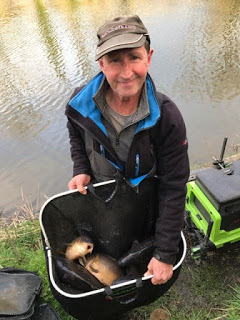 Bish caught all day to win with 78lb 10oz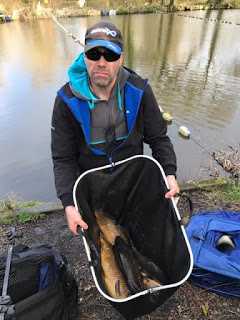 Bushy had 45lb from peg 10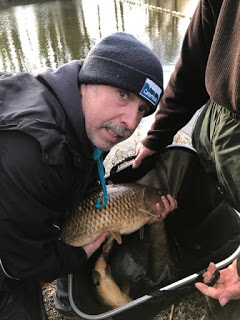 Howard had 35lb 4oz which included this beauty
Exeter Mike didn't weigh before it was my turn and my seven carp pulled the needle round to 37lb 8oz, the Tart took some photos of my catch but Dave was very keen to get in the photo, luckily there was one photo I could use uncensored! Butch had 23lb 8oz and Shane DNW'd, Chilly was next but I missed him weighing in as the Tart loosened all the legs on my box so every time I picked my box up a leg fell out! When I got there he'd weighed 36lb 8oz of carp but he had 3lb odd of skimmers to give him 40lb 2oz, Dave didn't weigh and then Mike's seven carp went 30lb 4oz.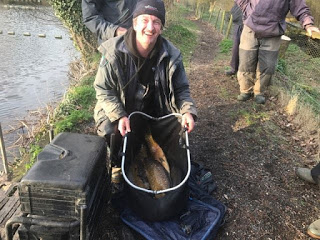 Seven carp for 37lb 8oz and a section win
Back at the results and Bish was announced as the winner followed by Les and Bushy with Chilly taking the last frame place. Section wins went to Oz, the Tart, Mike and me so I picked up £30 plus pounds from Picky and the Tart which always gives me a warm glow inside!
Today's board
1 – Steve Bishop (Chard) – 78lb 10oz
2 – Les Braunton (Chard) – 57lb 8oz
3 – Steve Bush (Chard) – 45lb
4 – Andy Winters (Chard) – 40lb 2oz
Sections
A – Steve Osborne (Chard) – 18lb 6oz
B – Brendon Ions (Torquay) – 26lb 4oz
C – Jamie Rich (Against Men and Fish) – 37lb 8oz
D – Mike Smith (Chard) – 30lb 4oz
Next up – Summerhayes
Coming soon – Some more great reviews, interviews and guest blogs
Check Out – Check out my 'Quick Bite' (below)