The match was on Longs this week and the good news was that the weather was a lot better than it has been, the bad news was that the Torquay Tart had text me to say he was fishing today! I picked Janders up and as soon as we pulled into the car park I could see the Tart waving at us like the worst welcoming committee ever! After paying our pools and drinking coffee, it was time to draw, the golden peg was 36 and Janders pulled it out, the Tart was on peg 3 and I ended up on 39 again, it's a peg I seem to draw a lot and never do any good on it, it's in a corner and much like my peg last week, it can be good for carp. I was a bit gutted to be honest although the owner Pete had won the silvers on Friday from peg 38 with 11lb 13oz so there were a few in the area.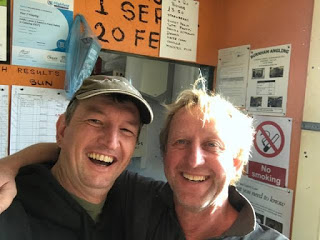 Me with the silvers champion from Friday, Pete Wakeling
I could see Janders on my right and the Tart on my left so I would be able to check how my side bets were doing, although in typical Tart fashion he wanted a pound on carp as well as he wouldn't be fishing for silvers (no finesse that boy!). I set up a 10 x 11 MW F1 Slim for three lines at 10 metres and a 5 metre line and a 0.3 gram NG Mini Gimp for fishing top two plus one to my right. On the side tray I had 4mm Bait-Tech Xpands for the hook and for feed I had micros that I'd soaked the night before using water with a healthy glug of Liquid Plum added. I also mixed up a little groundbait to feed on the left hand ten metre line.
On the whistle I cupped in micros on the inside, five metres and at ten metres straight out and to the right and then two balls of groundbait on the left hand line before starting on the inside. I gave it ten minutes but with no indications I soon picked up the other rig and went out on the middle ten metre line. I had to wait a little while for my first bite here and then of course missed it, the Tart had already had a carp and when he hooked another, he offered to throw me over his bristle grease in lieu of Vaseline and this was already looking like it could be a very long day. Next chuck I had a 3oz skimbob to get me off the mark and then hooked a better fish which I knew wasn't a carp and slipped the net under a nice tench around the pound mark.
The next bite resulted in lots of elastic coming out and I thought I'd hooked my first carp but it turned out to be a decent skimmer foul hooked in the wing, no more indications so I switched to the right hand line and had two good skimmers in quick succession followed by a small one and then one of 8oz or so and as the first hour drew to a close, I already had 4.5lb of silvers in the net. The Tart was still catching quite a few carp as was Jim down on peg 6 and Janders had landed a decent one too.
I had another little skimbob at the start of the second hour but then nothing for ten minutes so I tried the groundbait line for the first time but the float just sat there, I kept trying the other two longer lines but the only indication I had resulted in a foul hooked carp which wasn't on long. I'd been dripping in a few micros on the five metre line every time I shipped out and wanted to leave it as long as possible before fishing it but had to do something so I cupped in some more feed on the three longer lines before trying the short line for the first time.
It took a while to get a bite but then the float sailed away although a small skimmer wasn't the result I was hoping for, another followed and I was just thinking I didn't know what to do next when the next bite saw me hook a good fish which turned out to be a gorgeous golden tench around the pound mark. My next two fish were skimmers about 8oz apiece and I added a few more blades and a couple of small roach but the five metre line was fading and it looked like it was going to be a case of nicking a couple of fish before moving swims.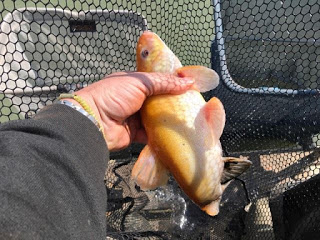 This lovely golden tench was a nice bonus
As we got to the halfway point, Janders wandered up and said he was struggling, he'd had a couple of carp but just couldn't catch skimmers. While he was with me the float disappeared from view and I hooked a fish which I said was either another tench or a crucian, sure enough a nice little crucian popped up and then the hook pulled out! Janders said he'd brought me bad luck and left me to it, I then hooked a fish which I thought was a good skimmer but then it woke up and turned into a carp so it was time to try the other lines again.
The top two plus one line was still a waste of time so it was back out to the middle ten metre line and it was slow going but I had a few more small skimbobs and out of the blue had another around 12oz before having to switch lines again. On the right hand line I hooked a flying skimmer and it was a good fish, probably 1.5lb and things got even better when I had it's twin next put in. I thought I probably had 9-10lb and there was still an hour and a half left and I was hoping I might catch a few more from the five metre line.
I had another go over the groundbait but never had a bite there so came back to five metres and started getting some small roach and skimmers but it wasn't the grandstand finish I'd hoped for, I did bump what felt like a better fish but I also had three carp in the last period of the match. I ended up with 27 skimmers and those tench plus around a dozen roach and those four carp. Janders didn't weigh so I got my pound back from last week, John White had 49lb 15oz from peg 34 and then Steve Kedge went into the lead with 86lb 8oz from 32.
Martin Addicott had 4lb 14oz of silvers from peg 30, Brian S had 37lb of carp from 27 and then Darren on peg 24 had 28lb 2oz of carp and 6lb 10oz of silvers which included a lovely perch of 2lb 11oz, peg 20 didn't weigh and Jack B had 42lb on peg 18. Next was silvers maestro, Jeff Sparkes on peg 15, he said he had around 7lb of silvers and weighed 6lb 15oz so a pretty good estimate then! Roy Hughes had 54lb 12oz from peg 12 and Exeter Mike had 26lb 12oz from peg 9. Jim Jenner weighed 57lb 1oz to go into second place but only briefly as the Tart had 61lb 10oz and I really felt for his travelling companions, Darren and Duncan who would have to listen to him recount his performance, fish by fish, over and over again, all the way back to Torquay!
I was last to weigh and was slightly off with my estimate as Adie called my weight as 13lb 12oz, I didn't see any point in weighing my carp so the side bet would be all square between me and the Tart. Back at the results and I picked up £38 for my first silvers win of the year.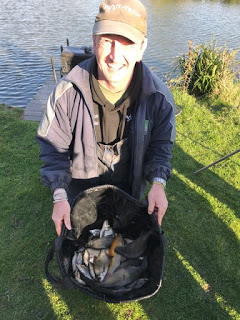 My 13lb 12oz won the silvers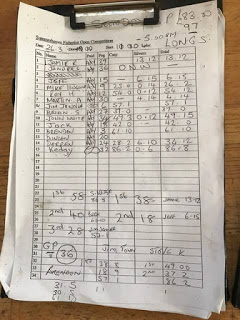 Todays board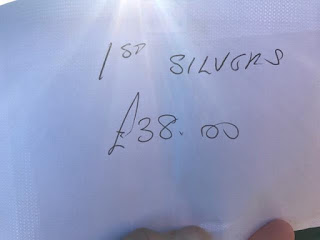 1 – Steve Kedge (Somerset Angling) – 86lb 8oz
2 – Brendon Ions (Torquay) – 61lb 10oz
3 – Jim Jenner (Summerhayes) – 57lb 1oz
Silvers
1 – Jamie Rich (Against Men and Fish) – 13lb 12oz
2 – Jeff Sparkes (Summerhayes) – 6lb 15oz
A really enjoyable day apart from being near the Tart, in all seriousness, I'm thinking about bringing out a new product, the ATED (Anti-Tart Ear Defender), so any potential investors out there, please get in touch or I'm going on the Dragon's Den.
Next up – The Spring League at Perry St
Coming soon – Another great 'Quick Bite'
Check Out – My latest interview (below)