As you might well have guessed from the title of my latest book review, this isn't your normal run of the mill fishing book! I first became aware of it when both Keith Arthur and Bob Roberts mentioned it, the author is a certain Billy Makin, former top match angler, maker of floats and creator of one of the first commercial fishery complexes who now resides in Thailand where he owns a bar. I wasn't really sure what to expect but given that my favourite pastimes are match fishing and fishing in Thailand, it had to be worth a punt! I ordered it from Amazon for the very reasonable price of £10 with free delivery in the UK (it's also available for the Kindle at £4.82) and it arrived within a few days.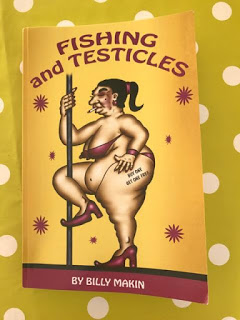 The cover does feature a pole, just not one made from carbon fibre!
The cover of the book has an almost saucy seaside postcard feel about it and these illustrations (by Mike Baird) feature throughout the book. It's published by B and M Publishers UK so I'm pretty sure it's self published and there are a few spelling mistakes dotted through the text (not enough to detract from the readers enjoyment but enough for a pedant like me to notice!).
The book is packed full of very comical stories as Billy recounts tales from his youth, his fishery owning days, his time in the army and of course Thailand, although if I'm honest I found it a little bit disjointed at times as he flits between different periods of his life, sometimes mid story! His was and continues to be, a very colourful life and at times you wonder how he's made it this far! Also, if, like me, you were wondering why testicles are in the title, shall we just say that Billy's balls feature prominently throughout the book!
It is a very funny read but if you're looking for a Billy Makin autobiography or some fishing tips, this isn't the book for you (although if he were to publish the former, it would be a fascinating book and one I would love to read about his match fishing days and the creation of Makins Fishery). One thing I did learn from the book is that if I ever meet the man himself, I certainly won't be getting on the wrong side of him!
If you want a chuckle, grab yourself a copy (you won't be disappointed!)
https://www.amazon.co.uk/FISHING-TESTICLES-Billy-Makin/dp/0995553394/ref=sr_1_1?s=books&ie=UTF8&qid=1492032391&sr=1-1&keywords=fishing+and+testicles