I reviewed Fishing and Testicles by Billy Makin back in 2017, it's a very funny read and you can see what I thought of it here, I mentioned in that review that I would love it if he ever wrote his autobiography so when I saw that he'd published The Golden Years: Match Fishing Memories, my prayers were finally answered!
The book is fascinating on so many levels, Billy began fishing in a time before fibreglass rods, fixed spool reels, wagglers, swingtips and reading about the evolution of fishing tackle and how the anglers of that time, had to improvise and innovate to get the gear they wanted, there was no walking into a tackle shop and getting it off a shelf in those days.
Imagine having two of the finest anglers of that era, possibly of all time, as your mentors? Billy had the likes of Ivan Marks and Benny Ashurst take him under their wings and the resulting stories as they imparted their knowledge to a young Billy are just delightful. On his angling journey, he often rubbed shoulders with other match fishing royalty like Steve Gardner, Keith Arthur and Kenny Collings, still all very well known anglers now. And that's another thing, reading about how prehistoric a lot of the tackle sounds, you'd think it was from a bygone era but we're only talking about the 1960's and 70's and the advances in fishing tackle are incredible in a relatively short period of time.
Billy touches on how his iconic Canal Grey float came about and his vision of creating the first commercial fishery, he was known as 'The Boy with the Golden Arm' for his legendary drawing abilities but all through the book he seems to have the knack of being in the right place at the right time! From a very early age, he was a bit of a cheeky chappie and not shy to take advantage when opportunities presented themselves.
Full of funny little anecdotes in every chapter, it was really interesting to read about the origins of lots of the gear we take for granted nowadays and to get a glimpse of the match fishing scene before it became carp obsessed, which ironically was partly down to a certain Mr Makin!
I'm the UK distributor of Billy's books so if you would like a copy you can contact me at sales@richtackle.co.uk or via the blogs contact page. I also have e-bay and you can purchase the book here – The Golden Years. You can get Fishing and Testicles, Tits and Teeth in Thailand plus all his novels there too.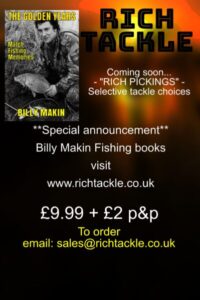 If anybody would like a copy and we're fishing the same match give me a shout, I'll bring one along and you can save on postage costs!