It was back to the Chard AC league at the weekend and I was really looking forward to fishing Sadborow pond for the first time since 2007! The club have done loads of work out there over the last few years and it's been fishing really well with over 100lb needed to win the last three matches. After another excellent breakfast at Millfield café we headed to Perry St to do the draw, as we had a little way to travel, Les got us underway first. The hot pegs at Sadborow have been 4, 5 and 6 by the island and peg 8 in the corner so I was a little disappointed when I pulled out peg 2 in the open water which had done 20-30lb and finished well down in the first two matches.
The Tart had drawn peg 6 which won the last match with over 100lb and Picky was behind the island on peg 5 where Les had won the first match so my pound coins were in grave danger already. After a short drive we reached the pond and it looked pretty much how I remembered it although apparently it's a lot deeper now. There was loads of floating crap on the surface which was bound to be a bit of a pain but on the plus side, there were lots of dark shapes cruising around and I really fancied I'd get a few shallow today.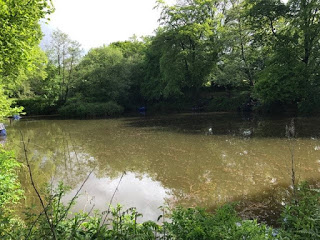 Sadborow Pond
First rig out of the box was a little in-line dibber for fishing up in the water, as people around the pond were plumbing up, the depth was taking lots of people by surprise and there were quite a few 'add ons' taking place (having to add more line to a rig), with that in mind I got a rig out that I use at Harry's before shipping out into the abyss and luckily it was nigh on perfect. Last rig was a Carpa 2 for fishing up the edge to my right. Quite a full side tray this week with some micros I'd soaked the night before, 6mm pellets, meat (with added Liquid Plum), red maggots (dead and alive) and a pot of 8mm Bait-Tech Juice Dumbells.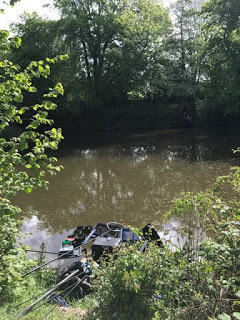 Peg 2
Somehow the Tart had taken over timekeeping duties from Group Leader Smith and got us underway at 10:30, I cupped in some meat at five metres and micros and dead maggots down the edge before starting with the shallow rig (surprise, surprise!) with a 6mm pellet in the band, I was just about to ship out when a pod of carp headed my way. I flicked the rig in front of them and watched a carp suck the pellet in before striking into thin air as I pulled the hook straight out again! I went out to ten metres and started firing out half a dozen pellets regularly and lifting and dropping the rig.
Exeter Mike on my left was into a fish straight away, followed shortly by the Tart, Wing Commander Smith and Hoff up on peg 4 was flying, then I hooked into one and safely landed a 3lb carp. I then pulled out of one and everywhere I looked there was elastic streaming from pole tips, I had a few more shallow but the early leaders were Hoff and the Tart who were bagging and Exeter Mike was catching well from his meat line and up the edge. After an hour I had ten carp but it was hard to gauge how well I was doing.
The floating debris was nightmare and at times it was a job to find a clear patch to lower your rig in, Bushy, Field Marshall Smith and Mark G had it worse than me although the island pegs didn't look to have it as bad. Things slowed up for me in the second hour and I only added another five carp, Mike next door had a run of fish from his meat line and said he had them lined up, he should have known better as the fish fairy then paid him a visit, Hoff was still catching really well but Picky around the other side of the island was struggling a bit.
Plenty of carp could still be seen swimming about and along with getting the odd one fishing shallow, it was difficult to resist the odd bit of stalking and I started to close the gap on the Tart and Hoff, Mike was still getting odd fish from his meat line so I tried mine for the first time after feeding it for three hours but never had a touch and as for my margin line, it was a waste of time as there was a thick carpet of floating crap right where I'd been feeding.
I kept trying the Juice Dumbells and had quite a few fish on them, including a good skimmer around 2.5lb and some nice silvers were being caught Admiral Smith had a chub pushing 5lb, Mark had a big tench, the Tart had two big skimmers and Mike and Picky both had one as well. It was a gorgeous day and there was plenty of banter going around the pond, especially when Brigadier General Smith mentioned the hounds that were used to hunt otters in the olden days, apparently there used to be several packs of 'Hotter dogs' in the area in the days of yore!
Going into the last couple of hours most people had slowed up but I was still getting the odd fish by stalking, I did pull out of one which made the Tart chuckle but then dropped the rig in front of another pod and hooked one straight away, much to his disgust! Every time a fish was stalked/mugged there were cries of 'despicable' but everybody was trying it, even Bushy and Exeter 'Mugger' Mike. My clicker was reading 31 (30 carp and that skimmer) with 90 minutes to go and I really thought a big weight was still on the cards but then the whole pond seemed to switch off.
The Tart then had one fishing really shallow, then another and then another, I tried it and had one but during that last period of the match he must have had eight fish whereas I only had two, Colonel Smith also had three of four and when the whistle went I had no clue who had what although I didn't think the Tart would be far off. Typically as I was packing up there were loads of carp in front of me again and it's almost like they know the match has finished!
We started the weigh in with the Tart and after several weighs, his total was totted up and came to 103lb 14oz, next was Mark who had 49lb 6oz, then Captain Smith had 90lb 12oz which included that lovely chub at 4lb 14oz. Bushy weighed 81lb 2oz and then it was my turn, my skimmer was 2lb 10oz and my carp went 91lb 12oz to give me a total of 94lb 6oz to go into second place.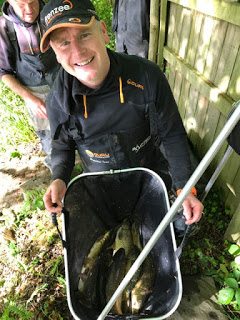 The Tart had 103lb 14oz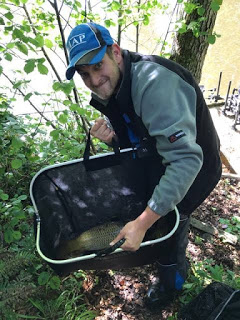 Mark had 49lb 6oz from peg 7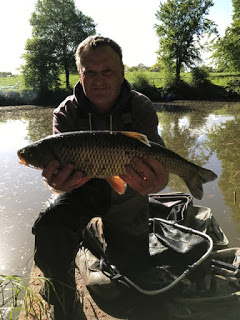 Section Commander Smith had 90lb 12oz which included this cracking chub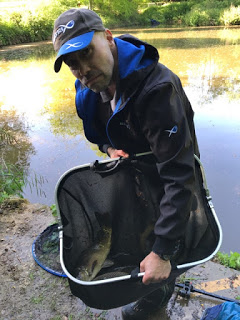 Bushy with part of his 81lb 2oz catch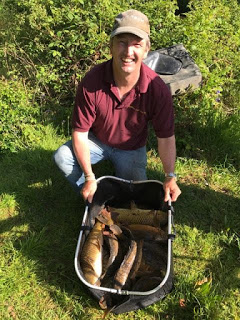 I had a lovely day and weighed 94lb 6oz
Exeter Mike then weighed 83lb 7oz and the Hoff had 63lb 8oz from peg 4, Picky was last to weigh and had 36lb 4oz, he handed over a nugget which I gave straight to the Tart. So a pretty close match with plenty of bites and a good laugh as well, a really enjoyable day.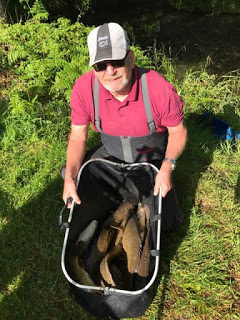 Exeter Mike had 83lb 7oz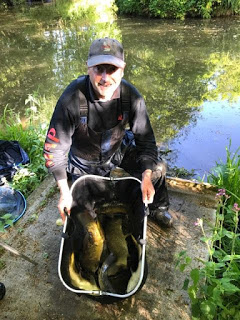 Hoff had 63lb 8oz from peg 4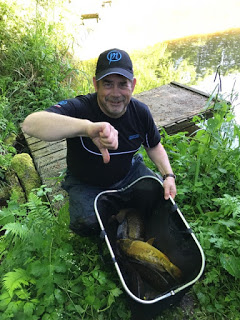 Picky struggled behind the island for 36lb 4oz
Back at the results and Glenn (standing in for Howard) won Perry High with 60lb 10oz from peg 16 with Shane in second from peg 11 with 56lb 11oz. I didn't get Glenn's second name so asked the Tart and Les what is was only to be told Campbell and Hoddle (think about it!). Bish had the top weight in the other section with 48lb 10oz from peg 3 followed by Chilly with 42lb 10oz from peg 4. Mike Collins had the best silvers weight with 5lb 6oz from peg 17.
So the Tart won it and I was called out in second place and had a nice pick up of £85 plus a pound off Janders and Supreme Commander Smith was third. Les said that as we'd all now fished Sadborow, he was going to change the payout as it was dominating the individual payouts and you just can't compete from Perry St and I think he's made the right decision.
In the league Howard is currently leading with 4 points followed by Shane with 6 and then Bish and me on 8.
1 – Brendon Ions (Torquay) – 103lb 14oz
2 – Jamie Rich (Against Men and Fish) – 94lb 6oz
3 – Mike Smith (Torquay) – 90lb 12oz
Sections
Perry High
1 – Glenn (Torquay) – 60lb 10oz
2 – Shane Jeffery (Chard) – 56lb 11oz
Sadborow
1 – Mike Hosgood (Nr Exeter) – 83lb 7oz
2 – Steve Bush (Chard) – 81lb 2oz
Perry Low
1 – Steve Bishop (Chard) – 48lb 10oz
2 – Andy Winters (Chard) – 42lb 10oz
Silvers
Mike Collins (Chard) – 5lb 6oz
Ilminster AA had their first match at Dillington on Sunday and some brilliant weights were recorded, Bill Hopping drew peg one and had an amazing day catching big chub, bream and skimmers for 58lb 12oz which is a new match record, well done Bill. John Dursley had 23lb 3oz of bream and skimmers for second place, Gordon Aplin was third with 17lb 14oz from peg 15 and Rich Studley had the last frame place with 15lb 5oz from peg 5.
Section wins went to Ashley Tomkins with 11lb 14oz (peg 18) and Adie Bishop with 7lb 10oz (peg 2).
I must admit that when Ashley set the match record a couple of years back with 48lb odd, I couldn't see it being broken but now nothing would surprise me, a cracking venue.
I also had some great feedback during the week, I followed someone on Twitter and they returned the favour and then sent me this direct message which made my day,
'Hi Jamie, thanks for
following me. I've been reading your blog for ages. It's always a great read and
I like what you are doing now with the guest blogs and reviews – it's the best
angling blog out there in my opinion.'

It's always great to get feedback and I always on the lookout for guest blogs (so far I've had some fantastic ones) and I love to see photos of your catches, so submit them via the contact form or the Facebook page and I'll feature them on the news page (like these from Steve Hurford's recent pleasure session at Dillington – News, reviews and match reports )
Next up – Perry St Pond
Coming soon – My next review
Check Out – My quick tip (below)