The Sodafloat was the brainchild of Paul Jessop following a frustrating match when the carp were out in the middle of the lake by a central rope, out of the range that Paul could accurately catapult his pellets and he caught very little. After a couple of sleepless nights and a week tinkering around in his garage, the Sodafloat was born!
Basically the best way of describing the Sodafloat (and if you're wondering it stands for Self-Opening Displacement Action float) is a new type of feeder float. It enables you to fish and feed accurately at any distance you can cast. Over the years there have been several attempts at creating a float that delivers loose feed right next to your hook bait, everything from floats with a blockend swimfeeder for a body to bagging wagglers (which actually work quite well), so why is the Sodafloat different?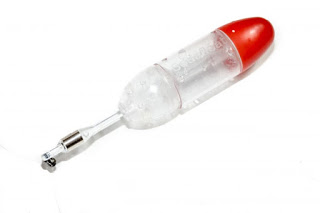 The Sodafloat
The Sodafloat is loaded and because of it's unique design, the weight of the free offerings in the float have no effect on the buoyancy and it will not delve too deeply. The action of the Sodafloat then ensures your hook bait is accurately surrounded by free offerings (see photo sequence below).
It will work with any particles (as long as they will fit in the float) or groundbait but obviously the use that stands out is fishing beyond conventional pellet waggler range where you can deposit half a dozen pellets right by yours.
I also think it could work for those pesky mullet with flake on the hook and either liquidised or mashed bread as feed, making a lovely cloud around your hookbait as you trot down in the flow. It could also work really well in Thailand for Siamese carp and Mekong catfish, maybe there's scope for a stepped up version!
Check out the website – Peejay Tackle where there are several really useful and informative videos along with details of stockists. The Sodafloat is the first innovative product released to market by Peejay Tackle but apparently there are more in the pipeline and I for one will be waiting with interest to see what Paul comes up with next.
The Sodafloat retails at £5.99.
All images courtesy of Peejay Tackle.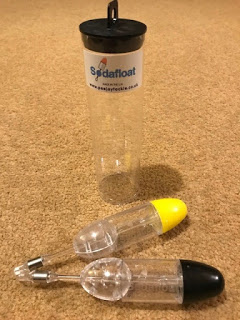 New Sodafloats with yellow or black tips
Update – Not one to rest on his laurels, Paul now has the Sodafloat available with yellow or black tips so whatever the light conditions, Sodafloat has it covered.