The Perry St low section was my destination for round four after another cracking breakfast at Millfield café and I was really disappointed to pull out peg 1, it's a corner peg but hasn't done much in the first three matches. Picky drew peg 10 and the Tart was on peg 3 which won last week so once again my pound coins were in grave danger. When I got to my swim, corner peg 20 opposite wasn't in and I didn't think it would do me any favours as the fish would have loads of space to back off into. What was also worrying was that there were only odd fish cruising about and loads of rain yesterday might have put them down.
The usual three rigs were assembled, an in-line dibber for fishing shallow, a 0.4 gram Drennan Carp for the five metre meat line and a margin rig. On the side tray I had 6mm pellets, 6mm meat (with added Liquid Plum), maggots and 8mm Bait-Tech Juice Dumbells. I was set up in plenty of time and even had chance to tie a few hooklengths before going up to have a quick chat with the Tart, I was soon joined by Picky and Mike and the Tart was loving all the attention and even offered to sign items of clothing! (yep, that's why he's called the Tart!).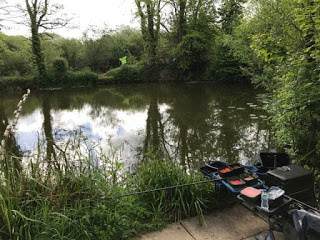 My view for the day
On the whistle I fed some meat at five metres and pellets, maggots and meat in the margins to my left before starting at 11.5 metres with the shallow rig and a banded 6mm pellet. Despite the pond being flat calm and not many fish showing themselves I still thought I'd get a few. The Tart had one on the deck quite quickly as did Bish over on peg 17 and when Chilly on 19 hooked and lost a fish, I thought it would only be a matter of time before I had one.
Mark on my left had a couple of fish from his inside line and then just before the first hour was up, I hooked a fish and straight away I knew it was either a big fish or foulhooked and after giving me the run around, unfortunately it turned out to be the latter as the rig came back with a scale on the hook! As well as pinging pellets on the longer line, I was also firing a few down to my right at 11.5 metres (where the lilies are in the photo above) and tried it periodically but never had a bite there. The five metre line and my margin were tried with the same result.
Nobody was bagging as it sounded like the pond was fishing really hard, Mark had a couple of fish and I'd seen the Tart net two or three, Bish was still on one and Chilly had hooked another carp only for it to find a snag in open water and he lost it. I'd originally set my sights on catching two carp an hour but after two hours I was still blanking and putting three nets in might have been a tad optimistic!
I kept trying all my lines and even had the odd go at mugging (despicable!) but they just didn't want to know. As we approached the half way point, Mark and the Tart probably had five or six apiece and apparently Bushy and the Hoff were catching but I honestly thought I was going to blank. Chilly hooked his third carp and this one found the same snag and he lost that as well and wasn't a happy bunny! I tried a Juice Dumbell but the odd cruising carp didn't want to know them either, after three and a half hours, I stuck on two more sections and went 14.5 metres past the lilies on the right with a dumbbell on but I wasn't hopeful.
I was just about to give that up as a bad job when the pole was wrenched round and after trying to ground me in everything it could find, I finally netted a very angry 3lb carp – phew! I had a second fish about ten minutes later but any thoughts of a comeback soon disappeared when no more indications were forthcoming. I tried both of the shorter lines again but not so much as a sniff, back to 14.5 metres and the rest must of done it some good as I had two more fish in quick succession and started to think I could still get decent points as there was over an hour of the match left. I should have known better, time was ticking by and although I had my fifth carp I thought I needed a couple more.
With ten minutes to go I missed three good bites and thought my chance had gone, Chilly hooked another carp, this time from his inside line and it tore off up towards Bish and this was snapped him, there were a few choice words and I'm sure I saw steam coming out of his ears. My float flew away and the elastic came out as Les signalled the all out, I shouted 'Fish on' but it was already in the lilies and snapped me – bugger! I just knew that fish would be costly as Mark had six, the Tart was admitting to six and he said Picky had the same number as well.
After packing up the scales started with me and my fish went 21lb 10oz and then Mark pipped me with 23lb 4oz, the Tart actually had seven carp (lying git) and weighed 29lb 4oz to take another nugget off me, then Bushy had 51lb 14oz from peg 5 although he'd lost quite a few as well, Hoff came close with 51lb 4oz from peg 7 and then Wing Commander had a bad day to weigh a level 9lb, that just left Picky who had 25lb 4oz and my loose change was dwindling rapidly! I was cursing not trying 14.5 metres earlier as one more fish would have been worth two more places and two fish would have been enough for third in the section.
Oz won the other section with 35lb 8oz from peg 11 followed by Geoff with 23lb 2oz from peg 13 and Les with 21lb 4oz of carp on the waggler from peg 14, then the weights dropped off and it certainly looked like the majority of the fish were in the top half of the pond as Chris had 18lb from peg 15, the sexy Chanter didn't weigh from peg 16, Bish had 9lb 8oz from peg 17 and Chilly blanked in 19.
The guys at Sadborow arrived back and that had fished a bit harder as well although Howard still did 72lb 4oz from peg 6 and Shane had over 60lb from peg 9, Exeter Mike was third in the section with 24lb from peg 8. As Janders was sixth in that section (the same position as me) we called our side bet quits.
Sections
Perry High
1 – Steve Osborne (Chard) – 35lb 8oz
2 – Geoff Young (Torquay) – 23lb 2oz
3 – Les Braunton (Chard) – 21lb 4oz
Sadborow
1 – Howard Watts (Torquay) – 72lb 4oz
2 – Shane Jeffery (Chard) – 60lb 2oz
3 – Mike Hosgood (Nr Exeter) – 24lb
Perry Low
1 – Steve Bush (Chard) – 51lb 14oz
2 – Mark Hollister (Chard) – 51lb 4oz
3 – Brendon Ions (Torquay) – 29lb 4oz
In the league, Howard leads with 5 points followed by Shane with 8 and already they are pulling away from the chasing pack, Bushy is in third place with 13 points followed by several anglers on 14.
Ilminster AA had their second Summer League match at the pond and although the weights were down on last week, the top three all still had double figures. John Dursley had 25lb 2oz of bream and skimmers on the short pole from peg 10, Frank Woodard was second with 11lb 10oz of skimmers on the feeder from peg 7 and next door Baz Morgan was third with 10lb 11oz of skimmers from peg 8.
Next up – Summerhayes
Coming soon – Another great interview
Check Out – My latest review (below)