This weeks match was on Sellicks and I was really hoping I could get away from the low numbers and draw a peg near the top or on the far bank, on arrival it was nice to see Paul Homewood for the first time in ages and several of the Torquay contingent were also in attendance although, thankfully, the Tart wasn't one of them!
With it being a bank holiday weekend, Pete always splits the pools evenly, paying the top three carp and silvers weights. Geoff pulled out the golden peg which was number 21 and then, as very often happens, went and drew it again. I went in the bucket quite early but didn't want to look, Mark Leahy went just before me and drew 15 which is a decent peg, Janders was on 6 so I had a look at my ball and was over the moon to see I was on 19, a great area for silvers.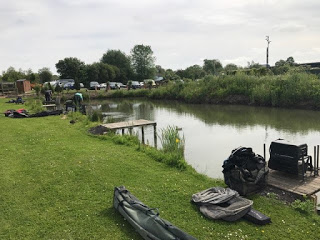 Looking down the pond to peg 23
As I took my gear to the peg, I passed Paul H on 23 and Geoff on 21 and could see Rob Birch (or should that be Lawrence of Arabia!) on peg 17. It was a lovely day although the pond was flat calm and loads of carp could be seen moving about. I set up a 0.4 gram Malman Pencil for two lines at ten metres and the five metre line plus a 0.3 gram NG Mini Gimp for the top two plus one line to my right. The side tray just contained 2mm Carp and Coarse Pellets that I'd soaked the night before plus some Bait-Tech 4mm Xpands for the hook.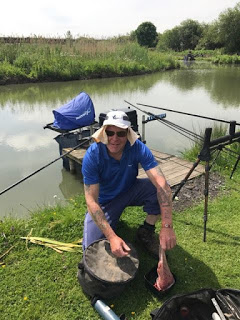 Rob of Arabia!
On the whistle I cupped in some micros on all four lines before starting on the top two plus one line, I had to wait a little while for a bite and when the float sailed away, a tiny roach wasn't the result I'd hoped for. I missed a couple more bites but after twenty minutes, I'd probably spent too long on it and when Rob had a decent flying skimmer from his long line, it was time to try mine. My first bite saw a foulhooked carp take off but thankfully it wasn't on long and it was already obvious that they were going to be a problem today as Geoff had lost a couple as well.
Rob switched to paste on his top two line and was into what he thought was a carp and giving it some stick when a big skimmer surfaced and when he added a couple more plus a little tench he'd got off to a great start. My only 'silver' in the first hour was a little tench from the left hand ten metre line but as the second hour began I hooked a decent fish which turned out to be another tench but this one about a pound and a half, I was still about 3lb behind Rob though!
Carp were starting to be a real nuisance and there were obviously loads up in the water as I was getting lots of liners resulting in foulhooked fish, Geoff was having the same problem and coming back with that many scales, I thought perhaps he was going to save them and build a carp! Paul was catching well down on peg 23 and Mark Leahy was doing okay on 15 but I tried not to look that way too often as he was wearing an Arsenal shirt!
I finally managed to get a couple of 6oz skimbobs from my other ten metre line but needed a better stamp if I was to close the gap on Rob which was looking unlikely as he'd added a couple of crucians and was still catching the odd skimmer and tench. I'd now landed about half a dozen carp and not hooked one in the mouth yet! The trouble was they were taking an age to land as they were very angry (well you would be with a hook up your bum!) and when one came off the rig would be in a right mess with the shot all over the place and several times the float had moved resulting in me having to plumb up again.
I was dripping in a few micros on both of my shorter lines on a regular basis but wanted to leave the five metre line for as long as possible before trying it. By the halfway point I had four little skimbobs and a few little tench for about 3-4lb and was a long way behind Rob although he'd slowed up now. The next bite resulted in a lot of elastic coming out and I shipped back slowly waiting for the carp to wake up but it didn't and as I unshipped to the top kit a big 3lb plus skimmer rose to the surface before sliding over the rim of the landing net and I was back in the hunt.
Next chuck the float sunk from view and this time a carp steamed off towards the far bank, I shipped back and again, it wasn't doing a lot and to my surprise it was another big skimmer, this time about 2.5lb and by my reckoning, me and Rob were now neck and neck. I was hoping I would now be able to push on and get ahead of Rob for the first time but then he had a purple patch fishing his short line and had a succession of skimmers, tench plus a couple more crucians whereas I could only reply with a lovely golden tench around a pound and I had a couple of small skimmers come off shipping back which didn't help my cause.
With around two hours remaining, everybody was getting carped out (even Rob!) and Geoff now probably had enough scales to build two carp, I was dying to try the five metre line which I'd been feeding from the start but decided to try the top two plus two line first. The first fish I hooked was yet another foul hooker which came off, I missed a couple more bites and then hooked a decent fish which I thought was a carp but turned out to be a lovely 2lb plus crucian and I closed the gap on Rob again but still felt I needed a couple more. I added a 6oz roach but with just over an hour left, it was time to try five metres where hopefully the skimmers were lined up.
Typically it was a bit of an anti-climax, twice I hooked fish that I was convinced would be tench or crucians but turned out to be little carp, I did manage two little tench but also foulhooked another carp which led me a merry dance and as I netted it the hooklength gave way and the rig tangled around the pole tip, so with only fifteen minutes left I picked up the top two plus one rig. Just before time I hooked into a fish and so did Rob, mine turned out to be another poxy carp whereas Rob's was a nice little tench. I ended up with 16 silvers (2 big skimmers, 4 skimbobs, 1 decent roach, 1 crucian, 1 golden tench plus 7 tench) which I thought would go 10-11lb and I thought Rob had 15-16lb.
I packed up and took my kit back to the car before catching up with the weigh in which started around the other side, it had been hard going for silvers with Roger weighing 1lb 5oz from peg 2, Gabe had 110lb 11oz of carp and 4lb 1oz of silvers from peg 4 and then Janders had 1lb 12oz from peg 6. Glen on 8 and Martin Addicott on 10 didn't weigh before Bill 'The Paste King' Hopping had 146lb 9oz from peg 12. Chris W on 14 had 34lb of carp and then Mark Leahy didn't weigh on peg 15 (I reckon the shirt scared them off!).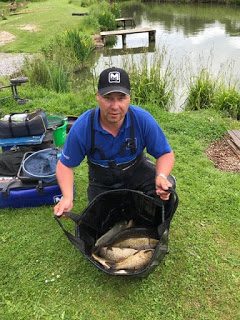 Gabe was the early leader with 110lb 11oz from peg 4….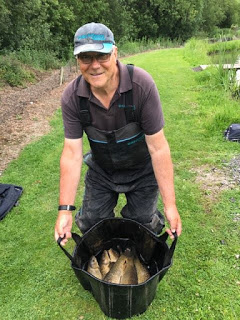 Before 'The Paste King' Bill put 146lb 9oz on the scales
Then it was Robs turn and he had a lovely net of skimmers, crucians and tench weighing 17lb 4oz and I knew I had nowhere near that, my fish went 14lb 9oz and it had been a really enjoyable day but Rob had stayed ahead of me all match. I didn't bother weighing my carp and chucked about 20lb back. Geoff weighed 39lb 10oz (mainly scales) and had chucked back his silvers which may have been unwise as Janders was lying in third place with 1lb 12oz! Paul was last to weigh and had 2lb 13oz of silvers and 85lb 14oz of carp to put him third in both the carp and silvers although as there was no double bubble, he would get carp and Janders would take third in silvers by double default!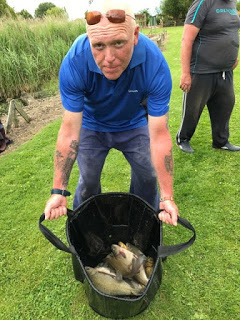 Rob had a cracking net of skimmers, tench and crucians to win the silvers with 17lb 4oz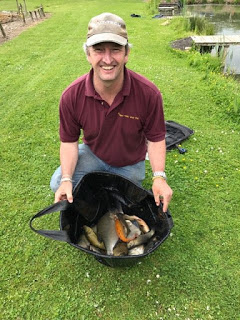 I was second with 14lb 9oz
Back at the results and I ended up in second in the silvers and picked up £36 (not forgetting a pound off Janders) and he had third so it was a happy car driving home.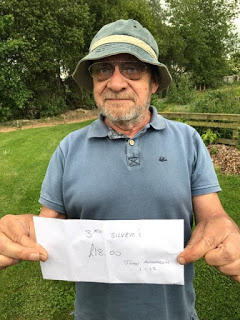 Janders was third (by double default) with 1lb 12oz
Carp
1 – Bill Hopping (Summerhayes) – 146lb 9oz
2 – Gabriel Skarba (Mosella) – 110lb 11oz
3 – Paul Homewood (Taunton) – 85lb 14oz
Silvers
1 – Rob Birch (Summerhayes) – 17lb 4oz
2 – Jamie Rich (Against Men and Fish) – 14lb 9oz
3 – John 'Janders' Anderson (Donyatt) – 1lb 12oz
Next week is my first match at Dillington for ages and although some great weights have been recorded in the first two matches, the roach haven't really started showing yet.
Next up – Dillington
Coming soon – My next interview
Check Out – My last match (below)