Before I get on to this weeks match, we had some awful news in the week when Dave Lawrence passed away after a short battle with that horrible disease cancer that affects so many of our lives. I fished with Dave for a long time, on the Isle, in the Drennan league and in more recent times we used to travel up to Chris Haines's pond in Clivey together. Always up for laugh and I remember when him and Jack (also sadly no longer with us) were best mates and they certainly took no prisoners with the banter, tight lines mate, you will be greatly missed.
I phoned Pete to book in for this match and he said we were on Sellicks again which I was looking forward to as I really enjoyed the last match and Rob did 37lb of silvers from peg 17 on Friday but then he phoned me midweek to say the match would now be on Lily and Willow as there was another match booked on Sellicks. I was a bit gutted to be honest as the silvers weights on both lakes have been on the low side. So along with my usual expanders and micros approach, I took some 6mm Bait-Tech Strawberry Mighty Meat as I might actually have to fish for carp!
No Janders this week as he was down in sunny Cornwall on his holidays so I stopped at the Toby Carvery in Taunton for breakfast which was okay and reasonably priced at £4.99 although coffee was extra which bumped the price up. I got to the fishery in good time and said hello to fellow blogger, Lee Williams, who arrived just after me, it was also nice to catch up with the Wickhams who I hadn't seen for ages. I paid my pools and after a coffee, Pete announced the draw, I went into the bucket quite early and pulled out peg 7 on Willow, which looking at the map on the board put me opposite where I was last time. I was fairly pleased as Willow was where the silvers winner was expected to come from although the last time I was here, the top weight of silvers was just under 7lb, so a fairly low weight affair then!
As I took my kit to the peg I passed Geoff Young on peg 1 and although his peg looked nice I was a little confused by the sign, I couldn't see any coaches and Geoff certainly doesn't qualify as a junior! Geoff Francis was on 3 with Mark S on 5 and then on my right on peg 9 was another member of the Torquay mafia in the shape of Chris Whitham. Lee Williams was opposite me and agreed to a pound side bet on silvers and Nigel Wickham was on 13.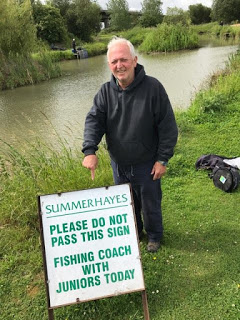 I'm not sure Geoff qualified for a coaching session!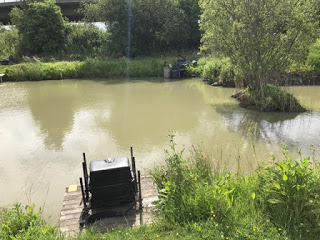 Peg 7 on Willow
I set up a 14 x 11 MW F1 Slim for my longer lines but plumbing up, the bottom was all over the place with a deeper hole at 8.5 metres straight out in front of me so I settled on just one line there where I would feed micros. My other rig was a 0.3 gram NG Mini Gimp for two five metre lines straight out, again with micros, and to my right which would be my meat line. On the whistle I fed all three lines before starting at 8.5 metres with a 4mm expanders on the hook. The float settled before sliding away and a tiny roach was the result, next put in I had another little roach and they were ragging the soft pellet so I put on a 6mm cube of meat to see if it would sort out some better fish.
It worked to a certain extent although after five minutes a positive bite resulted in loads of blue hydro streaming from the pole tip and a 3lb carp wasn't my target species either! A rethink was in order so a quick rummage in my carryall revealed a tub of soft hooker pellets which would hopefully be a little more durable than the expanders. I shipped out, tapped in a few micros from the toss pot and after a short wait, the float tip sunk from view and this time it was no roach but crucially it wasn't a carp either and I gratefully slipped the net under a 6oz skimmer.
Next chuck, the float had barely settled before it went again and my second skimmer was in the net, I had another two to make it four in four put ins before I missed a bite. At this stage not a lot was happening on our lake, Lee had a few small roach, Chris had landed a couple of carp and I'd seen the odd fish netted to my left but nobody was bagging. My next fish was a decent skimmer of 12oz that came flying out of the water on the strike. A couple more hand sized skimbobs followed and my last fish of the first hour was another 'leaper', this one around the pound mark.
So after an hour, I was already half way to my target of 7lb and really enjoying myself, I had skimmer number nine but bites were starting to slow up, I'd been dripping in some micros on the five metre line but didn't want to try it too early. Roger Russell turned up for a walk round and while he was with me, I had my tenth skimmer and missed a few bites, I did try the shorter line briefly but only had a few small roach, Roger went to see how they were doing on Lily and just after he went, I foulhooked a carp which wasn't on long.
Back on the longer line, I was still getting bites but only from small roach although I wasn't too worried as I thought I'd get a few more better fish during the day. By the end of the second hour I was still on ten skimmers and had tried the five metre line a couple of times with only roach and a couple of carp to show for it. Roger came back from Lily and said it was a real struggle on there with virtually no silvers showing and three carp was probably top on there. I decided to feed a line at 8.5 metres to my left to give me somewhere else to go but despite trying it several times during the match I never had a bite there.
Lee had been feeding a top kit line with maggots and was starting to catch small fish regularly but I wasn't too worried yet. Glynn Wickham walked by from his peg on Lily and said he'd just been seen off by a big eel and was going to get some heavier rigs! With two hours left, I still hadn't added any more skimmers and was only getting the odd roach and carp whereas Lee's short line seemed to be getting stronger by the minute and he'd even netted a couple of better roach and rudd. Things got worse when news filtered across that Glynn had landed a big eel of 2lb plus and I began to think I was going to miss out after such a great start.
I was going through the motions a bit as we approached the last period of the match and a good carp that did me under the pallet when it was nearly ready for the net did nothing to improve my mood. With both lakes fishing so hard, I didn't think it would take much to get in the overall frame so if I missed out on the silvers, that lost carp could be costly. Nigel and Chris were now catching carp regularly and would probably fill the top two places but nobody else was doing much from what I could see, Lee even said that half the anglers behind me on Lily had packed up and gone for early baths!
Lee started getting the odd carp on his short line which were taking him a while to get in on light elastic which was fine by me because as long as he was playing carp he wasn't catching silvers! I did lose a slightly better roach near the end and finished with those ten skimmers for 3-4lb plus a few roach and about 8 or 9 carp. Adie arrived with the scales and started the weigh in with Geoff who had 28lb 8oz of carp and 1lb 12oz of silvers, Geoff Francis on peg 3 had 36lb 1oz, Mark S had gone early and then my carp went 27lb and my silvers weighed 5lb 2oz. Chris on peg 9 had 57lb 7oz to go into the lead before we walked round to weigh Lee in, he had 33lb 11oz of carp and was admitting to 2.5lb of silvers but when he pulled his net out, I knew it was going to be closer than that, Adie called it at 4lb 3oz – phew! Last on Willow was Nigel who had 61lb 14oz to edge into the lead.
As we headed over to Lily, Glynn said he hadn't added anymore eels but did lose a big one, it had been hard going and Glenn Bailey had the top weight with 21lb 12oz from peg 9, we got to Glynn and his big eel plus a few bits and bobs went 3lb 9oz but despite my best efforts he wouldn't hold the eel for a photo!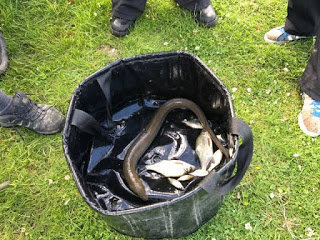 Glynn had a lovely eel about 2.5lb
Back at the results and Nigel was called out in first place followed by Chris and then Lee was third (as it was worth more than second in silvers) and Geoff Francis was fourth. I won the silvers and had a nice pick up of £48 (not forgetting a pound off Lee!) and Glynn was second.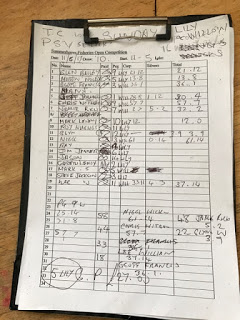 Hard going for most
1 – Nigel Wickham (Summerhayes) – 61lb 14oz
2 – Chris Whitham (Torquay) – 57lb 7oz
3 – Lee Williams (Woolavy's Wanderings) – 37lb 14oz
4 – Geoff Francis (Summerhayes) – 36lb 1oz
Silvers
1 – Jamie Rich (Against Men and Fish) – 5lb 2oz
2 – Glynn Wickham (Summerhayes) – 3lb 9oz
Next up – Perry St
Coming soon – My next interview
Check Out – My latest ramblings (below)