As we hadn't fished Hebditch's pond for a while, Hurf arranged a charity pairs open but with a twist, it would be totally blind meaning you wouldn't even know which pond you were on until you'd drawn a peg and you wouldn't know who your partner was until after the match! I must admit I'm not really a fan of this format as you have to take bait for both venues and there is also the chance of doing really well, only to be paired with someone who has blown out! I can't say too much as I wasn't prepared to step up and arrange the match, so fair play to Hurf and at the end of the day, it's for a great cause.
The eighteen allotted spaces filled up in no time and along with the regulars we had the likes of Tackleuk bagger Ash, Exeter Mike and even Janders fancied a change of scenery! We actually ended up with nineteen when Nick P arrived but he was happy to just fish for the superpool money and put a fiver in the charity pot. After another fantastic Bowling Club breakfast it was time to draw and I hung back hoping the Dillington pegs would go as I really fancied a day at Harry's and for once my plan worked as my ping pong ball had H9 on it and I was in an area I've done well from before.
Hurf had got my bait for me (cheers mate) but as he was at Dillington I let him have my casters as I wouldn't need them, before heading off to Harry's. After a short drive we all arrived and although the level was down a little bit, there were carp everywhere and I was hoping I'd be able to get a few shallow. It was already shaping up to be a scorching hot day and I made sure I slapped on plenty of sun cream after trying to get Karl to apply it for me but for some reason he wasn't too keen! My neighbours for the day were Karl on my right and Jake on the other side, Nick and Steve P were on 7 and 6 with Big Frank on the opposite bank on 5, Stu was on peg 4 which was in the shade, then Rich was on 3, Bill on 2 and Rob was in the trees on peg 1.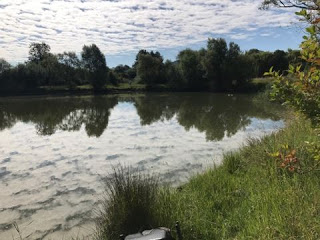 The pond looked lovely with loads of carp cruising about
I got my box set up nice and low to the water, rigs for the day were my favourite little shallow rig, a 0.4 gram Drennan Carp for fishing on the deck at 10 metres and a Carpa 2 for fishing just off some reeds on my inside to the left at top two plus two. On the side tray I had 6mm Bait-Tech Carp and Coarse Pellets plus some 2mms I'd soaked and given a dusting of Special G Dark, maggots (dead and alive) plus some corn to which I added a glug of The Juice. Most of us were ready with 15 minutes to go and having a natter behind Jake's peg, several people fancied a side bet so along with Janders (it would be done on points as he was on the other pond), Steve P, Rob and Jake all wanted to take nuggets off me.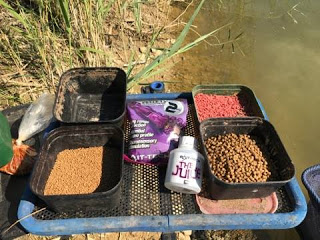 Todays menu
On the whistle I fed two lines at 10 metres with micros and corn plus the inside with micros, corn and dead reds before starting shallow at 11.5 metres with banded 6mm pellet. It didn't take long to hook my first carp about 2-3lb only for it to come off at the net, great start! There was elastic out all around the lake along with a few bending rods as a few people were fishing the feeder. It didn't take long to get off the mark and I started catching really well with carp averaging 1-3lb although I did have one about 3oz so they are obviously breeding. I could see Jake was catching so shouted up to ask how he was doing and he was one ahead of me and had lost a few too.
After an hour I had ten carp (plus the tiny one which I didn't count) but I was expecting sport to slow at some point. Bill was catching really well on his usual paste and I could see Frank netting fish regularly too. It was neck and neck between Jake and me and the second hour was very similar with another ten carp for me and I edged ahead of him but it was still very tight. Going into the third hour sport slowed for most people as the temperature started to rise even further and the pole was almost too hot to handle at times and my live maggots soon joined the dead ones! Nick and Karl were getting odd fish on the feeder but Bill was still bagging and looking like doing a big weight.
I added another nine carp during the third hour but the average stamp was smaller and I was starting to think about trying the inside where I'd been feeding a few pellets regularly and I could see the odd fish mooching about. I plugged away fishing shallow for the fourth hour and added another six carp (plus another couple of those micro carp and a little chublet) and was still doing well because everybody, with the exception of Bill, was now struggling.
Going into the penultimate hour, it was a real struggle and my cause wasn't helped when I lost a couple of fish including another right at the net. I was still a few fish ahead of Jake but then he had a couple of fish from his inside line so with around an hour left I tried mine for the first time, I had to wait a while for a bite but then the float slid away and I had a decent fish around 3-4lb, next chuck I bumped one and then missed a few bites. I had another about a pound but when my next fish was another of those micro carp I decided to spend the remaining half an hour fishing shallow and managed two more fish around 2-3lb apiece to finish with 42 carp (plus a few tiny ones, that chublet and a couple of rudd).
Jake said he'd had 32 carp so with Bill winning at a canter, I hoped I'd done enough for second on the lake. We started the weigh in with Frank who had 33lb 5oz, young Stu was next and 15lb 2oz which included about 5lb of roach and rudd, Rich had 19lb 4oz before we got to Bill and after several weighs his total was 114lb 14oz so yet another win for the Paste King. Rob had 15lb 4oz but had a lovely barbel around a pound and a little tench as well.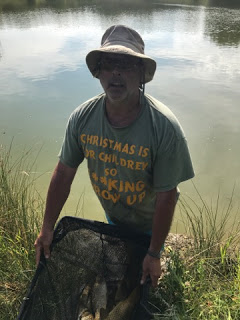 Big Frank had 33lb 5oz from peg 5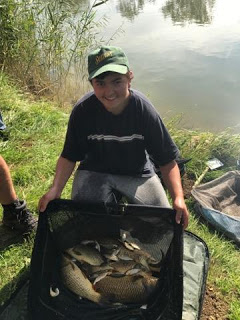 Stuart had loads of fish for 15lb 2oz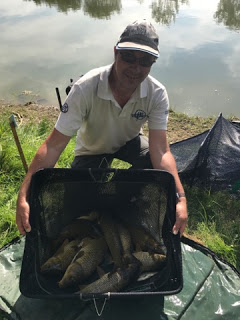 Rich had 19lb 4oz from peg 3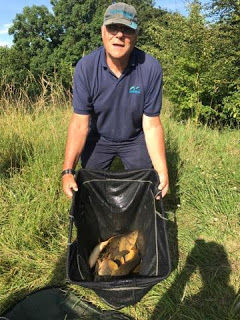 Paste King Bill with part of his 114lb 14oz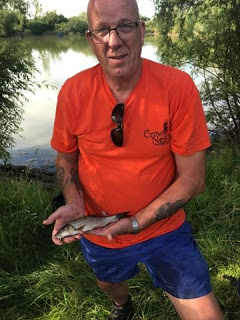 Rob had the best fish of the day with this lovely little barbel
Next up was Karl who had 13lb 10oz and then it was my turn, after four weighs my total was 62lb 14oz, Jake had 48lb 10oz and the last two to weigh were Nick who had 23lb and Steve P who had 14lb. So I ended up second on the lake and claimed the three side bets before heading back to the Bowling Club and praying I'd be paired with someone who'd done well at Dillington.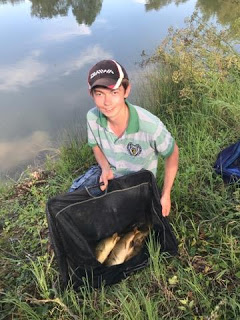 Karl had 13lb 10oz from peg 10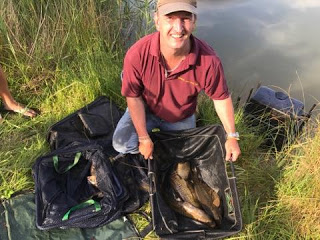 I had 62lb 14oz which put me second on the lake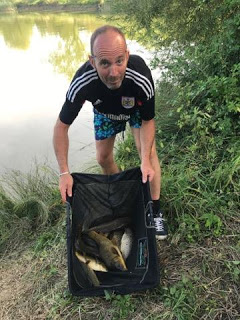 Nick had 23lb from peg 7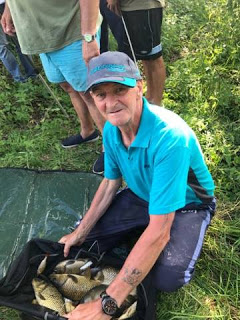 Steve P had 14lb from peg 6
Back at the results and the pond had fished really well, Ashley Tomkins had an awesome days fishing, catching 3 good bream and 47 skimmers from peg 2 to weigh 69lb 3oz and reclaim the match record. A string of double figure weights followed with loads of skimmers, bream and the odd chub featuring in catches, Hurf was second with 19lb 3oz from peg 8, John Dursley had 15lb 6oz from peg 1, Justin had 14lb 1oz, Exeter Mike had had 13lb 7oz from peg 13, Harry had 11lb 12oz which included loads of small fish and one of the ponds elusive crucians, Leighton had 9lb 1oz from peg 9, Adie weighed 8lb 10oz from peg 4 and Janders had 8lb 2oz from peg 14 and had to pay me a pound. It just goes to show you can never tell in this game, I thought Dillington would fish hard as hot, bright conditions aren't the best for bream fishing, yet the match record is broken and last week Janders would have framed with 8lb whereas this week it was the lowest weight. Thanks to Harry Hebditch* and Steve Hurford** for the photos.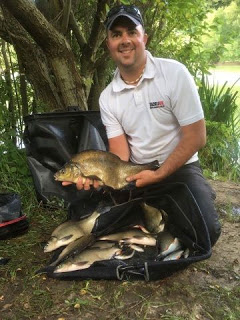 Ash with part of his record breaking 69lb 3oz*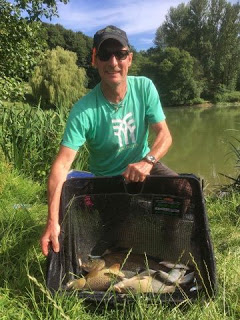 Hurf had a cracking net of chub, bream and skimmers weighing 19lb 3oz*
John was third on the lake with 15lb 6oz from peg 1*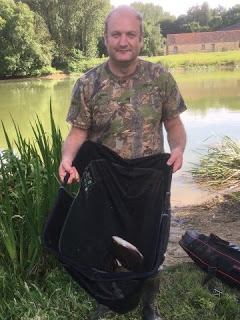 Justin had 14lb 1oz for fourth*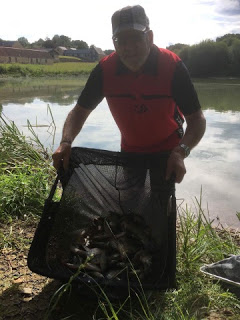 Exeter Mike had a nice net of fish for 13lb 7oz from peg 13*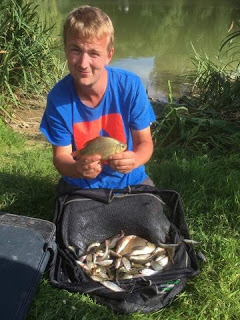 Harry had 11lb 12oz which included one of the venues rare crucians*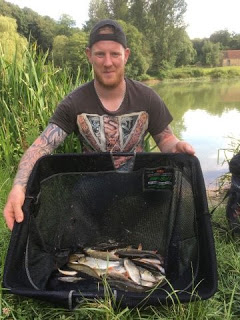 Leighton had 9lb 1oz from peg 9*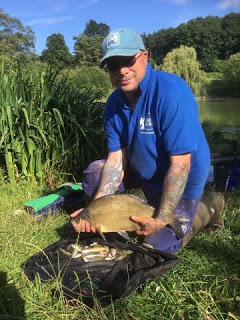 Adie had 8lb 10oz which included this nice bream*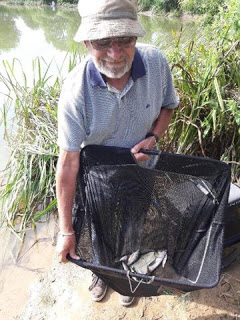 Janders also had a nice bream and weighed 8lb 2oz from peg 14**
Then came the lottery that is drawn pairs but as there was only one bucket, the balls were picked out and written down, i.e. the Dillington pegs on one side and Harry's on the other so nobody had a clue who they were with. It wasn't just us who were confused as when the results were read out, firstly there was a tie on points with Justin and Jake winning, Hurf and Frank second and Harry and Bill third, then somebody realised that there was an error so Hurf and Frank were called out as winners which meant Harry and Bill leaped frogged Justin and Jake on weight and they ended going from first to third in one fell swoop!
Drawn Pairs
1 – Steve Hurford and Frank Woodard – 6 pts
2 – Bill Hopping and Harry Hebditch – 7 pts (on weight)
3 – Justin Charles and Jake Woodard – 7 pts
Hebditch's Pond
1 – Bill Hopping (Ilminster) – 114lb 14oz
2 – Jamie Rich (Against Men and Fish) – 62lb 14oz
3 – Jake Woodard (Ilminster) – 48lb 10oz
Dillington Pond
1 – Ashley Tomkins (Tackleuk) – 69lb 3oz – New Match Record
2 – Steve Hurford (Ilminster) – 19lb 3oz
3 – John Dursley (Enterprise Angling) – 15lb 6oz
A fantastic £120 was raised for Macmillan Cancer Support so a massive thanks to the Hebditch family for letting us use their pond, Ilminster Bowling Club for accommodating us and to Hurf and Rob for organising the match. If you would like to find out more about this brilliant organisation and the invaluable work they do please visit their website – Macmillan Cancer Support
Before I go I have to say I felt a bit sorry for Ash, he fished a brilliant match, setting a new match record in the process and didn't frame (he did pick up the superpool money), similarly I must admit I was bit gutted to come second on my lake and third overall and not pick up a bean. As I hinted earlier, I'm just not a fan of this type of match where the winners are decided on pulling names out of a hat! It just becomes a complete game of chance and it doesn't matter how well you've done, this may come across as somewhat sour grapes but I can assure you it's not as I realise it's a bit of fun and for a good cause. Over the years we've supported loads of great charities and I hope we continue to do this.
Perhaps a better way of doing it would have been the pools money was paid out to the top three on each pond and instead of a superpool, we all put a fiver in for the drawn pairs and paid out the top two pairs £60 and £30, that way you've still got the fun element and the people who struggled have a chance of picking up without penalising those who've done well. If it had been a regular pairs and I'd been with one of my usual partners, Justin or Hurf, we'd have won today. I'd be interested in your thoughts/suggestions but please keep it clean and not abusive!
Update – Well, this week's blog caused a bit of a shit storm which I never intended to happen and I agonised over the post for hours last night and today before hitting the publish button. I certainly didn't mean to offend or upset anybody and if I did I'm sorry but at the end of the day, the views contained in this blog are mine and all I said was that I wasn't a fan of the format for this weekends match. I knew what the format was when I put my name down and paid my pools and if I'd ended up paired with Ash for example I probably wouldn't be writing this now, as Rob said yesterday 'If you don't like the format, don't fish' which to be honest, I probably won't next time.
But at no point have I criticised the club which I've been a member of for 38 years and do my best to promote on the blog, Facebook, in the local papers and angling press at every opportunity, I also haven't criticised Rob or Hurf who I think do an amazing job and without all their hard work and time, we wouldn't have any matches. I've organised matches so I know how much time and effort goes into running them and I also know that no matter what you do, you can't please everyone and somebody always knows better even though they're never prepared to step up to the plate and I certainly wouldn't be able to devote enough time to do it.
In fact right at the start of the post I said ' I can't say too much as I wasn't prepared to step up and arrange the match, so fair play to Hurf and at the end of the day, it's for a great cause.' and then at the end 'A fantastic £120 was raised for Macmillan Cancer Support so a massive thanks to the Hebditch family for letting us use their pond, Ilminster Bowling Club for accommodating us and to Hurf and Rob for organising the match.' All I did was say I wasn't a fan of the format and made a couple of suggestions for possible tweaks to the format that would keep everyone happy, so once again I apologise if I've offended anybody.
Next up – Sadborow
Coming soon – My next interview
Check Out – My last match (below)