The section draw put us back at Sadborow for this match which meant I'd be a Perry St for the last two and after the last league match where I had a cracking days fishing, I was hoping for another open water peg. After another lovely Millfield Café breakfast we headed out the pond to do the draw, we were one short today as Bushy had broken some ribs – get well soon mate.
Les got our section draw underway so we could head off, I went first and he said that's peg 9 gone and when I looked I thought he was right but it was upside down and peg 6 was my home for the day. It's a good peg and has won the section several times but is just a bit awkward to fish, Hoff had a nightmare on it in the last match where he spent more time hunting squirrels up the tree than fishing. The Tart drew peg 5 and wasn't impressed even though it's the peg he set the match record from, Chancellor Smith let out a little whoop and was over the moon to draw his favourite peg 8, Picky drew the one I wanted, peg 9, Hoff was on peg 1 and Mark was opposite me on peg 3.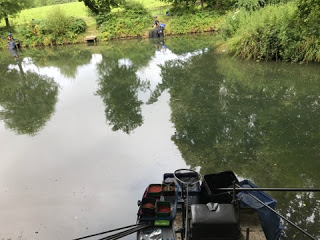 The view from peg 6
We got to the pond and once again there were carp everywhere and I was hoping for a nice days shallow fishing, maybe with the odd bit of skilful stalking thrown in, although the pond did look very clear. As I got to my peg, I could hear sawing and looked over to see the Tart taking gardening to the next level as he chopped down a sizeable tree!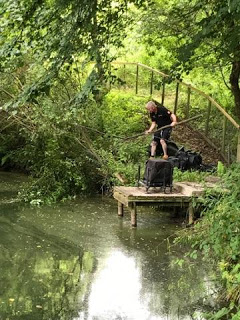 Torquay's answer to Charlie Dimmock in action!
I set up the usual three rigs, an inline dibber for up in the water, a 0.4 gram Drennan Carp for the 5 metre meat line and a 0.3 gram Drennan Margin Crystal for down the edge to my left, all had 0.14mm bottoms with size 16 B911's. The side tray had Bait-Tech 6mm Carp and Coarse Pellets, 6mm Strawberry Meat and maggots (dead and alive). I was ready with 15 minutes to go so walked up to see a very chirpy Commander Smith and get a photo of this weeks cakes, Tesco's Finest Granola Squares.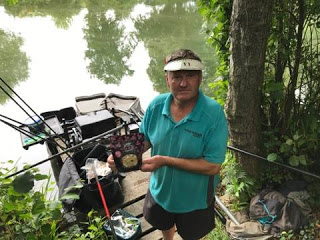 Superintendent Smith modelling this weeks treats
On the whistle (well the Tart mumbling all in!), I cupped in some meat at 5 metres and a bit of everything on the inside before starting at 11.5 metres with a 6mm banded pellet. I expected sport to be instant but it actually took a little while for anybody to catch and if my memory serves me correctly, it was Emperor Smith who was first off the mark. After 10 minutes or so, I finally hooked one and then the Tart did as well, his came off and I made the fatal mistake of laughing so the fish fairy knocked mine off too, which I probably deserved!
Everybody was getting a few but it wasn't as prolific as last time, Captain Smith was the early pace setter and got to four carp quite quickly but nobody was running away with it, after the first hour I had seven or eight and had lost a couple but was doing alright. The Tart was just ahead going into the second hour but he wasn't counting his chickens yet (mind you I'm not sure he can count!) as in the last match, Bushy had flown out of the blocks on his peg only for sport to fade.
The banter was first class and Lord Smith's laugh had me in stitches, he started to bag right up and I was catching more regularly although rather annoyingly I had a couple more come off, after the second hour I was up to 18 carp and it was looking like some big weights were on the cards. Picky was getting a few as was Mark although Hoff had lost several and done a bit of squirrel hunting as well. I was feeding a few cubes of meat at 5 metres every few minutes along with some dead reds down the edge and after around two and a half hours I could see some tails down there waving at me and couldn't resist dropping the shallow rig in there, the float went away and another carp was on.
I really thought it would be like shelling peas and if it slowed I could always go back out shallow and then there was always the 5 metre line which I'd been carefully nurturing. I became somewhat mesmerised by those waving tails but apart from a lost foul hooker, it wasn't really happening. Squadron Leader Smith was now 'flying' and I said I reckoned he'd do 200lb today, I went back out shallow but it was hard going so I tried the inside again but this time with the margin rig and three dead reds on the hook, first put in, the float slid away and I had another carp, cracked it! but then the next two fish were a 6oz roach and a 12oz eel so not cracked it then!
I tried meat but didn't have a fish on it so I moved to the 5 metre line and had a carp quite quickly but then two missed bites and time was ticking by and that wasn't the answer either. Hoff and Mark both caught well from their inside lines and when Mark said he now had 25 fish I'd gone from doing well to struggling and although I still thought Corporal Smith would win at a canter, second and third was anybody's.
The Tart was getting some good fish although Picky had gone rather quiet and any attempt from the Tart to engage him in conversation was met with a reply so rude it can't be repeated here! The Tart also lost a fish when the elastic snapped and had his cupping kit come off so maybe we should change his name to Calamity Jane! I'd gone firmly into headless chicken mode and didn't know what to do next, the waving tails had disappeared and I couldn't catch shallow.
With two hours to, much like the last match, the pond switched off, pods of carp (including some nice ghosties) could still be seen cruising about so I slipped a 8mm Juice Dumbell in the band to see if I could stalk a few, I hooked a fish quite quickly which turned out to be a nice bream around 3lb but the carp were still proving to be hard work, I did land a couple, including a nice golden koi/ghostie which looked very similar to one I had in the last match. Commander Smith hooked the Tart's rig and elastic and landed the carp but fair play to him he put it back. The Tart hooked a fish and then shouted the all out, my clicker was reading 29 (28 carp and that bream) but with Hoff admitting to over 30 carp, the Tart saying his clicker was reading 103lb and Captain Smith having bagged up, I knew there would be no envelope this week.
Delia Smith gave me one of his lovely cakes and then I was first to weigh, my three nets went 75lb 14oz and I knew I'd finish well down with that, then Smithy had a brilliant 104lb 2oz, Picky had 57lb 10oz so at least I'd won a pound, Hoff had 94lb 12oz and then it was Mark's turn, his two carp nets went 70lb 8oz and I thought I might sneak another point but then he spoilt it by adding 7lb of silvers for a total of 77lb 8oz. Last to weigh was the Tart and after five weighs his total was 112lb 1oz so I'd be stopping by the fish and chip shop on the way home and worse still I had to give him a pound!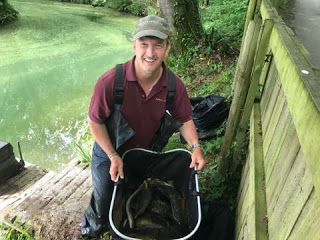 My 75lb 14oz finished well down in the section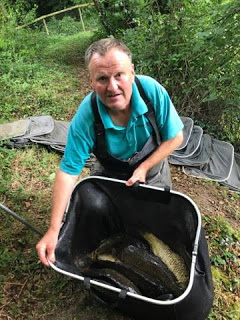 Smithy with part of his 104lb 2oz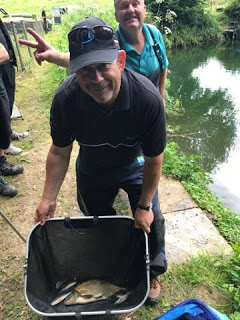 Picky had 57lb 10oz which included a nice bream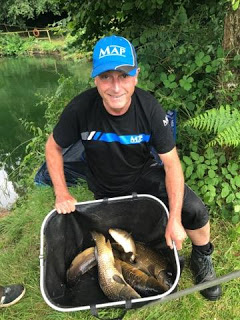 Hoff had 94lb 12oz from peg 1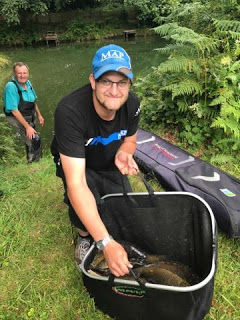 Mark had 77lb 8oz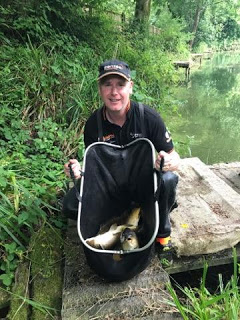 The Tart won the section with 112lb 1oz
Back at the results and Perry St had fished well with Karl (standing in for Chris W) topping the low numbers with 96lb 8oz from peg 5 followed by Geoff Young with 69lb 12oz from peg 2 and Les Braunton was third with 62lb 6oz from peg 10. Exeter Mike had the best weight from the high numbers with 61lb 10oz from peg 13 followed by Shane with 60lb 9oz from peg 11 and Janders was third and took a nugget off me with 40lb 10oz from peg 17.
Sadborow
1 – Brendon Ions (Torquay) – 112lb 1oz
2 – Mike Smith (Torquay) – 104lb 2oz
3 – Mark Hollister (Chard) – 94lb 12oz
Perry St Low
1 – Karl Everton (Torquay) – 96lb 8oz
2 – Geoff Young (Torquay) – 69lb 12oz
3 – Les Braunton (Chard) – 62lb 6oz
Perry St High
1 – Mike Hosgood (Nr Exeter) – 61lb 10oz
2 – Shane Jeffery (Chard) – 60lb 9oz
3 – John Anderson (Donyatt) – 40lb 10oz
My blow out today effectively ended any hopes I had of a league placing, long time league leader Howard also blew out and Shane has now moved level on points with him, Exeter Mike's third section win on the bounce has moved him into third spot so as we head into the final straight it looks like being a close fought race between those three. After seven matches, the top ten in the league looks like this,
Howards Watts – 17 pts
Shane Jeffery – 17 pts
Mike Hosgood – 19 pts
Brendon Ions – 21 pts
Jamie Rich – 22 pts
Chris Whitham – 23 pts
Steve Bishop – 27 pts
Janders – 28 pts
Les Braunton – 28 pts
Mike Smith – 28 pts
Next up – Perry St
Coming soon – My next interview
Check Out – My last match (below)