I was on the high numbers at Perry St for the penultimate league match but with lots of rain over the last few days and the temperature down a few notches, I wasn't sure my usual shallow approach would work today but just in case I actually gave my favourite dibber some tender loving care and made up a new rig. Another brilliant Millfield breakfast set me up for the day before we headed to Perry St to do the draw.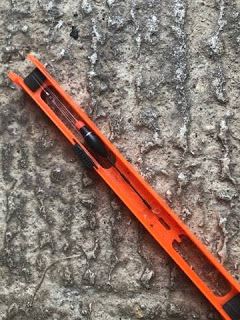 Battered and bruised but still going strong after years of abuse
The Sadborow guys drew first and were on their way and then it was our turn, I was hoping for a peg up the far end but was gutted when I pulled out peg 19, it's been poor for most of the series although the Tart did a good weight off it the last time we were here. Picky also didn't look very happy to be on peg 17 although we both had plenty of space, I had empty pegs either side and Picky had one on his left, which hopefully wouldn't do us any harm.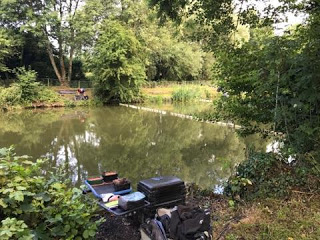 The view from peg 19
End peg Hoffy was on corner peg 11, Mark was on 12 and Delia Smith was next door on 13 (and had brought some scrummy shortbread this week), the Tart was on 14 with Bushy on 16 and with Janders on a corner in the other section, this could be an expensive side bet day! I set up the three usual rigs, the renovated shallow dibber, a 0.4 gram Drennan Carp for the 5 metre meat line and a Drennan Crystal Margin for the inside to the left by the cormorant roost. The side tray had Bait-Tech 6mm Carp and Coarse pellets, 6mm Strawberry Meat, maggots and 8mm Juice Dumbells (Sinkers and Wafters).
Delia modelling this weeks cakes (Tesco's Finest Belgian Triple Shortbread)
I was ready with half an hour to spare so wandered up to see what the good pegs looked like, while setting up I hadn't seen many carp moving about and really wasn't sure I'd catch shallow today but as I walked up the pond, I could see the odd dark shape and while we stood behind Hoff offering him words of wisdom (well, taking the piss), there were pods of carp cruising about. I headed back with a few minutes to go and had to time to admire the Tart's fine selection of rigs and he took great delight in showing me one of his deep rigs!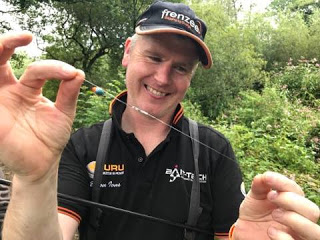 The Tart with one of his deep rigs!
I couldn't see anybody in my section so would have to rely on the bankside grapevine to get an idea of who was catching, opposite I had the top three in the league, Shane on peg 1 (which hasn't been great), Exeter Mike was on 2 (and thankfully with it being cooler, he was keeping his shirt on!) and Howard was on 4 which has been really consistent and he said he wasn't ready to relinquish his yellow jersey just yet!
The Tart got us underway and I cupped in some meat at 5 metres and then fed a bit of everything in the margin before starting at 11.5 metres with 6mm banded pellet (just for a change!). Howard flew out of the blocks and Mike and Shane both hooked early fish as well although Mike lost his. I wasn't confident I'd catch shallow and no indications or signs of carp after 15 mins seemed to back this up but then the float buried and I safely landed my first fish, carp number two soon followed but any thoughts of bagging soon disappeared and I finished the first hour on two carp. I was still fairly pleased as it's never a fish race and twelve carp is normally there or thereabouts although Howard obviously hadn't read that script as he was bagging and even a top kit breakage only slowed him down momentarily!
I had my third carp quite quickly and then lost one and with a few carp now showing themselves, I thought I'd be in for a nice steady day but then it started raining and the fish did a disappearing act. Shane was on two fish and Mike had landed one but had also lost a couple of foul hookers. So with only three fish after two hours and already off the pace, I had to try something else. My next port of call was the 5 metre line, I fed a few cubes of meat via a toss pot, the float buried and a fish was on, although a 2oz skimmer wasn't the result I'd hoped for. The next bite resulted in my fourth carp but I then I missed a couple of indications and I can only seem to catch one carp off this line every week!
I went back out with the shallow rig and managed to mug a decent fish (despicable!) to put me on five, Picky wandered up and said he'd had four although one was a lump so it was pretty close between us for the pound as we approached the halfway point. Over the next hour and a half I added four more carp, two on pellet and two on dumbells to put me on nine carp which put me back on target although the grapevine was saying that Bushy and the Tart were getting a few. I did lose a couple of foul hookers including one that I really thought I had a chance of landing but it came off at the net.
I'd been feeding the 5 metre line with a few cubes of meat every few minutes and as there were quite a few bubbles coming up, I gave it another go, a 2lb bream first chuck was encouraging and things got even better when I had a carp next put in. There were obviously a few there as I then hooked a lump, it didn't tear off and was just plodding about, it came to the top several times and was a good mirror of 7-8lb, it wasn't giving me too many problems and I nearly netted it a couple of times, I was stripping elastic via the pulla bung and it was almost ready for the net when there was an almighty twang and the line snapped above the float, I managed to salvage the float with a desperate lunge of the net and I'm sure the carp winked as it disappeared from view!
I was seriously gutted and I just knew that fish was going to cost me, worse still I didn't have another suitable rig which is just down to really poor preparation, there were still blows coming up over the feed and I didn't know what to do, with only half an hour left, I went back out with the shallow rig and had a carp quite quickly but any thoughts of a grandstand finish soon disappeared and of course I sat there chuntering under my breath about that lost fish and my stupidity! I kept trying to mug the odd fish but they weren't having it and then with only minutes to go, I flicked the rig in front of a few fish but this time the float buried.
I really wanted to make this one count so was taking my time and inching the pole back, I unshipped two sections and then the poxy hook pulled out and it just wasn't destined to be my day! I went back out and just as I dropped the rig in, the Tart shouted 'all out' followed by 'fish on', just to compound my misery! I'd finished with eleven carp and that bream (plus a small skimmer) and thought I had around 40lb, Picky said he'd ended up with eight although he had some big fish, Bushy had a similar number, the Tart was admitting to 40lb which normally means he's got 60lb, Section Commander Smithy and Mark had struggled and Hoffy had fourteen carp.
I packed up and took some of my kit back to the car before wandering back for the weigh in which always starts at peg 11 but when the Tart said we'd start with me, I knew he'd done alright because he wanted to see what I had first. My silvers weighed 2lb and my first carp net went 16lb 6oz before my other carp net had some better fish in which weighed 27lb 6oz to give me a 45lb 12oz total. Then it was Picky's turn and his bits and bobs weighed 10oz before he plonked some lumps in the weight sling which pulled the needle round to 24lb 2oz, I was in charge of the board and could see his other net needed to be over 21lb and when he pulled it out it looked a lot more but the Tart called it at 21lb 2oz to give him a total of 45lb 14oz and he'd done me by 2oz!, it was a job to tell who was more pleased, Picky or the Tart!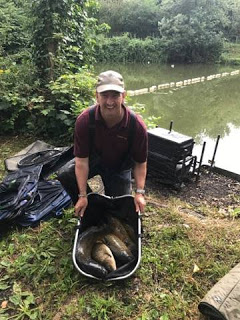 I had 45lb 12oz but poor prep has cost me today!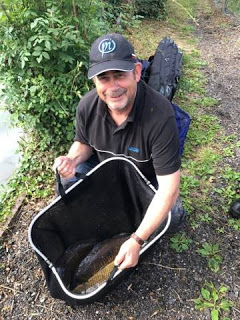 Picky only had eight fish for 45lb 14oz
I paid Picky my pound and made sure I had another to pay the Tango Twat shortly, Bushy was next and had a proper lump that had to be 12lb+, his eight fish went 42lb 3oz and the weights were all very close. Then it was the turn of the Tart and his carp went 43lb 4oz but he still had another net in and when he said it contained silvers I thought he was lying but for once he was telling the truth and 8oz gave him a total of 43lb 12oz and I was back to 1-1 on the side bets but taking a pound off the Tart always fills my heart with unimaginable joy! Also due to my celebrations I forgot to get a catch shot of him!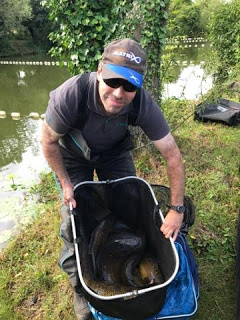 Bushy weighed 42lb 3oz despite having broken ribs!
Staff Sargent Smithy had struggled for 16lb 12oz and there are two versions of the photo below but only one is suitable for publication! Mark had 25lb 10oz and then Hoffy had 52lb 10oz to win the section.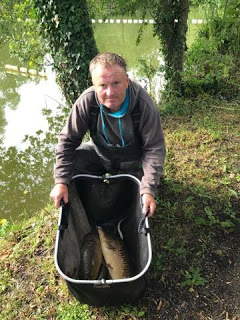 Smithy had 16lb 12oz from peg 13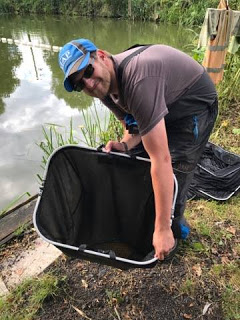 Mark had 25lb 10oz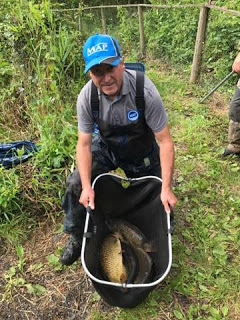 Hoffy won the section with 52lb 10oz
So really close weights again with one fish separating second and fifth place and several people had lost fish that could have won it. I'm still really annoyed with myself because using a rig that's been in my box a while is bad enough but not having another rig set up is inexcusable, especially as I made a rig up on Saturday, I could have even made a rig up while I was waiting for the match to start!
As expected, Howard comfortably won the other section with 86lb 2oz and goes into the final match in two weeks with a three point lead, Exeter Mike finished second in the section with 28lb 8oz and Mike Collins was third with 24lb 2oz on the feeder which included nearly 10lb of silvers. Shane finished fourth with 16lb 10oz, Pup had 16lb 7oz from peg 8, Janders had 12lb 10oz and Richard Collins had 9lb 10oz from peg 7.
When the others got back from Sadborow, it had fished quite hard for the first time this series with Yardie (Chris W) recording the best weight of 44lb 9oz from peg 9 followed by Bish with 37lb 4oz from peg 5 and Les with 35lb 6oz from peg 3.
Les read the results out and I picked up £30 for third in the section and finished 2-1 up on the side bets, also the score between me and the Tart stands at 5-3 in my favour so he can't beat me this series and will soon have to go back in his box for another year!
Sadborow
1 – Chris W (Torquay) – 44lb 9oz
2 – Steve Bishop (Chard) – 37lb 4oz
3 – Les Braunton (Chard) – 35lb 6oz
Perry St Low
1 – Howard Watts (Torquay) – 86lb 2oz
2 – Mike Hosgood (Nr Exeter) – 28lb 8oz
3 – Mike Collins (Chard) – 24lb 2oz
Perry St High
1 – Mark Hollister (Chard) – 52lb 10oz
2 – Alan Gage (Chard) – 45lb 14oz
3 – Jamie Rich (Against Men and Fish) – 45lb 12oz
Howard did really well today and after last weeks blip, he is back on track and looking good in the yellow jersey, it's still tight and the top three have it all to play for in two weeks time. With one match to go, the top ten in the league looks like this,
Howards Watts – 18 pts
Shane Jeffery – 21 pts
Mike Hosgood – 21 pts
Chris W – 24 pts
Jamie Rich – 25 pts
Brendon Ions – 25 pts
Steve Bishop – 29 pts
Les Braunton – 31 pts
Steve Osborne – 33 pts
Janders – 34 pts
Next up – Dillington (and rig making on Saturday!)
Coming soon – My next review
Check Out – My last match (below)