In yet another first for the blog, my latest interview is
with angling inventor, Paul Jessop,
Hi Paul, firstly could you tell us a little bit
about yourself?
Hi Jamie, I'm just a typical working family man with a wife,
two kids and a couple of dogs to support. I have been fortunate enough to work
in the chemical industry all my life and at the moment I work on a massive site
that makes little tiny plastic pellets which are then re-melted to make food
packaging. I started fishing at 7 years old when my dad took me and my brother
down the river Hull because he didn't know what to do with us during the school
holidays. We didn't catch a thing but I loved every minute of it and I am still
just as keen now as I was back then. I would describe myself as a good club angler and I have fished for a
number of clubs down the years.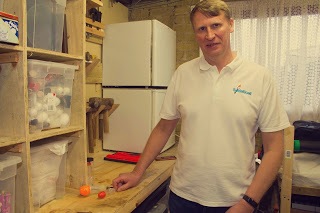 Paul in his workshop
Thank you and for those readers that haven't heard
about the Sodafloat, could you explain more about the concept and thinking
behind it?
The Sodafloat is a new type of feeder float that
enables an angler to feed and fish with any sinking bait at any distance they
want to cast it. The list of baits that can be used includes hard pellets,
sweetcorn, luncheon meat, hemp, maggots, casters and even "runny" baits like
chopped worms and groundbait slop – but you can use any bait that will fit into
it. It works because it has a sliding ball which moves between the bait housing
(that contains the loosefeed) and the bottom of the stem. When the Sodafloat is
cast out the ball sits against the bait housing, sealing it in, so none is
spilt. Then, when is lands in the water the ball drops after a few seconds
because at first it contains a pocket of air, which bubbles out and gets
replaced by water. This action makes the ball drop down the stem which releases
the loosefeed. It's a simple principle (the displacement effect discovered by
Archimedes) which is why it is called the Self-Opening Displacement Action float.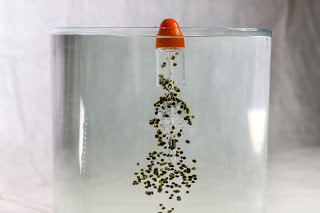 The Sodafloat in action
I thought of the idea whilst fishing a match at Lambwath
lake in Aldborough. All the fish were gathered around a central rope, but it
was a windy day and I just couldn't catapult the bait out accurately to reach
the fish. The beauty of the Sodafloat is that you can also place your hookbait
inside it, so when you are casting at the rope, your hook cannot snag on it.
After the Sodafloat lands in the water you get a few seconds before the ball
drops, but if you keep the line tight you can reel it into position without it
emptying, so you can over cast it then reel it into position.
Check out my review here – Sodafloat review
I'm intrigued by the whole process, could you give us an
idea of how long it took from the initial idea to get to the finished product
we see before us today?
After I came up with the idea, I knocked up a prototype in
my garage using a few things I had lying about and realised that I might be on
to something. I bounced some emails off the major fishing tackle producers and
one of them agreed to see me. They were that happy with it that they suggested
patenting the idea, which is exactly what I did. All this took a while and the
patenting process alone took about 3 years. All in all, I would guess from
start to finish it took over 5 years to develop the idea into the finished product
you see here.
Were there any major stumbling blocks? Did you ever think
it wasn't going to happen?
Eventually the
tackle producer and I went our separate ways, but I had already committed to
patenting the Sodafloat and being a bit stubborn (or stupid) I decided that I
could make a go of it on my own. This was one of the most frustrating periods
of the development because I didn't know who to approach to actually turn the
prototype into a finished product and I spoke to a lot of people before I managed
to find somebody who understood what I was trying to do. Eventually I found the
right man who was a fisherman himself and he got it right from the off. We all
need little bits of luck in our lives and I think this was a lucky break for me
when we met.
So what constitutes a typical day for an angling
inventor?
Off shift I get up at 7 with the kids and see them off to
school, take the dogs for a walk then get the laptop out when I get home. I can
then spend the next few hours sending emails, making phone-calls, keeping up
with the social media (which takes up way too much time), processing and
packing orders until some other domestic duties need doing. My wife calls me a
workaholic because I am always busy with something, but I try and have some
quality time everyday with her and the kids. When I am on shift, I have to try
and fit everything in in the hours that I am not at work, so quite often I am
still at it while midnight. My mind is always ticking and quite often ideas
will pop into my head and I keep a notebook to jot them down until I can get a
bit of tinker time in the garage.
Do you have any plans
to do this full time?
My ambition for Peejay Tackle is to create a firm that will
support my children, who both have learning disabilities – I think this drives
me more than just wanting to do it for myself. I am lucky because I get enough
income from my regular job and I do get a lot of time off to pursue this
venture. I have a few things up my sleeve and if things go well then who knows?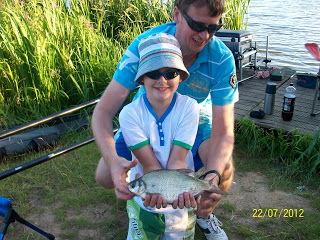 What can we expect
next from Peejay Tackle? Have you got anything else in the pipeline you can
tell us about?
I am a bit secret squirrel about new developments but we
plan to develop the Sodafloat range initially to improve our offering and then
there are a number of things in the notebook that will be of interest to the
anglers out there. We want to be known as an innovative brand, our motto is
"innovation not imitation."
You're obviously a
very keen angler, what's your favourite style of fishing?
I love fishing the stickfloat on rivers and during my youth
I spent a lot of time down the length and breadth of the river Trent with my
Pete Warren stickfloats and crowquill avons. I love the constant movement of
the water and float and the satisfaction of getting your feeding right and
mending your line so it is perfectly in line with your float. Then, when it
does go under and you get that swoosh as you pull your line through the water
and watch the tip of your rod when you see the fish start to kick – absolutely blissful.
Your favourite
species?
Chub – where they are present I seem to have a natural
affinity for them and they have got me out of jail a number of times in
matches. I grew up in an age where they were often the most reliable big fish
on the rivers that I fished and they can be caught on the hottest and coldest
of days, on a number of different baits.
Where is your
favourite venue?
River – the Trent at Carlton, during our club matches I was
unbeatable on here for a while.
Stillwater – 100 Oaks at Sutton upon Derwent. A variety of
pegs can win on the day and there is a good head of chub as well as carp. It's
a great venue for the Sodafloat.
Have you any angling
heroes or anyone who has inspired you?
There have been a few over the years – Ivan Marks, Frank
Barlow, Bob Nudd, Tommy Pickering, Bob Roberts, Des Taylor, Alan Scotthorne and
more recently Steve Ringer. I like anglers that innovate and think about what
they are doing.
What's your biggest
fish in the UK? And abroad?
My captures are very modest – a carp of 16lb 3oz in a match
at the Nest in Winteringham almost 30 years ago and abroad, just mullet from a
Spanish harbour on breadflake. None of them weighed, but I guess the biggest
would have been about 2lb. I am hoping to beat this next year with a trip to
France though.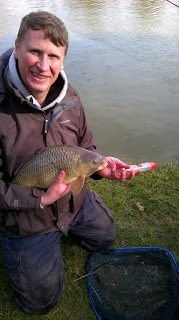 Paul with a carp caught using a Sodafloat
A lot of people say
commercial fisheries have been the saviour of match fishing, especially with
the decline of the rivers but more recently there seems to have been a swing
away from carp back towards silver fish matches and rivers, where do you think
the future of fishing lies?
I think anglers are suffering from carp fatigue. Initially
it was a novelty catching big bags of relatively large fish that tug back a
bit, but when all is said and done, we are sitting by the sides of relatively
new fisheries continually catching the same variety of fish and people have
started to get bored with it. It's good to see anglers starting to fish for
silvers again and running silvers only matches, you do need a different skill
set and you'll become a more accomplished angler if you fish for all varieties.
Add in the beauty of the fish themselves and the natural diversity you find in
more established venues and it is no surprise to me that we have seen a swing
back to the rivers. All things are cyclical though and there will always be a
place for the commercials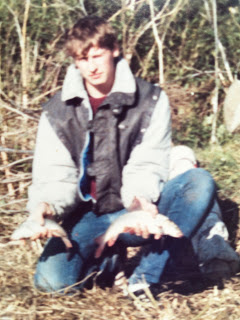 One from the archives, Paul's first barbel from the Trent back in 1984
Being an innovator
yourself which items of tackle of methods do you think have revolutionised the face
of angling?
The development of carbon and graphite into the materials
used to build rods and poles has to be the number one innovation during my
generation. Poles were not generally available when I first started fishing
although they were used on the continent. I remember my first model was an 11m
glass fibre Sundridge one that was heavy as hell – nothing like the poles we
have nowadays. Other things that have impressed me have been method feeders and
the invention of the hair rig.
And any that, in your
opinion, should never have seen the light of day?
I believe that all invention should be celebrated because it
develops the sport – even if this takes us down a road that I personally
wouldn't want to travel. Frequently the initial invention is used as a stepping
stone for other inventions / uses that the original inventor never envisioned.
If you had a time
machine is there one moment in fishing you wished you could go back and change?
i.e. a dream fish coming off at the net or a decision in a match that's cost
you a title?
Going back a few years, I was fishing a club match on a fen
drain and a win would have won me the league. I think 5lb won the match and I
knew I was there or thereabouts when I lifted into a big eel. I played it out
really carefully, netted it after a couple of attempts and unhooked it in my
landing net – so I could grip the eel with the landing net mesh. As soon as I
released the hook, the eel shot out of the net with all the grace of a leaping
salmon and splashed back into the water. I lost the match by ounces and the eel
must have weighed a pound and a half
Have you got one
piece of advice that will help the readers put more fish in their nets?
In a match situation, stick with the methods you are best
at. If you haven't practised it don't do it, you'll waste too much time trying
to perfect it. Remember the golfer Gary Player's quote" The more I practice, the
luckier I get."
Well thank you for giving up your time but before I let you
go, here's a few more quick-fire questions,
What's your favourite
drink?
Ice cold Becks from a bottle – I always have some in the
fridge in the garage
Favourite meal?
I love a fillet steak with all the trimmings
Do you support a
football team?
Coming from Hull, it could only be Hull City, but I lived in
Manchester for 10 years and I am a bit of a Reds fan as well.
Favourite film?
The Commitments
TV show?
Game of thrones
What music do you
listen to?
Mainly rock and indie, but in the last few weeks I have seen
The Flaming Lips and ELO.
And finally what's
your idea of a perfect day?
Waking up and taking the dogs for a walk. Then packing the
gear into the car with the anticipation of a days fishing ahead. Meeting up
with the lads and enjoying a cooked breakfast before pulling an unfancied peg
out of the drawbag. Making all the right decisions at the right time during the
match and winning by the narrowest of margins (for future banter rights).
Driving home whilst listening to Hull City continue their record unbeaten run
on the radio and on arrival having the kids meet me to help put my gear away.
The wife will have already run me a Radox bath, spread rose petals over the
surface and taken the top off a bottle of Becks and left it on the side. After
half an hour basking in the bath it's then on to the pub to spend the winnings
on a meal for us all and a few more pints. (it's never happened yet, but it
would be a perfect day)
Well thank you very much Paul, from Against Men and Fish and
I look forward to seeing your next project
Website – Peejay Tackle
* All images courtesy of Paul Jessop