This weeks match was on Sellicks and as I hadn't heard anything from the Tart I was hoping he'd gone into hibernation for the winter but no such luck and as I turned into the car park, his van was already there. I said hello before going to get some nets and Pete has just got a load of smart new Mosella keepnets, hopefully the anglers will look after them! I paid my pools and could see on the board that there were 17 booked in for today, I asked the Tart if any more of the Torquay contingent were fishing and his reply was 'Yes, my disciples are on their way', which about sums him up!
Pete got the Tart to draw the golden peg and he pulled out peg 23 and then, as so often happens, only went and drew it for himself, my destination for the day was peg 18 which I was more than happy with as it's a good silvers area. As for the side bet it would be decided on our respective positions for carp and silvers. My other side bet was Exeter Mike who wanted a pound on silvers. In form silvers angler, Roger Russell, was on 17 but I had an empty peg on my left which hopefully would help as a bit of space is normally a bonus with quite a few anglers on the pond.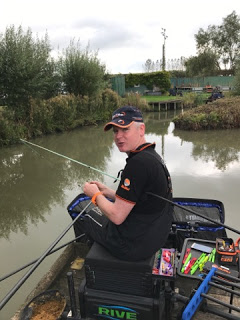 The Tart was on his usual flier
I set up a 0.3 gram NG Mini Gimp to fish top two on the right and a 0.6 gram Malman Pencil for two lines straight out and angled to the left at ten metres and a further two lines at five metres. Plumbing up, the level of the pond was down a couple of feet which I didn't think would do us any favours and with most pegs in, I said to Roger that I thought it might fish hard and that 8lb would be a good weight today. As always my side tray was nice and simple, Bait-Tech 2mm Carp and Coarse micros that I'd soaked the night before plus 4mm Xpands for the hook.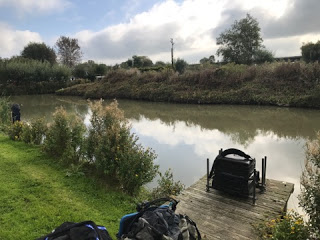 Looking down the pond from peg 18
On the whistle I fed half a pot of micros on all five lines before starting on the top two, after about ten minutes, the float sailed away and a fair bit of elastic exited the pole tip, I knew it wasn't a carp and a 6oz tench got me off to a great start. Roger was into a fish soon after but his was a carp and a bit of a lump, he then followed it up with a little tench. I missed a bite but after half an hour I still only had one fish so picked up the other rig and shipped out to ten metres. Tom Mangnall was on peg 20 and getting a few fishing tight to the island but was also suffering with foulers. After a couple of missed bites I had a skimmer of 6oz or so but that was it as a really slow first hour came to a close.
I did manage another skimmer of a similar size in the second hour and lost a couple of foul hooked carp but it was fishing really hard, Tom, Chris Boulton and the Tart to my left were getting the odd carp but nobody was really catching to my right. I kept swapping between my two longer lines, but only had one missed bite from the left hand line. Roy Hughes, who was on 15, walked past and I asked how he was getting on, he said he had one carp and one skimmer. Roger had a skimmer from his short line and then I had my third skimmer from the ten metre line but it was painfully slow and any thoughts of an 8lb weight had gone out the window! I did say to Roger that there was a good chance somebody would win this with an accidental big skimmer or crucian while fishing for carp!
I was dripping in micros on both the five metre lines but, as always, would leave them to the last couple of hours before trying them. The next couple of hours yielded just two foul hooked carp and one tiny little blade which boosted my weight by about half an ounce! So with about two hours to go, I had one little tench, three skimmers and a blade for a pound or so and was just ahead of Roger who had one tench and a skimbob plus a couple of bits. I came in on the five metre line and didn't have to wait too long for my first bite which was another little blade but by this stage I was grateful for anything! I tried the left hand shorter line but no indications so I went back over the other line and the rig settled but kept on going and on the strike I knew it was a skimmer and I played it carefully and was relieved when a nice fish of 12oz or so slid into the landing net.
Tom and Chris were both catching carp well and it didn't look like the Tart would be taking home a bumper payday today, at one stage I'm sure I saw him looking in his carryall for a tube of Savlon! I kept trying different lines but the only entertainment was provided by the odd foul hooked carp and I couldn't believe it was fishing so hard for silvers. With only half an hour to go, I saw Roger strike out the corner of my eye and when a decent fish leapt out of the water I knew it was a good skimmer and at around 2lb, I was sure he'd overtaken me. I was praying for one more fish but it didn't happen and I finished the match with a meagre tally of seven silvers for about 2lb.
I packed up and took my kit back to the car, the Tart was admitting to 50lb of carp but only one silver. The scales started with Alan Jenkins who had 2lb 7oz of silvers and I wasn't sure I had that. One of the Tarts disciples, Geoff Young, weighed 32lb 4oz but reckoned he'd lost twenty carp today! Exeter Mike had four skimmers for 1lb 14oz from peg 8 and it was going to be incredibly tight for the pound. There were a few DNW's before Mark Jones had 24lb 4oz from peg 12, Jim Jenner had 27lb 10oz next door and then Mike had 28lb 10oz from peg 14.
Roy Hughes had 11lb 10oz on 15 and then Yardie didn't weigh before we got to Roger, his fish went 2lb 11oz and I knew I didn't have that, I was next and it was close but as I expected I needed another fish as Adie called out 2lb 9oz which put me second in the silvers. Then it was Tom's turn and he'd done brilliantly to weigh 96lb 9oz, mid match he swapped from fishing pellets to groundbait and maggot and won comfortably. Chris B had 66lb 7oz on 21 to go into second place and then the Tart had 54lb 6oz for third place, so as I finished second in the silvers, that could only mean one thing…….yet another of the Tarts pounds was coming home with me!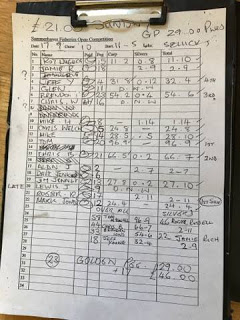 Todays board
We were obviously in the right area as the top three overall and the top two silvers were all in a line! Back at the results and as always I clapped and said well done to the winners (even the Tart) but by the time the silvers winners were read out, he'd already gone, wheel spinning out of the car park – despicable! Maybe he needed to get to the chippie for tea before it shut! I picked up £22 for second in the silvers plus the all important £2 in side bets but I have to say that was hard going today, I'm back again next week where hopefully it'll be on Longs.
1 – Tom Mangnall (Mosella) – 96lb 9oz
2 – Chris Boulton (Summerhayes) – 66lb 7oz
3 – Brendon Ions (Torquay) – 54lb 6oz
4 – Geoff Young (Torquay) – 32lb 4oz
Silvers
1 – Roger Russell (Tackleuk) – 2lb 11oz
2 – Jamie Rich (Against Men and Fish) – 2lb 9oz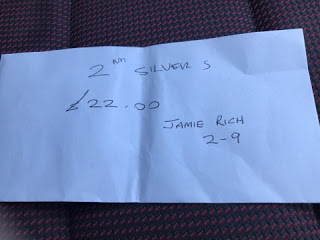 Next up – Summerhayes
Coming soon – My next review
Check Out – My latest guest post (below)