A few people have said they'd be interested in reading some stuff from the memory banks and I've been meaning to do something for a while now, so with my recent incapacitation due to doing my back in and in a bid to stave off boredom, here is the first instalment. As ever, I'd love to hear your thoughts and any constructive feedback, just leave a comment on here or message me via the contact form in the side bar.
22nd June 1980

It was the summer holidays and all the kids were going fishing so not wanting to be left out, I tagged along one day. We headed to the River Isle and basically chucked a ledger out and sat around chatting, at the end of the day we reeled in and there was a gudgeon or bullhead (I really can't remember) on the end and I was 'hooked!'.I was eleven years old and living at The Incline in Ilminster and at the bottom of the street was the recreation ground and The Old Canal, the last remaining part of the Chard to Ilminster canal which was now basically just a long pond. I had a little rod that my granddad had given me and a few bits and bobs and was spending every available minute down there, to be honest I caught very little, just the odd small rudd but I couldn't get enough of it.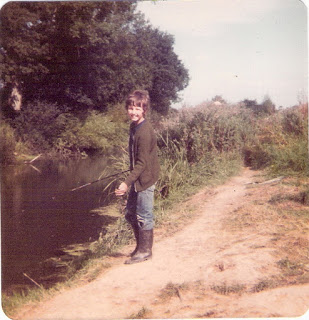 Me fishing the canal in 1980 (it was still quite wild down there then, compared to today's grass banks)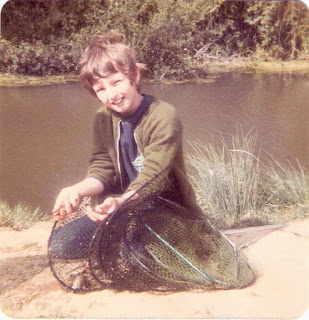 A bumper haul of seven rudd (note the knotted mesh on my eight foot keepnet!)
I've always kept diaries and records of my fishing exploits, even though in the early days they were fairly basic, I was using 'Perch Bobber' floats but later upgraded to a 'Zoomer' (anybody remember those?). Slowly but surely I started to get some gear together, Trev Hyams gave me a wooden seat box and I bought a 13 foot Shakespeare match rod from Adrian Green and coupled this with a Mitchell Match reel that my mum bought (fantastic reel that I still have somewhere).
I also fished my first junior match on the canal not long after I started fishing and predictably I blanked. My second attempt was slightly more successful and I recorded that I caught four rudd for 2.5oz although I lost three floats! Looking through my first diary I was fishing most days during the school holidays and just catching a few small rudd, in those days carp had an almost mythical aura about them and although the canal held quite a few they were rarely landed.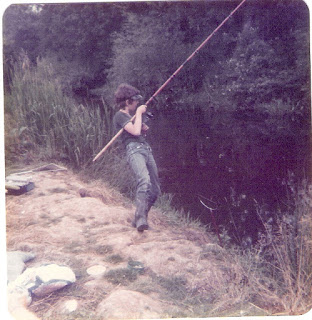 An 'action' shot down the canal (note the 13 foot rod and sun visor!)
On the 24th August I entered my third fishing match and caught fourteen rudd and a dace! (not convinced with that fish identification, probably a small roach) for 7.5oz and second place! My records show I was fishing peg 2, conditions were cool and cloudy, I used bronze maggots and a Drennan Onion float!
I was by now also having the odd foray down the river but mainly minnows and only the odd roach seemed to feature in my catches (nothing much has changed there then!). I did fish at Isle Brewers with my granddad and although I blanked, he hooked a pike around 4lb and I was so excited by this beast from the deep, that I nearly fell in trying to get a closer look and he had to hold on to me as well as playing and landing the fish!
My next match was also my first one on the Isle and I caught three dace for 11oz although I did also have five minnows which escaped through the rather large mesh of my net! I came second again and according to my diary, I used small worms as bait. The following week, my dad took me to Rule's tackle shop in Langport (I loved going there) to buy a ten foot micro mesh keepnet.
On the 30th November it was the Junior Xmas Fayre on the river and I drew a bend above Ilford (where Colin Dyer once won the open with 20lb of chub) and caught one chub of 1lb 1oz (which I think was my biggest fish to date). I came second again (behind Trevor Priddle who had a chub of 1lb 13oz) and won a box of chocolates (Terry's All Gold if I remember correctly). One of my overriding memories from those early winter matches was wearing so many pairs of thick woollen socks that it was difficult to get my wellies on, a far cry from todays thermal boots!
Next up – Part 2 covers 1981-82