After struggling in the first two Isle matches, I was praying for rain (which was looking unlikely) but failing that, a draw at Isle Brewers would do me as that's where the top weights have been coming from. As ever I was really looking forward to my next fishing fix but during the week, I had to go out and about on site (yes I do some work sometimes!) and did my back in, it was agony and I wasn't even sure if I'd be able to fish at the weekend! On Friday morning, I could barely get out of bed and I don't think I've ever felt this uncomfortable, at times I couldn't even stand up!
I managed to get a doctors appointment and he gave me some tablets and signed me off for a week so I had to phone Hurf and tell him I couldn't fish this week, gutted and I'm bored stiff already! I will still post the results and hopefully some photos. I'm hoping I won't be out of action too long.
With thirteen fishing, Hurf put in Upper Coxes, three pegs at Redbridge (which he cleared out yesterday) and six at Isle Brewers. With the river still being low and clear it fished hard at the top end again but Redbridge provided the winner with Big Frank Woodard catching three chub for 8lb 4oz from peg 110 (it's normally 109) and he lost one as well, Graham Field continued his good run with a chub plus roach and dace for 8lb 2oz from newish peg 128a (and he lost a couple of chub as well) and John Dursley who's still recovering from recent surgery on his hand was third with two chub for 6lb 15oz from 124a. Section wins went to Steve 'The Pole' Parker with 3lb 7oz from 22a (which included a big trout of 1lb 14oz) and Bill Hopping with 6lb of dace, roach and chublets from 128. Thanks to Graham Field* and Rob Cox** for the photos.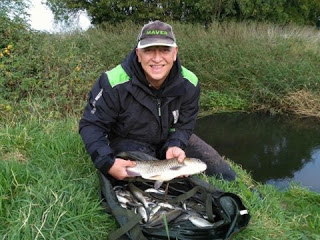 Graham was second with 8lb 2oz from peg 128a*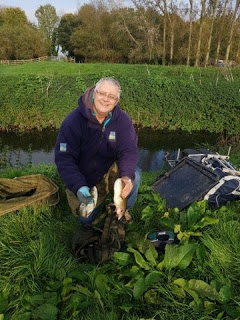 John Dursley had two chub for 6lb 15oz and third place from 124a**
Bill Hopping won his section with 6lb from 128*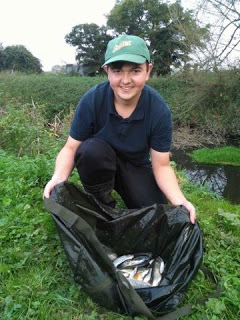 Stuart Aplin had 4lb 6oz*
1 – Frank Woodard (Ilminster) – 8lb 4oz
2 – Graham Field (Taunton) – 8lb 2oz
3 – John Dursley (Enterprise Angling) – 6lb 15oz
Sections
A – Steve Parker (Ilton) – 3lb 7oz
B – Bill Hopping (Ilminster) – 6lb
It's nice to see some of the newer pegs producing, especially 128a which we put in a few times last year and it was shocking, which just goes to prove that fish do move about. I reckon 130 and 133 would throw up some weights but they are a bit of a walk, it's a shame the parking isn't better and we could get everybody down Isle Brewers! With some colour, I think we will see some brilliant weights and it's nice to see the chub still showing at Redbridge and more and more are turning up at Isle Brewers. It will interesting to see how Hambridge fishes this year (although by all accounts it's still a bit weedy at the moment) and hopefully we'll try some other stretches as well.
Well I'm hoping to fish Summerhayes next Friday and then I'm looking forward to getting back on the river on Sunday (hopefully my drawing arm will be working again by then!).
Next up – Summerhayes
Coming soon – Another great interview
Check Out – My latest review (below)