If you've followed the blog for a while, you'll know I'm a big fan of Buff products from when they contacted me back in early 2015 to ask if I'd like to review one of their Polar Buff's from the new angler range. To be honest I didn't really know too much about the firm at that time, so some research was required. Looking at their website I was immediately impressed with the vast choice of products and patterns and I could see lots of possible uses for fisherman and not just from the angler range.I chose a Polar Buff which arrived quickly and what a great product, if you haven't already seen it, the review can be found here –
Polar Buff Review
Fast forward to March 2016 and I was at The Big One angling show and went and had a chat with the lads on the Buff stand, I mentioned I'd reviewed their products before and told them about an upcoming fishing trip to Thailand and said I'd love to review one of their Insect Shield Buff's, they got one sent out to me and it was another brilliant product, that review can be found here – UV Angler Insect Shield Buff Review
I'd signed up to receive e-mails and updates from them and one I received recently caught my eye, it was announcing a new product, the ThermoNet Buff. The technical blurb in the e-mail goes on to say, 'This year, we are unveiling a new technical fabric. ThermoNet brings together the knitting tradition at Buff with technical yarns from our partners at Primaloft. The result of years of research and testing, is this extremely thin, lightweight fabric which retains body heat while wicking moisture away.'
I cheekily e-mailed them to see if there was any chance of doing a review and was over the moon when they replied saying yes, I opted for the Soft Hills Turquoise from the website and it arrived within a few days. They also sent out the two latest catalogues, a nice Buff pen and some stickers which was a nice touch.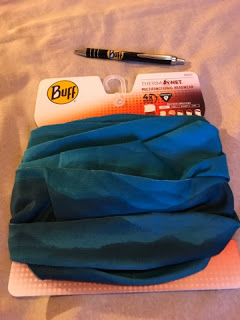 As for the Buff itself, I loved the colours, the pattern and removing it from the packaging, it immediately felt like a quality garment. Reading a bit more about the Primaloft material, it has the following qualities,
made from 70% recycled content
fast drying
superior softness
moisture management
lightweight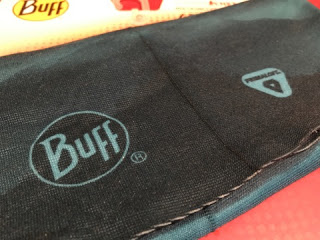 It also says on the packaging that the ThermoNet Buff is 4 x warmer than the original which makes it ideal now the weather is starting to get cooler and we wave goodbye to what little summer we've had this year.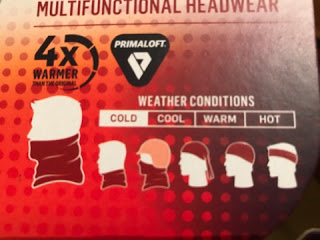 I'm looking forward to trying it out over the coming weeks as our winter leagues get underway, one of the great things about Buff's is that they take up so little space that you can have one in your jacket pocket or carryall and not put it on until needed. A great little tip for winter fishing is not to wear all your warm gear if you've got a bit of a walk to your peg, you can then put it on as you start to cool down and really feel the benefit.
To be honest I don't really wear my Buff's in the multitude of different ways they can be, but worn as a neck warmer they are fantastic at keeping the chills at bay and from going down your neck. The other time I find they come into their own (here and fishing abroad) is when it starts to get dark and midges and suchlike come out to play and are intent on going in your mouth or up your nose, simply pull your Buff up and problem sorted.
Check out the website for loads of other great designs as well – Buffwear
Look out for my update on how I'm getting on with my new Buff over the next few weeks as the temperature starts to drop a few notches.
*Buff sent me this product for free in exchange for an honest review. All opinions contained in this post are my own.