It would have been nice to fish the river once more before the end of the year but the weather had other ideas, the Isle was in the fields at Hambridge on Thursday and more rain on Friday, Saturday and forecast for Sunday meant the only sensible (and safe) option was to put it on the pond. I don't mind to be honest as it usually means plenty of bites and it's normally a close match.I got to the bowling club for breakfast and we had a healthy turn out of thirteen anglers including Tackleuk mugger Scott Russell, who's ears pricked up on social media when he heard we were on the pond. If the forecast was to be believed some of us would be in for a rough day with heavy rain and strong winds forecast. I fancied peg 2 or 17, 18 and 19 on the near side as they're normally fairly sheltered. I announced the draw and as I had the bucket, nearly everybody pulled out a ball until there was just Scott and me left, I offered him the bucket and said there should be two balls left, he stuck his hand in and grabbed them both before giving me one, peg 8, an okay peg but on the far side and I would probably have the wind in my chops, he looked at his and he'd only gone and drawn peg 2 and would be hard to beat today.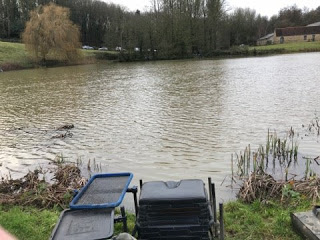 The wind wasn't too bad as I was setting up
I got out the pond and the wind wasn't too bad so hopefully they'd got it wrong for once, Hurf was on peg 9 and I had Leighton on my right on peg 7. I set up a 0.5 gram Drennan Roach with a size 18 B611 barbless to 0.10mm and also a little Preston Chianti (not used), on the side tray I had maggots, pinkies, casters and Bait-Tech Super Seed hemp and I also mixed up some Pro Nat Dark. Scotty came up for a quick chat before the start and said he thought it might be hard today but I said I thought you'd still need double figures.
Rob got us underway and I cupped in two balls of groundbait containing a few pinkies and casters at ten metres before starting with double pinkie on the hook, the float settled and after a minute or so, it sailed away and I swung in a small roach. More followed so I tried double maggot but it didn't improve the stamp, nor did caster and I was having to wait ages for bites. Hurf was catching small fish as well and it was neck and neck at this stage. It certainly wasn't fast and furious and after an hour I was up to 17 fish for about a pound.
Looking around, from what I could see nobody was really bagging, Leighton hadn't caught on the feeder next door, Bill was struggling on peg 6 as was Jake on peg 13 although I could see Fieldy catching bits and pieces on peg 14. The second hour was slightly better and I added another 20 fish including the odd better roach and a couple of chunky 4oz perch on double red maggot.
Then it started raining quite heavily and the wind got up and it was becoming more and more difficult to hold the pole, the pegs on the far side were a little more sheltered and I could see Harry catching small fish quite well although he did a little bit of squirrel hunting as well. Big Frank was swapping between the pole and feeder so I guessed he was struggling a bit and Ben Simmonds, who was fishing with us for the first time today, looked like he was getting some nice roach on peg 19. I couldn't really see Scotty but I could see his pole and he was shipping in and out on a regular basis so he was catching quite well.
It was a struggle in the third hour although I had a little run of roach fishing a metre short of my feed, Hurf had chucked a feeder out but wasn't getting any action, I did see Rob up on peg 5 land two skimmers in quick succession. During the fourth hour, the rain stopped, the wind calmed down and the sun even tried to poke it's head out of the clouds. I started catching some 2oz roach on caster now that presentation was half sensible and with around an hour and a half left, I thought I might catch well. Hurf had a chublet and then Leighton had a nice skimmer on the tip and then had another next chuck and it was looking like we might be in for a grandstand finish.
The weather had other ideas though and turned the wind dial up to 11 and it started absolutely lashing it down, a few times I had to drop the pole on the water as I feared for it's safety and it's times like this that wearing glasses is a real pain. My catch rate plummeted and I wasn't too upset to hear the final whistle, I only added a few fish to finish with 75 which I thought would give me between 4-5lb if they averaged an ounce apiece.
Bill had the scales but as he hadn't finished packing up yet, I offered to start the weigh in and walked up to Steve P on peg 1, he'd struggled for 2lb 8oz but did have a couple of cracking roach, Scotty was next and had caught really well, he had over 140 fish which included seven skimmers and he'd had five of them in the last hour. He said there were a lot fish there because at one stage the wind caught his pole and he foul hooked a skimmer! He weighed 15lb 7oz and I didn't think anyone would be close to that.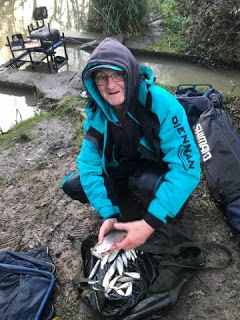 Steve 'The Pole' Parker had 2lb 8oz from peg 1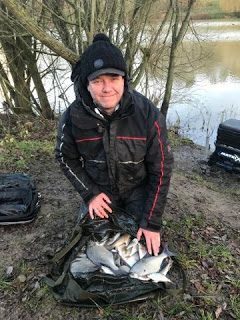 Scott had a lovely net of fish for 15lb 7oz
Rob was next and his two skimmers went 2lb 10oz, Bill had really struggled for 6oz (mainly small fish!), Leighton had 3lb and then my fish went 5lb 6oz, Hurf was last to weigh in our section and had 1lb 11oz.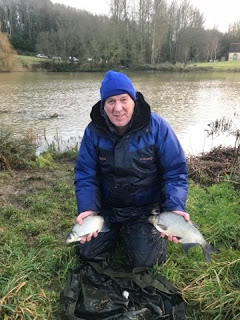 Rob had two nice skimmers for 2lb 10oz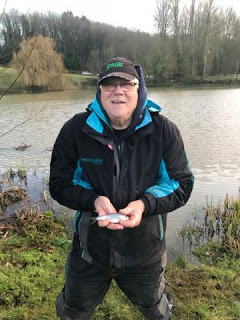 Bill had 6oz of mainly small fish which included this fine specimen!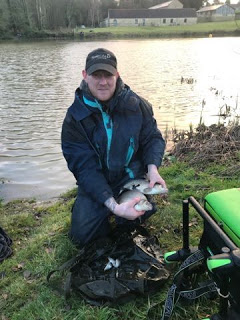 Leighton had two skimmers and a few bits for 3lb from peg 7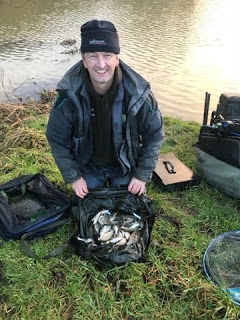 I had 75 roach, perch and a rudd for 5lb 6oz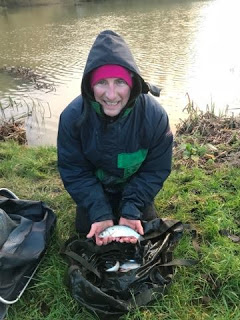 Hurf had 1lb 11oz which included a nice chublet
After loading the cars, we drove back round the other side for the results, Harry let me have the other weigh board and that section had fished better, Jake had the top weight with 11lb 5oz of skimmers, most of which came in the last hour and I hadn't seen him catch a fish!, Harry did well to finish second with loads of small fish for 7lb 14oz, Adie had a couple of skimmers plus roach for 7lb 2oz from peg 24, Ben had 4lb 11oz of mainly roach from peg 19, Fieldy had 4lb 5oz from 14 and Frank had 2lb 13oz from 18. Thanks to Harry Hebditch for the photos*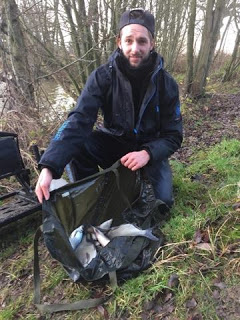 Jake had 11lb 5oz of skimmers from peg 13*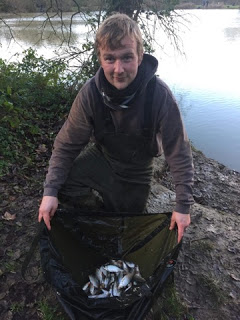 Harry had loads of small fish for 7lb 14oz*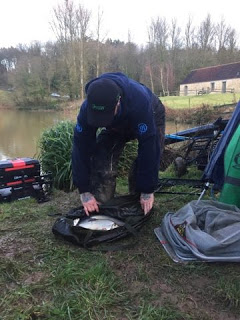 Adie had 7lb 2oz from peg 24*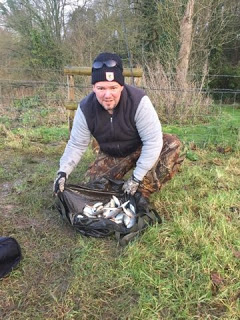 Ben had some quality roach for 4lb 11oz*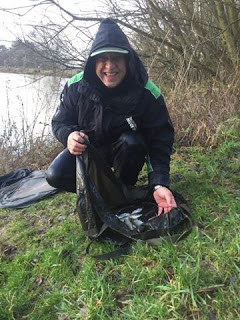 Graham had 4lb 5oz from peg 14*
So I picked up £20 for winning the section but I'm just not getting it right and I'm well off the pace on the pond at the moment, the lack of quality roach means you need some skimmers as well to win and I just can't catch them. I think I need to fish longer, lighter and with a more positive rig, if that makes sense and talking to Scott, more groundbait and no loose feed although to be honest I struggled to hold ten metres today so any longer was out of the question.
1 – Scott Russell (Tackleuk) – 15lb 7oz
2 – Jake Woodard (Ilminster) – 11lb 5oz
3 – Harry Hebditch (Ilminster) – 7lb 14oz
Sections
A – Jamie Rich (Against Men and Fish) – 5lb 6oz
B – Adie Bishop (Taunton) – 7lb 2oz
The league has also tightened up and there's now only one point separating the top four!
Jake Woodard – 11 pts (dropping 4)
Adie Bishop – 12 pts (dropping 4)
Graham Field – 12 pts (dropping 30)
Jamie Rich  – 12 pts (dropping 30)
Bill Hopping – 22 pts (dropping 20)
Well that's it for 2017, lets see what 2018 brings, I'd like to take this opportunity to wish you all a Happy New Year, look out for my review of last year and my latest instalment of the Archives series coming soon.
Next up – River Isle
Coming soon – My review of last year
Check Out – My last match (below)