One of the first reviews I did for the blog, back in 2012, was of two Dvd's from V2V Angling Productions and they were both excellent (see my original DVD review here). I was talking to Brian Gay recently and obviously things have moved on in the intervening five years or so and now in most cases downloading has replaced actually owning Dvds so we decided it was about time to update the review.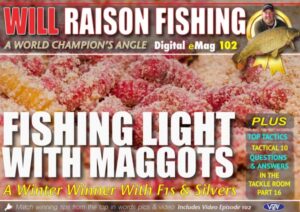 I headed to the website at www.v2vangling.co.uk and there are loads of different packages and subscriptions available. The original Dvds I watched featured Will Raison and Neil Machin and covered a variety of methods and techniques as you would expect, I'm not going to go into too much detail as it's covered in the review but needless to say, they were very well put together and I still use some of the tips I picked up watching them. These can still be purchased through the website for £14.99.
The eMags are exactly that, electronic magazines packed with articles, photos and video clips here's what was included from one of the early ones in 2009.
Issue 4 Published 1st May 2009 – 32 pages
Main Feature – Island Bankers – making the most of your margin swims this month a 4000 word article with loads of pics and video clips
Master Mix – A favourite feed increasing additive.
Essential Gear – Another four can't do without items.
May Briefing – tips & tactics to use this month.
Will's Month – a blog from Will on his past and upcoming activities & more.
Looking Back – bagging in a May evening sprint.
Angling Heroes – anglers who have influenced Will this month Steve Gardener.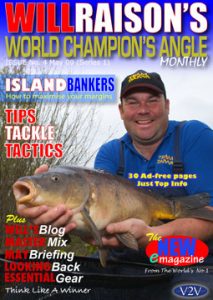 Basically every type of fishing and method is covered, from bagging carp in the summer to how to get a few bites in winter, all types of feeder fishing, pellet wagglers, flat floats, whips, commercials, canals, rivers and lakes, there is a vast array of content. Will shows you how he sets up his rigs, explains what kit he uses and why, plus there are loads of little hints and tips along the way that even for experienced anglers, you can't fail to learn loads from and ultimately, improve your fishing and your results.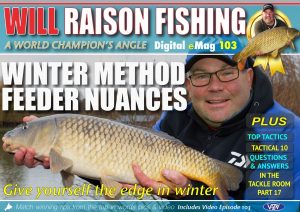 The videos themselves are very polished and of a high standard, obviously there's quite a bit of Will talking to camera but what I really enjoyed was the split screen feature so as he's explaining things you can actually watch the pole float or quiver tip and I don't know about you but I never tire of watching the float go under or the tip go round!
Or if you'd prefer you can either watch the videos or download them to keep and watch them later. Along with the eMag videos, there is also the 'Tackle Room Series' and 'Top Fishing Tips'. Whatever your preference there is a package and a price to suit your pocket.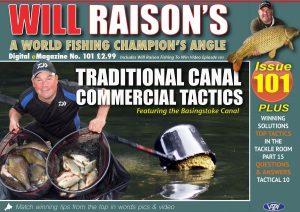 The Legacy Paid Subscription Package provides subscribers with access to download to keep or stream online all the back issues and accompanying video episodes plus all the new issues/episodes published within the term of your subscription.
Legacy Subscribers can:
Stream the videos on line.
Read the online versions of the eMags on this website.
Download the eMag files to keep and read offline.
Download the video episodes to keep and watch offline
This option costs £24.99 for an annual subscription or there is a monthly payment plan available for £2.49. Payment is through Paypal.
You can also buy the eMags individually and they cost as little as £0.99 for the earlier ones.
There is also a Videos On Demand Library option where you can watch just the videos and within the VOD pricing are options to subscribe monthly to all episodes, rent, or buy to download and keep individual titles.
There really is a wealth of information from a World Champion in every episode, they are a great watch and you can't fail to learn loads and improve your own fishing results. Obviously, given that Will is the star of the videos, quite a few feature Gold Valley lakes but a wide range of venues have been used from the Basingstoke Canal to Stafford Moor and I particularly found the two episodes shot at The Sedges in Bridgwater, really interesting.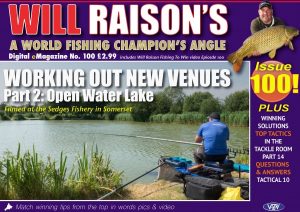 *V2V Angling Productions gave me a free subscription in exchange for an honest review. All opinions contained in this post are my own.
All images courtesy of Brian Gay