Standing in for Oz this week and I was hoping to do a better job than I did for Picky two weeks ago! We met at Millfield café and there was a full house of anglers fishing so no empty pegs next to Little Jack Horner this week! Also on Saturday, the weather had been lovely, proper spring like although any hope of more of the same wasn't likely with grey clouds overhead and it was looking like rain was imminent.
After another excellent brekkie, it was time for Les to let people know where the draw sequence put them but before that he announced todays golden pegs which were 7 and 16. As he looked at the list, he said I was on a golden peg, but which one was it? He started reading out who was where and I was pleased when I was on the former as the high numbers were hard work for most last match. As for the Tart, he was on peg 17 so no end peg or corner but he had been out practising on peg 16 during the week so his rigs wouldn't need much adjusting!
I got to my peg and as it was overcast I couldn't see any carp swimming about but I'd still have a go fishing shallow for a bit. For company I had Exeter Mike on my left and Mark G on my right, opposite me I could see Les in peg 11, Hoff on 12, Inspector Smith on 13, Bish on 14, Bushy on 15, Howard on 16 and I'd try not to look up towards 17 if I could help it, although I'm sure he would make his presence known at every opportunity!
I set up an inline dibber to fish 6mm banded pellet at 11.5 metres, a Drennan 0.4 gram Carp 1 for the 5 metre meat line and a hand made pattern for fishing up the edge to my right at 10 metres. Today's side tray had dead red maggots, 6mm meat, Bait-Tech Carp and Coarse 6mm pellets plus I mixed up some Special G Gold groundbait.
It was already raining quite hard and looking like being another miserable day, Les tooted on his whistle to get us underway and I cupped in some meat at 5 metres plus three pots of loose groundbait down the edge before starting with the shallow rig and pinging out a few pellets. Exeter Mike started down the edge with bread and had a carp within ten minutes and then added a second quite quickly to get off to a flying start.
I hadn't had a bite yet but would give it an hour before trying the other lines, Smithy had a carp on the deck and Les had one too but it was already looking like it could be hard going today. Just as we passed the half hour mark, my float buried and I had my first carp, it was a decent 5lb fish too. Things got even better when I added a second before the end of the first hour and it was a similar sized fish.
I had two more in the second hour and although not fast and furious, two carp an hour is normally there or thereabouts in these matches. Quite a few people had one or two fish and it was all pretty close, Mark G had caught a couple from his inside line and the Tart had two fish shallow so although I was doing okay at this early stage, it could all change very quickly. It was still raining and if anything, it was getting heavier and starting to get cold, not ideal conditions for fishing shallow!
The rain was causing problems in other ways too, Hoff had two pole sections stuck together and by all accounts Geoff (not so) Young down on peg 5 got his cupping kit stuck which was rather problematic although the Tart very helpfully suggested unscrewing the pole cup and tying his rig on the end! I must admit I had a little chuckle sat there thinking quite smugly that I couldn't remember the last time I had some pole sections stuck together.
No more indications shallow so when Mark G had two more carp to put him on four fish, it was time to try something else so picked up the top two plus two rig which I'd been feeding from the start, baited up with a cube of meat only to find sections four and five very stuck together! I think that's what they call karma! With that idea out the window, I decided to try on the deck at 11.5 metres as Smithy was getting bites on his long line. After about five minutes, I had what looked like a really good bite but as soon as I struck, I knew I'd foulhooked a fish, it tore off at a rate of knots and the hook pulled out.
Next put in, the rig had barely settled before going under, the strike was met with solid resistance but it wasn't doing much, I shipped back carefully and was sure it was a bream but as I got down to the top three it woke up and my bream turned into a 3lb carp! I was still a couple of fish ahead of the Tart but apparently Picky on peg 20 was doing okay and a few more fish were starting to come out at our end as well. Exeter Mike had added another carp and a couple of eels, Chilly in peg 10 was getting the odd fish as was Les in 11 and the Hoff was catching carp and a couple of decent skimmers on pellet on the deck.
I tried shallow again and foulhooked another carp that wasn't on long before trying up the edge for the first time, I did have one indication but it wasn't happening. Back out shallow and I had two fish in quick succession to put me on seven, the Tart was now on six, Picky had eight or nine, Les had seven and the Hoff had the same number plus those two bream and it was all going to be very close.
Commander Smith was still getting quite a few bites on his deep rig and as the Hoff was catching deep too, I gave it another go but nothing so I spent the last 15 minutes shallow but didn't add to my tally. When Les called the all out, both he and the Hoff were playing fish and I was sure they'd both done me but Les's fish came off and then so did Hoff's!
I took my stuck sections round to Les who is an expert at getting them apart and with Hoff on one end, me on the other and Les working his magic in the middle, I soon had two sections again. As I took my kit back to the car, I asked how everybody had done and quite a few people were admitting to five carp while Picky said he had nine.
The scales started with Karl on peg 1 and he'd struggled for 9lb although missing the net with a carp didn't help! Rich C on peg 2 had one carp for 3lb 8oz and Shane next door also had one for 3lb 12oz so it had been tough on the early pegs. Yardie on peg 3 weighed 21lb although he thought he had more (the Tart probably sold him one of his clickers!). Then we got to Geoff's swim which looked like a bomb had gone off in a tackle shop as there were stuck pole sections and cupping kits all over the place! He weighed 13lb 6oz.
Mark G had five carp for 16lb 4oz and then it was my turn, I knew I had some decent fish and thought I had around 29lb (four 5lb fish and three at 3lb) but actually weighed 34lb 4oz so they were a little bigger than I first thought. Exeter Mike had 17lb 2oz and Butch weighed 16lb 4oz which included a nice bream. After a slow first half of the match, Chilly had done okay and weighed 24lb 8oz from peg 10.
Then we headed round the other side and I still thought Les and the Hoff might beat me and of course there was Picky who had two more fish then me. We got to Les who had 29lb and then the Hoff put his seven carp plus skimmers on the scales and weighed exactly the same! It just goes to show what close margins there are in match fishing, if either or both of them had landed those late carp, I could've been down into third spot but I was still leading with over half the field weighed in. I was still sure Picky had beaten me but he was adamant it was going to be tight.
Superintendent Smith had 17lb 10oz from peg 13 and then Bish had two carp for 7lb from peg 14, the Tart was being a bit quiet which was a tad worrying and I was wondering if he had more than he was letting on.
Bushy had a level 22lb from peg 15 and then Howard had 7lb 4oz from peg 16, next up was the Tart and his six fish went 19lb 8oz – yes!, normal service has been resumed and I was looking forward to being formally presented with a shiny pound from the Royal Mint. Dunner had 19lb 2oz next door and then Mike Collins had 6lb 8oz from peg 19.
That just left Picky and when he pulled his first net out he had some lumps for 23lb 6oz which meant he needed 11lb to win and when he pulled out his second net, it was obvious it was going to be tight but I knew he'd done enough, it was called at 11lb 14oz to give him a total of 35lb 4oz and I missed out on a bumper payday by a pound. The Tart was being overly vocal congratulating Picky but I expected nothing less while I settled for a more dignified and classy handshake, well done mate!
Back at the results, Les and the Hoff tied for third, I was in second place and picked up a very nice £80 and then the winner Picky was called up to collect his envelope. Of course, the cherry on the cake for me was the Tart's pound and the score now stands at 4-2 in his favour. He did win his section by default so poor old Smithy would still have earache all the way home!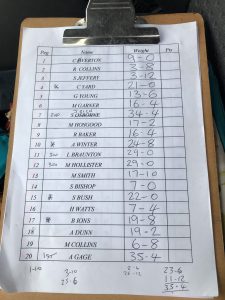 1 – Alan Gage (Chard) – 35lb 4oz
2 – Jamie Rich (Against Men and Fish) – 34lb 4oz
3 – Les Braunton (Chard) – 29lb
3 – Mark Hollister (Chard) – 29lb
Sections
A – Chris Whitham (Torquay) – 21lb
B – Andy Winter (Chard) – 24lb 8oz
C – Steve Bush (Chard) – 22lb
D – Brendon Ions (Torquay) – 19lb 8oz
Another really close match with only a couple of fish separating the top five places and I do enjoy fishing Perry St, I will try and get the league positions and put them on here. I can't fish next Sunday but couldn't be without my weekly fishing fix so I've booked into Todber Manor and I'm under no illusions that I won't get my bum spanked but I'm still looking forward to it (the fishing not the bum spanking!).
Next up – Todber Manor
Coming soon – My next trip down memory lane
Check Out – The latest guest blog