After a really enjoyable day last week, it was back on Longs again for this match and as I pulled into the carpark, I could tell it was going to be well attended if all the cars were anything to go by. I got some nets and as I paid my pools, Pete said there were twenty anglers booked in for this one. Along with all the regulars, it was nice to see Vince Brown, Eric Fouracres and James Cook fishing today.
Looking at the lake it was still really low and if anything, a few inches down on last week and with basically every other peg in, I felt a bit of depth would be needed to do well and I really didn't want to draw on suicide straight on the far side. Anywhere in the 30's would do me, failing that, pegs 12 and 13 or 17-20 would be my next choice.
Glynn's boy, Kenzie, drew the golden peg and it was 35, a great peg for silvers and carp so there was a chance it could go today. With Jeff, Glynn, Alvin and Zooner Jess all fishing today, it could be an expensive day if I lost all four side bets! Pete announced the draw and as the bucket started going round there were the usual happy and sad faces as people looked at their ping pong balls. Alvin drew peg 7 and would hopefully fish for carp, Jeff was on 23 down the far end which isn't very good for silvers, so with only a few balls left, I went for it and pulled out…….. peg 26. It's a peg I hadn't even thought about, it's not a very good silvers area but I was hoping it might have a decent depth. Jess had the last ball in the bucket and it was 35 so had a good shout at taking home a bumper payday.
I got to my peg and Jack Billett was on my left on 28 and Jeff was the next peg on my right on 23. I set up the usual rigs, a 0.3 gram NG Mini Gimp to fish top two left, right and straight out and also top two plus one and one of Smithy's wire stemmed floats to fish two lines down the middle, left and right at 8.5 metres. On my side tray I had Bait-Tech 2mm Carp and Coarse micros that I'd soaked the night before plus 4mm Xpands for the hook with a pot of Special G Gold soft pellets as a change bait and some Bait-Tech 'The Juice' and Special G Green groundbait I'd mixed the night before.
Plumbing up I was disappointed when I found I had less than two foot all the way across the peg and I was starting to fear the worst already. On the whistle I fed it the same as I did last week, a single ball of groundbait on the top two line and another a section further out before starting on the short right hand line and just toss potting in a few micros. Jack flew out of the traps and was getting a carp a bung on the paste fished short, after ten minutes I hadn't had a bite so switched to the left hand line with the same result. Jeff had landed a couple of small skimmers so with nothing in the net after half an hour, I tried the top two groundbait line for the first time.
I had a 4oz skimmer to get me up and running and added a 2oz fish not long after but then I hooked what felt like a crucian or a tench but of course it turned into a carp! Jack was still catching carp really well as was Nigel Wickham on 21 but both Jeff and me were struggling. I wasn't panicking yet as 6-7lb was a good weight last week so a couple of decent skimmers and you're nearly there, the trouble is those bigger skimmers tend to be in the deeper water.
Going into the second hour, Jeff lost what he thought was a better skimmer, I still only had the two small skimmers so went out on the longer lines and toss potted in a few micros, I never had a bite on the left hand line and the right hand line just resulted in carp and I was already running out of ideas. I wanted to leave the top two plus one line until the last couple of hours so put in another ball of groundbait and came back in on the top two lines. No bites on the right hand line and I snagged up a couple of times on the left so binned that line. More worrying was the fact I couldn't get a bite from the top two groundbait line and even the carp weren't being the pain they normally are.
Jack was still catching quite well although not like he was at the start and Nigel was netting fish regularly and it looked like he was getting some lumps. Jeff had a decent skimmer from his longer line so I went back out on mine but still no bites from the left hand side and as the halfway point of the match approached, I still only had those two skimmers for 6oz! I switched to the right hand line and finally started getting a few indications although the first fish I hooked was a carp, a nice golden koi but still a carp. Next chuck I've had an 8oz skimmer followed by one of 4oz but then I've lost one as I was shipping back which killed it and the next two bites resulted in carp.
As I was landing a carp, Rob Birch turned up and said he'd struggled over on peg 4 and was heading off shortly, he said Zooner on the golden peg had caught well early but it had gone quiet. It sounded like it was fishing pretty hard and Ray Wickham who was on peg 1 was also walking. With around two hours to go, I tried the top two plus one line for the first time and had a 4oz skimbob straight away and had three more quite quickly before it went quiet. By resting it and fishing the top two line for a bit, I had a couple more skimmers when I went back on the longer line but it had been a struggle and I wasn't too upset to hear the whistle to end the match.
My final tally was ten skimmers for 2lb or so and six or seven carp, Jeff was admitting to 5-6lb so I paid him my pound and I was pretty sure that wouldn't be the only one I paid out today! As I took some of my kit back to the car, I asked Jess how he'd done and he said he'd done alright but didn't quite think he had 10lb so I gave him a pound from my dwindling supply of change! Then Glynn turned up and said he might have 10lb so I was down yet another pound and only had 90p left so was hoping Alvin hadn't caught many silvers!
Pete started the weigh in and I just missed Zooner who'd done well and weighed 11lb 2oz of silvers from 35, would he be in for a bumper payday? James Cook on 34 had 36lb 11oz and then Gareth Lennox had 41lb 3oz on 32, Derek had 39lb 7oz on peg 30 before Jack went into the lead with 66lb 10oz. Then it was my turn and my modest silvers haul registered 2lb 8oz and I chucked back my carp.
Jeff weighed 5lb 7oz of silvers and there was a chance he might sneak in the frame with that, then Nigel plonked 70lb 3oz of mainly carp on the scales to take the overall lead. Jim Jenner had 27lb 10oz from peg 19 and then Vince Brown had 47lb 8oz from peg 17. Eric Fouracres was next and Glynn said he'd done a decent weight of silvers, his carp net went 24lb 5oz and when he pulled his silvers net out, it was obviously going to be close, the digital readout crept up before settling on 11lb 4oz and Jess would have to cancel the Securicor van! It was a really good weight from there and I wouldn't have fancied that peg in the morning.
Yardie didn't weigh on peg 13 and then Exeter Mike had 40lb 9oz next door, Glynn was a little short of his estimate with 8lb 6oz but he'd done well from a shallow peg and had a wobbly pallet to contend with as well! Neil on peg 9 also did well and weighed 66lb 10oz to go into second place overall. Then we got to Alvin on 7 and he had 34lb 12oz of carp and then added 5lb 3oz of silvers to take 90p off me and wipe me out of change (I'll settle the difference next week mate).
Suicide straight lived up to it's name with Rob and Ray not troubling the scales and Mark Leahy on 39 and Roger on 37 didn't weigh either.
1 – Nigel Wickham (Summerhayes) – 70lb 3oz
2 – Neil (Summerhayes) – 66lb 10oz
3 – Jack Billett (Tip Top Tackle) – 63lb 2oz
4 – Vince Brown (Mosella) – 47lb 8oz
Silvers
1 – Eric Fouracres (Summerhayes) – 11lb 4oz
2 – Jess Jordon (Summerhayes) – 11lb 2oz
3 – Glynn Wickham (Summerhayes) – 8lb 6oz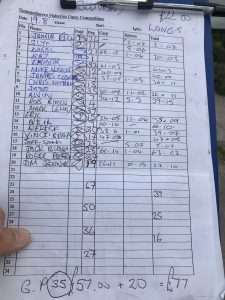 So the weights were really close again although I don't feel like I was ever at the races today, in hindsight I should have ignored the inside lines and just swapped between the two longer lines and top two plus one which might have got me a few more fish but I don't think I'd have been anywhere near framing. So a really poor day for me and the way things are going with the side bets I might have to start doing a paper round to pay for them!
A rare double header for me next weekend with Dillington on Sunday and Summerhayes on Monday so look out for two more disaster diaries coming soon!
Next up – Dillington
Coming soon – Another trip down memory lane
Check Out – My last archives post (below)