In late September, Jenny and I made our latest trip to County Cork in Ireland, and just like last year, it didn't disappoint. The added bonus was that this year we were able to fly from our local airport at Newquay, meaning our travel time from walking out of our door at home to arriving at our digs in Rosscarbery was just a little over 4 hours. Sadly though the flight times meant we arrived too late to fish that evening.
Thursday 27th September
Our first full day dawned warm and still. We had intended to get out early and fish the early morning flooding spring tide but in the event had a bit of a later start and didn't get going until the tide was ebbing. The weather really was very warm and sunny and there were big mullet showing everywhere we looked. We decided to leger off the famous Rosscarbery wall, me with two rods and Jen just the one. Both of us were using the same rig; a running leger with breadcrumb moulded around our one ounce grip leads and crust on the hooks, popped up off the bottom. Straight from the off we had all manner of indications on the rod tips and it wasn't too long before mine went round properly and I was into my first Irish mullet of 2018. After a nice scrap into the net it went and it proved to be a good start at 4lb 11oz: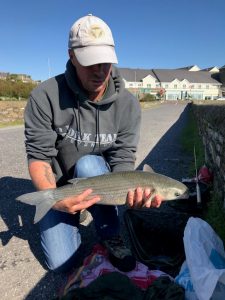 We carried on getting knocks and pulls but failed to hook up any more fish before lunch. After a quick bite back at the cottage, I wandered back down to the water and decided to carry on legering, but this time from the grass next to the bridge arch. Despite fish moving pretty much everywhere I looked, including right under the rod tip, I had no indications for quite some time. Then completely out of the blue, one rod was nearly ripped out of the rest as a sizeable mullet picked up a bait that I had cast out a very long way.
With the first bit of muppetry of the trip, I hadn't set the drag tight enough and before I knew it, the fish had run miles out across to the far side of the pool into very shallow water and found a snag. For quite a while I couldn't move it and wasn't even sure if it was still on. Slackening off did no good and in the end I resorted to just pulling. To my surprise, I managed to get some line back but to be honest thought I was just dragging the snag back towards me. But after several minutes of pumping and winding, I felt life on the other end and realised I was still attached to a fish! When I got the whole lot close in, I could see a very good mullet buried inside several pounds of weed, and of course when it saw me, it decided to wake up and tow said weed all over the shop. Luckily for me, everything held and weed and fish eventually went into the net to a round of applause from a Polish couple on the pavement behind me. I let the fish rest in the net whilst I phoned Jen to come down and take a pic and help me weigh it. This one went 5lb 3oz: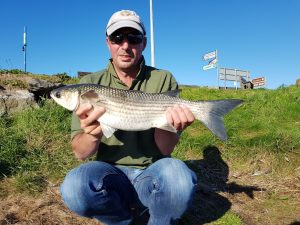 Neither of us had anything more from that swim and when the tide flooded in again we returned to the wall. Again, lady luck was on my side and another decent fish picked up my bait rather than Jenny's. And again, this one found a snag, right at the base of the wall, but very luckily swam back out of its own accord. 5lb exactly: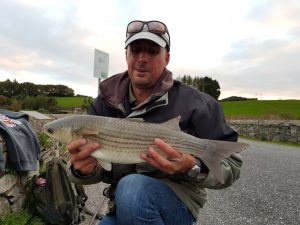 Friday 28th September
Another bright day, but with a very strong easterly blowing right into most of the swims at Ross. Again we were on the wall on the morning tide but things were hard going with the wind right in our faces. Once again though, there were heaps of fish showing and eventually one took pity on me. 5lb 1oz: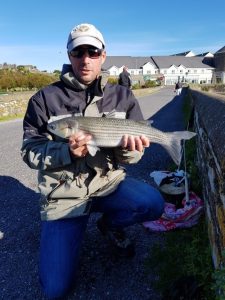 The rest of the day was a story of a few missed chances until last knockings when the wind died and I had a 4:00 off the wall, then just as hope of any further action was really fading, Jen had her first fish of the trip at 5lb exactly: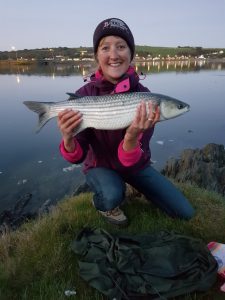 Saturday 29th September
Jen decided to lie in so I went down to the wall on my own in the morning in lovely conditions: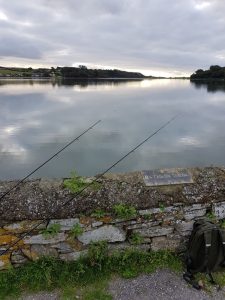 The only fish I had to show for my efforts though was a 4 pounder foul hooked squarely in the middle of the flank. How do they do that on leger gear?? In the afternoon, we decided for a change to float fish in the lagoon. Some friends of ours had not had much luck in there recently, but we could see mullet showing. On closer inspection though all the ones we could see proved to be thin lips, some of them very big indeed, but not our favoured species and in any case unlikely to take bread.
Despite that, and the fact that the water level was very low, we gave it a go. Almost straight away, Jen's float shot from view, but excitement very quickly turned to disappointment when she reeled in a black goby. Shortly after that she had another one, just to prove the first wasn't a fluke. We were also getting really delicate indications on the floats which we put down to small thick lips which had been a problem for other NMC members a couple of weeks previously. Eventually though, I had a slightly more positive indication, struck and all hell broke loose as a fish which was clearly not either a) small or b) a goby, went screaming off out into the lagoon. I won't bore you with the details but it was easily one of the top five scraps I've ever had from a mullet and it must've been the best part of 15 minutes before it was in the net. 5lb 5oz: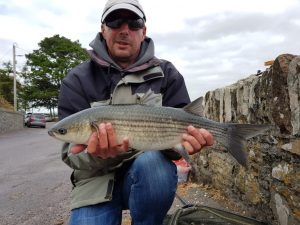 We fished on after that and I had a 2:10 that fought well above its weight but then the tiny mullet really did move in and we had one each of about half a pound. Time to call it a day at that point.
Sunday 30th September
The morning session saw us back on the wall with the leger rods. There were a couple of other Brits fishing along from us and they hadn't had a touch all morning. So did I feel guilty when my left hand rod arched round? Did I hell as like. This was another epic and very nerve wracking scrap in the very shallow water, and was a lovely fish of 5lb 8oz: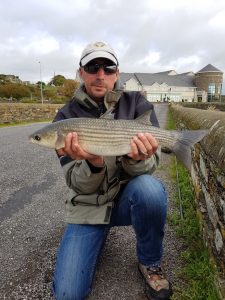 The afternoon session saw us back in the lagoon as we were due to be joined by our good friend and mullet fishing legend Dave Rigden and his wife Sylvi. Unfortunately Dave was suffering with a bad back and was limited to float fishing from a standing position (age is a terrible thing). The session was completely uneventful – Dave had a small golden grey and I had tiny thick lip. We had a nice meal and catch up in the pub though, great to spend time with two of my very favourite people.
Monday 1st October
Again I was out early with the leger rods and fairly quickly had a tiny thick lip of about 6 ounces. The rest of the day was horrible though, just one of those days we all get from time to time. Between the two of us we managed to drop off 5 good fish and caught nothing.
Tuesday 2nd October
By now we were on neap tides and hence fishing into very shallow water even at high tide. All day we roved around with the leger rods and bites were very hard to come by despite fish moving over or near our baits almost constantly. It went very quiet indeed in the afternoon and I really was fearing a blank. Then, without warning and after about two hours with no indications at all, one of my rods all but flew out of the rest and the water across the pool in the shallows erupted. A long and nervy battle ensued in extremely shallow water, so shallow that the fish could hardly swim in it at times. But into the net it went, along with a fair amount of mud, and at 5lb on the nose was my sixth Irish specimen weight fish of the trip: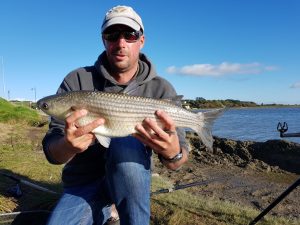 We fished on after that with no further bites, but Jen did capture this rather nice image of me casting in the evening sunshine: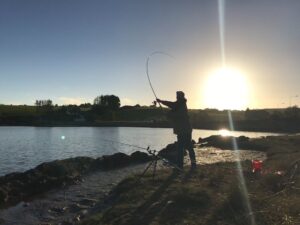 Wednesday 3rd October
We had a couple of hours to kill before our flight home so out went the leger rods again. By now the tides had really bottomed out and the water was so shallow that gulls could reach our baits and proved to be a pain in the arse. There were still plenty of fish moving, but mostly at very long range and I only had a couple of half hearted knocks before it was time to wind in and leave this wonderful place for another year.
I can't wait to go back in 2019. For a mullet addict like me, Ireland, and Rosscarbery in particular, is akin to mecca. It provides a level of sport that sadly we can only dream of now here in the UK.
*All images courtesy of Pete Bluett