A look back at 2018
January 2018
It was bitterly cold for the first match of the year but the river had some colour and looked spot on, I drew peg 124a again and had quite an enjoyable day landing three chub and some nice roach for 8lb 10oz, third place and my first pick up of the year. Adie Bishop won with 14lb 6oz of quality roach from 126.
I drew peg 123 in the next match and it's a peg I very rarely do well off but I had a lovely match, getting bites all day from roach, dace, gudgeon, chublets and minnows to finish with 10lb 5oz which was enough for third place behind Adie with 11lb 15oz from 120 and Jake with 15lb 3oz from peg H1.
For the third match, I'd been down and looked at the river on Saturday and then Sunday morning and it looked perfect and although plenty of rain was forecast, I still thought we'd be fine on the river. I drew peg 125 which can be brilliant with colour on it and I had a really good three hours before the heavy rain took it's toll and the river was unfishable, luckily my 11lb 10oz of roach, dace and chublets was enough for my first win of the year.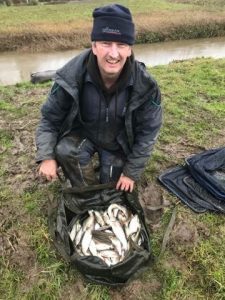 Highlights – Winning my first match of the year
Lowlights – Rain, rain and more rain!
February 2018
First match of the month was the open and after walking the river on the Saturday, I put some new pegs in at North Bradon and then went and drew peg 96 which was one of them, it certainly looked the part with lots of overhanging trees but I only managed a gudgeon and a small chub for 1lb 6oz which was enough for a double default section win and £20. On a tough day for many, young Stuart Aplin notched up his first win on the river with seven chub for 15lb 15oz from peg 106 at Redbridge.
The following Sunday was the final match of the IBC league and although Jake Woodard was basically home and dry as far as the league was concerned, Adie Bishop and me were tied in second place. I got off to a great start when I drew peg 125 and it looked lovely with a tinge of colour and with Adie on 124 it would be a straight shoot out for the runners up spot. It was looking like being a lovely day but just before the start we had hail stones and for the rest of the day, the weather was pretty miserable with more hail, rain, strong winds and even some snow!
I caught roach, dace, chublets and gudgeon (plus minnows) fairly steadily all day to finish with 81 fish but would it be enough, I weighed Adie first and he had a nice chub and some quality roach for 7lb 3oz and I thought it was going to be really close. I pulled my net out and he called it at 8lb 6oz – phew! On a fairly tough day, I ended up in second place and with the league money, I had a nice pick up of £65. Jake won on the day with 13lb 3oz of quality roach to finish the league in style. A massive thanks to Diversey for sponsoring the league and to Rob Cox for sorting it out.
The final match of the V.E.S. Precision saw me in third place and although Adie was out of reach, Steve P was only one point ahead of me, Baz pulled out peg H4 for me and I received all the usual comments about drawing better than Picasso, even though it's only actually framed once! I had a lovely day catching roach and two cracking perch of around 1.5lb apiece for 16lb 11oz, first place on the day and with Steve finishing third in his section I leapfrogged him in the league and took home £105.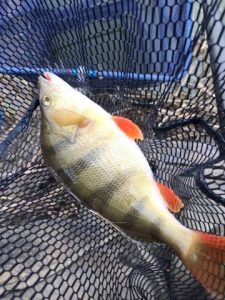 The final match of the month was Barney's Pairs Open, a competition I always look forward to, my regular partner Justin Charles couldn't fish this year but Scott Jackson very kindly agreed to partner me. I drew peg 6 at Harry's where I'd struggled the last time I was on it but a small carp after half an hour settled the nerves and I really thought I'd get a few. That turned out to be the only bite I had and as only two of us caught, it was enough for second on the lake. Dillington also fished hard and Scotty did brilliantly to win the lake with 4lb 8oz of small roach along with a bonus chublet. We won it with three points, picking up £60 each plus money for framing on our respective lakes. All the anglers raised some money for two charities of Harry's choosing.
Highlights – Winning Barney's Pairs for the third time
Lowlights – None, a cracking month!
March 2018
The first weekend of the month saw the Beast from the East arrive, bringing with it loads of snow which meant matches all over the place were cancelled and I missed fishing on a Sunday for the first time in ages.
I was gagging to get out the following weekend although I wasn't sure where to go so when Les text to see if I wanted to fish at Sadborow, I didn't need asking twice! Peg 5 behind the island was my home for the day and I had a lovely day catching 24 carp and a good skimmer, mainly on dead maggots at five metres for 79lb 4oz and my third win of the year. I had a great pick up of £90 plus the all important nugget off the Torquay Tart.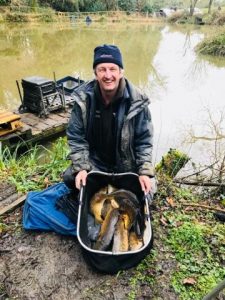 Snow stopped play the following week, I actually got to my peg at Perry St but with the snow getting heavier, the right decision was made to call the match off.
Thankfully the weather was much better for the rescheduled match and I ended up peg 14 which I was fairly happy with. It was hard going for most and I managed six carp, one on the deck, two shallow and three up the edge. I thought I might nick a section win as quite a few people had more fish than me but I did have some lumps and weighed 29lb 2oz for third place and another nice pick up of £70 although I did lose a pound to the Tart who was second from peg 3 and had the only empty peg next to him! Bish won comfortably with 61lb 14oz from peg 20 and had a nice payday, taking home the golden ball money too.
We had a little knock up at Sadborow on Good Friday and the weather was awful, I drew peg 4 which I was fairly happy with but really struggled and to make matters worse, the Tart bagged up and won the match from peg 1 with 55lb. Smithy was second with 49lb from peg 6 and the Hoff was third from peg 5 with 46lb.
Highlights – Winning at Sadborow
Lowlights – The bloody weather!
April 2018
After struggling at Sadborow on Friday, I was at Perry St on the Sunday, fishing for Picky which put me on peg 14 again, to cut a long, boring story short, I blanked although I did lose a foulhooked carp and dropped off a small roach. To make matters worse, the Tart drew peg 11 and bagged up again, the only saving grace was Dunner beating him off the next peg with 75lb to his 71lb 8oz.
It was back to Sadborow the following Sunday, the weather was much nicer and I had a really enjoyable match catching 24 carp, mainly shallow, for 58lb 2oz and third place. Smithy was second with 61lb 14oz and Little Jack Horner was on corner peg 8 and won with 77lb 4oz.
The next match saw me standing in for Oz and I was hoping to do better than I did for Picky, I ended up on peg 7 and it was a golden peg too! On quite a hard day, I had seven carp (six shallow and one on the deck) for 34lb 4oz and was still leading with only Picky left to weigh but I knew he had nine carp and he just pipped me by a pound to stop me taking home a big fat envelope. I still had a nice pick up of £80 plus the all important nugget from the Tart.
Since I fished Todber Manor last year when I had 97lb and really enjoyed myself, I'd been dying to go back and as I couldn't fish on the Sunday I booked into the Saturday open. I drew a proper bung hole, peg 48 on Hill View and had a lovely day catching shallow to weigh 155lb 14oz which is my new biggest match weight. I won my section and picked up £35 but was only 8oz off framing and I lost a double figure fish at the net!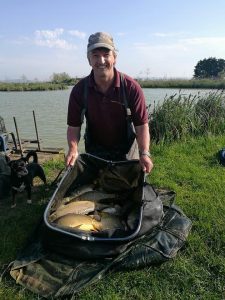 Highlights – Bagging up at Todber
Lowlights – Blanking at Perry St
May 2018
At the end of April/early May I headed to Thailand for three weeks, the main aim was lots of eating, drinking and relaxing but of course I had to do some fishing too! I booked four days fishing at Palm Tree Lagoon, a venue I'd read and heard a lot about. I had 31 fish of 12 species including several new pb's with the pick of the bunch a stunning 73lb Julien's Golden Price carp and I also added a new species to my list with a 65lb Chinese Silver carp.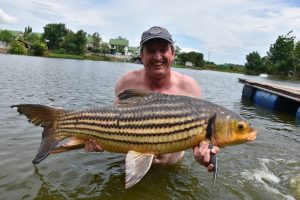 After getting back my first match was on Sellicks at Summerhayes and I drew peg 17 which always used to be a decent silvers peg, I had a really enjoyable day catching skimmers, three little tench, a crucian and a roach for 11lb 2oz and first in the silvers and a place in the final later in the year.
I then fished two matches over the Bank Holiday weekend, at Perry St I drew peg 18 and it was a real struggle, I only had four carp for 17lb 8oz but did beat the Tart. The following day we were at Sadborow and I was very happy with peg 8, I've had a nice day catching carp and a tench for 80lb 12oz but I needed another four or five fish to frame and had to pay the Tart a pound as he won with 97lb 10oz.
Highlights – Thailand of course!
Lowlights – Losing a pound to the Tart
June 2018
The month started off at Summerhayes with a match on Longs and I drew peg 31 which is a decent area for silvers, I caught odd decent fish throughout the day to finish with 11lb 15oz and second in the silvers.
Then it was the penultimate match of the Perry St League and I was standing in for someone and I have to say I was less than impressed when I was on peg 1, even less so when I was still blanking after two hours! I did manage to catch a few shallow on pellet and then had five decent fish on a Bait-Tech Juice Wafter fishing 13 metres up the edge to finish with 35lb 6oz which was enough for first place and a nice pick up of £100.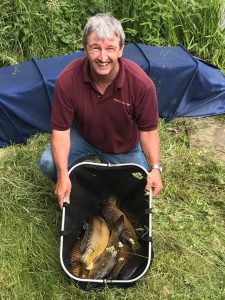 Summerhayes and another match on Longs, I drew peg 10 and didn't think it was a great peg for silvers but Mark Leahy said he'd caught some big skimmers there while fishing for carp which cheered me up a bit. I started on the top two line and had a really enjoyable day catching some good skimmers but had a big 'leaper' come off and missed quite a few bites. Glynn Wickham was on peg 12 and bagging up, I was doing well until the last hour when I got carped out. Glynn weighed 21lb 5oz and I knew I didn't have that although I wasn't too far away with 17lb 5oz. Chris Mawson on peg 1 also had a really nice day to finish second in the silvers with 19lb 11oz.
The final league match at Perry St saw me on peg 16 and I got off to a great start with three carp shallow in the first hour, then it was a case of mugging odd fish and I had one on the five metre meat line to finish up with nine carp. There were quite a few people with a similar number of fish and the scales would decide, Mike Smith was the early pacesetter with ten carp for 44lb 4oz, the Tart then had eleven plus an eel and a decent bream for 50lb 2oz. Picky had eight paste fish for 43lb 14oz from peg 12 and then it was my turn and I thought I had around 40lb and was pleased when my weight was called at 45lb 2oz for second place and £85.
The Tart was crowned the league champion and also won the bragging rights as far as our side bet was concerned with the score standing at 6-4 in his favour.
The last match of the month was another visit to Todber, I drew peg 60 on Hill View and was informed it was a great feeder peg which was handy as I haven't fished a feeder since about 1995! I couldn't really catch shallow and only had a few small tench on the meat line, then with an hour or so to go, I tried my micros and corn line and it was solid. I ended up with 62lb 8oz which included 15lb of silvers and I was left wondering what might have been as 21lb was fourth in the silvers.
Highlights – Winning at Perry St
Lowlights – Finishing second to the Tart and losing a pound in the process
July 2018
The first match of the month saw me at Summerhayes on Sellicks, I drew peg 9 and had quite a nice day catching skimmers, two tench and a crucian (plus lots of nuisance carp!), my silvers went 8lb which was top weight so I picked up £32 and I took home the golden ball money as well, all £8 of it!
Then it was back on Longs and I was disappointed to draw carpy corner peg 15, Glynn Wickham was on peg 18 which has been throwing up some big weights. After a slow first hour, things improved with seven skimmers in the second sixty minutes and it turned into a proper head to head with Glynn. We both endured slow spells and lost flying skimmers, Glynn had two good eels around 2lb apiece and in the end, these were the difference as he weighed 14lb 13oz to my 11lb 7oz.
I drew peg 15 the following week as well but this time on Sellicks, it's another good carp peg and I really struggled for a lowly 2lb 15oz of silvers (plus 25lb of carp) for nowhere, losing another pound to Glynn in the process, I did take a nugget off the Tart though.
If the last match was disappointing, the next one was horrendous, I drew peg 9 on Longs and just got smashed up by carp all day, I nearly ran out of hooklengths, one of my favourite floats ended up in bits and needless to say, my seven skimmers and a roach for 3lb 6oz didn't win a bean. To finish the day off nicely, I lost pounds to Glynn and Jeff.
The last match of the month completed my trilogy of misery, I drew peg 2 which was another golden peg, once again I've struggled for a few skimmers and a tench for 5lb 8oz plus 42lb 10oz of nuisance carp to lose yet more of my precious pound coins to the gruesome twosome!
Highlights – Winning the silvers and the golden peg
Lowlights – The last three matches
August 2018
As August started I was back on Sellicks, I drew peg 7 and it was yet another struggle, I had 3lb 1oz of silvers and chucked back 30lb carp, at least I didn't lose pounds to Glynn and Jeff but only because they weren't fishing!
Then it was on to Longs and I drew peg 36 which can be a great carp peg and the first fish I hooked was a carp but I ended up having a really nice day catching some big skimmers and weighed 14lb 1oz to win the silvers and pick up £26 plus finally taking one of Jeff's pounds home with me!
Another match on Longs and I was hopeful for more of the same but it was basically game over when I drew peg 26 and struggled for ten skimmers for 2lb 8oz and nowhere and the icing on the cake was losing all four side bets!
My next match saw me visit Dillington for the first time this year, peg 18 was my home for the day and I'd decided to fish long for bigger fish, I had six decent skimmers, a 2lb chub and a chublet in the first four hours but then struggled. I weighed 12lb 2oz to win the section money by treble default, it was fairly close though with 14lb 10oz third and 15lb 8oz second although John Dursley was way out in front with 21lb 8oz of bream, skimmers, chub and a 2lb plus perch. I did finally manage to win a couple of side bets, taking pounds off Jess and Steve P.
Bank Holiday Monday and I was back on Longs but my drawing hand hadn't improved as I ended up on peg 10 again, when I hooked three decent skimmers in three chucks, I thought I might be in for a good day but it was a false dawn and I got carped out to weigh a lowly 4lb 6oz, losing yet more pounds to Glynn, Jeff and Jess.
Highlights – Peg 36 on Longs
Lowlights – Every other peg I've drawn on Longs!
September 2018
I was looking forward to the next match at Dillington, even more so when I drew peg 2 which is probably one of the best pegs on the pond. I fed two lines for skimmers and after half an hour catching roach, I was itching to get on the big fish lines. It just didn't happen and I only managed one skimmer plus some roach and a lowly 2lb 5oz. Jake Woodard and Paul Homewood both enjoyed a lovely days fishing with Jake taking top spot with 22lb 12oz of bream and skimmers and Paul was just behind with 21lb 6oz. Nicky Collins finished third with 10lb 6oz of roach from peg 24.
At Summerhayes, pleasure anglers had been catching some nice nets of skimmers from the specimen lake, Big 8, so a knock up was organised to see what else we could catch and move the fish to the match lakes. I booked the day off work but with my drawing arm well and truly broken I drew the wrong end with the wind pushing into the opposite bank which was where all the framing weights came from with Steve Jackson taking the honours with 20lb 9oz of quality skimmers.
Then Sunday at Dillington, I drew peg 2 again and had a rare chance to put right what I got wrong last week, I fed two lines for the skimmers but didn't spend too long on them if I wasn't catching, I ended up with three decent skimmers plus around 4.5lb of roach for 9lb and third place on the day behind two weights of feeder caught skimmers, Jake Woodard with 32lb 10oz from peg 14 and Adie Bishop had 21lb 15oz from peg 9.
The final summer league match on the following Sunday put me on peg 7 which has been a decent area. I fed two skimmer lines before fishing for roach, it was a bite a chuck shallow and every hour I'd have a quick look on the big fish lines but never had a touch until two hours from the end when I had five decent skimmers, a 12oz chublet and a small tench, which added to 6lb of roach, gave me 15lb 4oz for second place and I picked up £45. Jake Woodard was crowned the league champion.
The following Sunday I fished another match on Longs at Summerhayes and drew peg 15 again, I got carped out and ended up with just shy of 58lb which was well down the list.
The last match of the month was Ilminster AA's Committee Cup at Hebditch's Pond, I had a really enjoyable day catching 38 carp of various sizes, a little barbel, a chublet and three rudd for 54lb 10oz and first place, picking up £50. Along with a quiz and raffle in the evening we raised a fantastic £332 to go towards building a peg for less abled anglers at Dillington.
Highlights – Winning at Harry's
Lowlights – My drawing hand at Summerhayes!
October 2018
Something a little different for the first match of the month, a match at Stathe against Taunton AA, I drew peg 6 which was the first peg after the wires and effectively an end peg, I caught some nice roach and rudd before going over my worm line and catching two nice tench and some decent perch including one of 2lb plus. I did lose a big tench and another decent fish late on but my 6kg 350 was enough for second place and a nice pick up of £80. Dan Baldwin made the most of the end peg to win with a brilliant 11kg something.
After two really enjoyable matches, I was hoping to make it three out of three at the Silvers Final on Longs at Summerhayes but my drawing hand still doesn't work there and I ended up on peg 27. I struggled all day for 2lb 9oz although I did beat Glynn but only because he chucked back and went home!
The following week was the first match of the V.E.S. Precision League on the Isle, I drew peg 124a at Isle Brewers and was happy with that as it's normally a consistent peg. I caught small roach, dace, chublets and gudgeon along with the odd net roach but it died with an hour and a half left. My 71 fish weighed 5lb 9oz and that last period was costly as 5lb 12oz won the section with only 6lb 3oz needed to frame and 6lb 10oz was second. Ben Simmonds won with a lovely net of chub, perch and roach weighing 17lb 8oz.
The last match of the month was round two of the Ilminster Warehouse League (I missed the first one) and we gave Midelney another go, basically the first four pegs all caught fish and the last four pegs all blanked! Luckily, I drew peg 3 and had a lovely day catching quality roach plus perch, dace and a hybrid for 11lb 8oz, first place and a handy pick up of £65.
Highlights – Doing well at Stathe and winning on the Isle
Lowlights – A disappointing Silvers Final
November 2018
Round two of the V.E.S. saw me draw a decent peg, 126 at Isle Brewers and when I got there, fish were topping all over the peg, I had a lovely day with a bite every put in to finish with 132 roach, dace and chublets for 11lb 2oz but the river had fished it's head off and I finished fifth in my seven peg section! Out of fifteen anglers, there were eleven double figure weights (and a 9lb 13oz) with Digger recording another victory, this time with 15lb of quality roach from peg 128.
Then it was the return leg against Taunton but after loads of rain the river was in the fields so we had to fish Dillington, I drew peg 18 and had a great first hour catching some roach and perch plus two big chub for around 5.5lb. But then it died and it was a real struggle, I did manage two 12oz chublets shallow but my 7lb 13oz wasn't quite enough as 8lb 1oz won the section. Chris 'Gappy' Parr had the top weight on the day with 17lb 14oz of skimmers followed by Hurf with a nice net of chub weighing 12lb 10oz and Simon Garbutt was third with 11lb 9oz.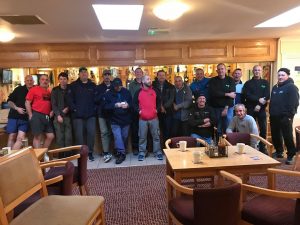 When all the weights were added up, Taunton had spanked us again with 57lb 12oz compared to our 38lb 10oz but another thoroughly enjoyable day with a great bunch of lads and we're hoping to do it again later in the year.
Round three of the Warehouse League saw me on peg 95 at North Bradon and a 3oz roach early on had me thinking I could be in for a good day but the bites soon tailed off. I did catch two nice chub, one of a pound and another nearer 3lb and was hoping I might get a couple more but I never had a bite in the last two hours. I weighed 4lb 7oz which was enough for third place on the day behind Fieldy with 5lb 12oz and Rob who had 7lb 8ox of quality roach.
It was back to Dillington for the last match of the month and with the pond being very clear, I really thought it might fish hard and I was doing well for the first couple of hours catching roach but then Frank started bagging and ended up with a brilliant 31lb 8oz of bream, skimmers and tench. Jake was second with 16lb 14oz of bream, skimmers and perch and Digger was third with 9lb 12oz of skimmers. My 3lb 6oz finished well down.
Highlights – The Isle fishing it's head off
Lowlights – Losing to Taunton again
December 2018
A mate said we could use his pond for round four of the Warehouse League and I was really looking forward to it after seeing loads of big rudd taking bread off the top in the summer but it turned out to be a struggle with Terry Morgan needing just 2lb 1oz to win, I had 28 rudd for 1lb (mainly small fish!) to finish one out of the money.
The following match was the Xmas Fayre and it was hard going at Dillington, I drew peg 22 and struggled for 33 fish for 1lb 12oz, Jake Woodard won it with just four skimmers for 5lb 9oz from peg 4, Baz Morgan was second with 4lb 12oz and Phil Denslow was third with 3lb 15oz.
Despite heavy rain on Saturday, I had high hopes we might have got on the river for the next match but in the morning the river was still unfishable so it was back out to Dillington. It was quite mild and I thought it had to fish better than last weekend but if anything it fished worse! I managed four chublets and a few roach for 3lb 6oz which was enough for second place and £65 behind Ben Simmonds who won from peg 14 with a nice net of bream, skimmers and chublets weighing 10lb 4oz.
We actually got on the river for the next match, although it came up by nearly two foot at the start and was fairly coloured, Jake drew 128 for me and I was getting lots of bites but mainly from small roach and gudgeon, I did catch a few better roach and my 76 fish went a level 6lb which was joint second with Hurf although we were both a long way behind Steve Parker who had a nice net of quality roach weighing 14lb 10oz from peg 125.
After a couple of days stuck in the house, I was looking forward to a little knock up at Sadborow, despite a chilly, foggy start, it fished quite well and all the anglers that had a bit of space framed, Derek Hounsell, who was fishing his first match in over twenty years, caught steadily on bread on peg 5 to win with 89lb, Hoff was second with 73lb 15oz from peg 7 and I was third with 53lb 2oz from peg 2.
My last outing of the year was a Chard match at Perry St and I had a really enjoyable day catching nine carp for 46lb 6oz but it wasn't quite enough as 47lb 2oz won the section and just under 53lb framed so a really close match.
Highlights – Framing on the river
Lowlights – Struggling for bites at Dillington
Summary

Well, what a year 2018 was, once again I finished second in both of our winter leagues (at least I'm consistent!) I was also really proud when Scotty Jackson and me won Barney's Pairs (the third time I've won it). I fished Todber Manor again and beat my previous best match weight by some way with 155lb 14oz, what a venue! It's also been the second most successful year I've ever had in terms of match winnings (although in reality we spend far more than we ever win!).
I didn't manage any more trips after barbel or mullet and I still haven't caught that flounder (maybe next year!) but I did head to Thailand where I fished another different venue, Palm Tree Lagoon. It's home to some of the biggest fish in Thailand and although I didn't manage any of the really big boys (or girls), I did catch several new pb's along with a new species in the shape of a 65lb Chinese Silver Carp.
I missed out on the Perry St league but fished five as a stand in and did okay with a win and two second places. I also really enjoyed fishing a few at Sadborow and managed a win with 79lb. Dillington is still producing some nice bags of bream and skimmers but the roach fishing is nowhere near as prolific as it once was.
For the Ilminster Warehouse league, I've been trying some new sections and different venues with varying degrees of success. North Bradon was a disappointment whereas at Midelney I had one of the most enjoyable matches I've ever fished, winning with 11lb 8oz of quality roach and perch, the trouble was the four pegs above the bridge all caught and the next four blanked! A mate also agreed to let us fish his pond and despite seeing loads of big rudd and roach in the summer it was a real struggle with just 2lb 1oz enough to win.
I fished a lot of matches at one of my favourite venues, Summerhayes but have struggled there this year, I only managed three silvers wins although I did qualify for the Champion of Champions final but my drawing arm let me down and I limped home with 2lb odd for nowhere, I will try again next year.
2018 saw a major overhaul of the blog and with my own domain and little corner of the net, the new 'Against Men and Fish' was born. I continue to get loads of amazing feedback and comments and halfway through the year, the blog surpassed 1,000,000 hits which is just mind blowing and the total now stands at 1,602,599! Buff and Peejay Tackle, have both supported the blog again this year, great companies and great products.
I'm very lucky to have the continued support of Bait-Tech and I can't wait to see what they have in store for 2019. Special thanks also to Hayley for all her continued help and invaluable advice.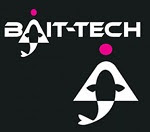 I've also had two features published in the Angler's Mail which I've thoroughly enjoyed doing and I have to thank Brian Gay for making it possible.
So what next for Against Men and Fish?, well the Archives series continues to be popular and there's plenty more to come, I've featured lots of guest blogs this year on a wide variety of subjects and I would love to publish more next year so please get in touch if you're interested. There will be lots more reviews and interviews and I'm also hoping to go back to Thailand where I have another new venue in my sights. Of course there will still be lots of detailed match reports and I'll try my best to mix things up with some different lakes and rivers along with another go for those elusive mullet and maybe even a bash at those flounder!
So here are the stats (with how they compare to last year in brackets),
Matches won – 6 (+1)
Silvers wins – 3 (-1)
Winnings – £1462 (+£145)
Golden peg wins – 1 (+1)
Matches fished – 52
Number of pick ups – 29 (-4)
Success rate – 56%
New pb match weight
Todber Manor – 155lb 8oz
New pb's
Julian's Golden Prize Carp – 73lb – Palm Tree Lagoon, Thailand
Mrigal – 15lb – Palm Tree Lagoon, Thailand
Wallago Attu – 26lb – Palm Tree Lagoon, Thailand
Albino Pacu – 23lb – Palm Tree Lagoon, Thailand
Striped Catfish – 45lb – Palm Tree Lagoon, Thailand
Catla Catla – 30lb – Palm Tree Lagoon, Thailand
Black Shark Minnow – 15lb – Palm Tree Lagoon, Thailand
Chinese Silver Carp – 65lb – Palm Tree Lagoon, Thailand