Going through my records, the first few months of the year weren't very good at all with just the odd minor placing and section win to show for my efforts, in fact it wasn't until 30th March that there was a match worth talking about! With it being a Bank Holiday, Les used to run a two day match using Howley and Sadborow where you would fish one pond on the first day and then swap for day two. I drew peg 1 at Howley and it was a proper bung hole end peg with loads of features.
I fed a skimmer line and an inside line as I'd been doing well putting together mixed bags of carp and silvers. Famous last words!, after ninety minutes all I had was five little roach while everyone else was catching skimmers and I was probably last on the pond. Then just to compound my misery, I lost a carp! There were loads of carp moving about and slurping (I hadn't discovered mugging back then!) and then I finally had one around 2.5lb and my inside line came alive, I started catching skimmers, hybrids, roach and perch along with four more carp around a pound apiece.
I could see Graham 'Dino' Pepper and Kev Lawler both catching well although I didn't think I was too far behind, I then hooked a lump which I played for ages before eventually netting a lovely ghostie around 5-6lb. At the weigh in Dino had 15lb odd and Kev had over 10lb, I thought I had around 14lb but actually weighed 19lb 4oz to win the lake (yes, my estimating skills have never been any good!) so I was in with a chance going into day two.
At the draw the following morning, I pulled out peg 5 at Sadborow where Graham Skinner had been third the day before, so a decent draw, I just had to do well off it now! I started off fishing the inside line and didn't have a touch, I went across to the island but already it was looking like it was going to be slow going. Scotty Russell landed a foul hooker (nothing new there then!) and then I got off the mark with a pound hybrid before a few carp started to show and I had six but lost four!
Geoff Facey and Bushy were catching and it was really close between several anglers, Kev started bagging, Dunner and Scott were getting a few and Dino was hooking carp but lost several and I started to think I was out of it. I came back on the inside line and had carp number seven but then lost one next chuck when I unshipped too early and it did me in the brambles (will I ever learn!). I then got myself sorted and landed the next six, I did lose one right on the whistle.
As the scales made their way round the pond, Kev was top with 24lb odd before Bushy went into the lead with 32lb, Geoff had one less carp than me but weighed 29lb and then my fish went 27lb which put me third on the lake but would it be enough? Back at the results and Les confirmed I'd won it, my second two dayer and a nice pick up of £100. Skinner was second, Bushy third and Rocking Roy was fourth after he won Howley on day two with 28lb which included a big ghostie of 7.5lb.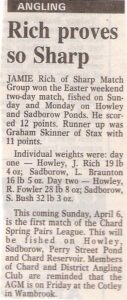 Then it was the start of the popular Chard Pairs League on April 6th and Andy Saunders and me were keen to try and emulate last years success where we finished joint second with Mike Stone and Nicky Collins behind Tony Rixon and Pete Sivell. I was down the resi in the high numbers for the first match with Kev Lawler and Allan Oram either side and I got battered like a chip shop sausage, Kev won the section with 34lb and Allan had 22lb to my 19lb 8oz which gave me 5 points. Andy had 4 points so we hadn't got off to the best of starts. Rixon and Sivell carried on where they'd left off, only dropping a point between them.
The second round was two weeks later and I was on the low numbers at Perry St, peg 10 stuck to my hand and it's a corner peg, probably the best peg on the pond (and still is today), Andy drew peg 24 down the resi (not so good). I got out the pond to find Pete Sivell was on peg 11 opposite me in the other section  and it would be interesting to see how he approached it. On the whistle I fed two lines, left and right with hemp, casters and some orange tutti-frutti flavoured corn before starting on the waggler with casters. I had a few small rudd but was going nowhere fast, Pete had already had around a pound.
Corn on the pole resulted in a few knocks so I buried the hook in a caster and went to the left, I had an indication but it didn't develop, I went to check the hookbait and as I lifted the rig up, there was a fish on! I safely landed a 12oz crucian and then next put in, I had a nice tench around 1.5lb but I didn't really know how I was doing as the only other angler I could see in my section was Allan Oram next door and he was netting the odd fish. According to the bankside grapevine, there were odd tench, skimmers and eels being caught in my section.
I added a 8oz tench on corn from the right hand line and then missed a couple of bites on caster from the left before catching the best fish of the day, a tench around 3lb and that was the last of the action. When the scales reached me, 5lb 9oz was winning the section followed by 5lb and I thought it might be quite close but the needle settled on 7lb 1oz. Pete had landed a 12lb carp and three tench to paralyse the other section with over 18lb.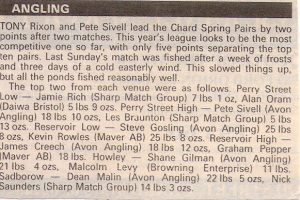 Round three on 4th May saw me on peg 8 on the dam wall down the resi and it was a bit of snag pit, I was next to Allan Oram again but he got his revenge after the last match with 18lb 12oz of skimmers to my 17lb 6oz, Kev Lawler won the section with 24lb so I ended up third in the section. After three rounds Andy and me were on 31 points, 8 points behind the leaders.
I was at Howley for round four and drew peg 7 near the top end, a really good peg and the wind was blowing that way as well, I had four carp plus skimmers, perch and roach for 19lb 4oz and second in the section. The guy on the end (peg 8) bagged right up and set a new match record with 57lb of carp.
For the penultimate round on 8th June I was at Sadborow and drew a flier in the shape of peg 1 and had a nightmare, I lost my first four carp which set the scene for the day. The final score was 12-7 to the carp and I weighed 13lb 2oz for 5 points but 18lb was third, 20lb second and 21lb won the section so definitely an opportunity missed. Andy finished second in his section at Perry St so at least we had some money between us.
The final pairs match was on 15th June and I drew yet another flier, end peg 11 at Perry St where Sivell had won with 18lb when I was opposite him but I didn't do the peg justice with a couple of decent skimmers, an eel plus a few bits for 4lb odd and 5 points, I did lose a good fish and managed to knock a 4oz tench off with my landing net! Bob Gullick next to me had 6lb odd, there was an 11lb and 14lb won the section. Andy won at Sadborow with 22lb so we had another £25 each, as a pair we didn't disgrace ourselves, finishing in sixth place overall (the top four pairs picked up money).
Look out for part 14, where Sharp Match Group begin another Drennan Superleague campaign.