We're reaching the business end of this league now and I'm still in with an outside chance of a top three finish but would need two good results in the remaining two rounds, starting with today. Also with eighteen anglers booked in, a bad result can mean lots of points dropped and I think there will be some twists and turns before this race is run! Once again the weather did its upmost to scupper our chances of getting on the river, not rain or wind this time but bloody snow! It started Thursday night and when I woke up Friday morning, the world outside my window was white! I had to take the day off work as once again the UK can never seem to cope with it and there was chaos everywhere!
By Saturday, it started to thaw rapidly and from thinking there was no chance of us being on the river, it actually turned into a nice sunny day with more of the same forecast for Sunday, crazy weather! A few anglers pulled out and we ended up with twelve which would at least make pegging easier! I must say thanks to Rob Cox who popped down to Isle Brewers to see what the roads were like and to Baz Morgan who had a look at Hambridge to check for cows and to see what the levels were like, cheers chaps
I announced the draw and the bucket of dreams (or doom!) started deciding peoples fate for the day, Digger drew the much fancied H5 and Karl pulled out 125 which had won the last V.E.S. match. With just a couple of balls left in the bucket, I asked Jake to draw for me and he handed me peg 126, Barney's Bend, a really consistent peg that has done well in recent matches. Baz had the last ball in the bucket which was H3, the one peg he really didn't want!
I got to the river and it looked nice although the general consensus was that it was going to fish hard with all the cold water that had gone in and I thought the winning weight would be around 10lb today with 6lb enough to frame. It was a cold, crisp morning and there was still plenty of snow around. As I was setting up, I was a little worried that I hadn't seen a fish top but then one did, right in the middle of the tree branches in the water. Thanks to Ben Simmonds for the photo*
The peg has loads of options, the straight above the bend, the bay above the tree, in the flow in front of you, by the branches, below the tree and the tail of the swim. I set up a 0.6 gram DH16 for running through in the flow and also for the slacker water in the bay above the tree and below it. My second rig was a 0.75 gram bodied float and plumbing up there was a nice deep hole to my left in the tail of the swim. On the side tray I had maggots, casters and Bait-Tech Super Seed hemp.
Justin wandered down just before the start for a natter and while we were talking a couple more fish topped in the same place as the earlier one so there were obviously a few fish about. He headed back to his peg with a few minutes to go and I had a quick coffee before it was time to start. We were only fishing five hours today due to the weather conditions and most people expecting a hard match.
I started with the lighter rig and double red maggot just past the flow at six metres to the right running up to the tree, I missed a bite and next chuck had a gudgeon so the blank had been avoided, I had a couple of little roach of less than an ounce apiece so tried caster and the next fish was a net roach but it was a one off. A couple of missed bites followed and then I had a tiny minnow on caster so tried to my left, again at six metres. I missed a good bite and then next put in, the float buried and a lot of yellow hydro streamed out of the pole tip. Gently shipping back I netted a nice 12oz chublet and things got even better when I went back out and had another and then had one of a pound. I had 3lb in the net and we hadn't been fishing an hour yet, surely this wouldn't last!
I was right and the sport slowed up to the left, I was still feeding downstream at eleven metres but wanted to try catch short for as long as possible so went back to the right and had a few more roach and as the first hour came to a close, I had 20 fish for 4lb or so, what a start! Back to the left and the rest had obviously done it some good as I had several more chublets to 1.5lb along with some roach. I did strike at one bite and as loads of elastic came out, I thought the culprit would be another chub but then a bloody great roach came to the top, it was well over a 1lb, a proper old warrior that had been through some scrapes. I added 16 fish in the second hour for another 4lb and I was in heaven!
Ben Simmonds messaged me from peg 124a and said all he could catch was minnows although Karl was bagging on 125. Swapping between the two six metre lines, the bites kept coming, roach, dace, gudgeon along with the odd 12oz chublet and quality roach although I did have one decent chublet come off and bumped a few but after three hours I was up to 51 fish for 10-12lb and sport was showing no signs of slowing. I had visits from several bank walkers including Frank who said he'd only had minnows on 128, Jake had a few small roach down on 129 and Justin said he'd only had three small chublets (remember that!) on 124.
I'd been feeding down the peg for three hours but hadn't tried it yet so shipped out to eleven metres below the tree and didn't have time to feed before the float went and there was the characteristic thump, thump of another quality roach. I had a really good spell there catching several big roach but the water was so clear, you could see them flash as soon as you hooked them and I was amazed a pike hadn't shown itself yet.
With about sixty minutes to go, I picked up the heavier rig and inched it through in the deeper water, the float buried and another decent roach came to the net, I did hook a fish and it was just solid but it came off. Steve P turned up and he'd struggled in 129a and had packed up early, while he was with me I had some more roach and dace plus a nice chublet. For the last quarter of an hour I went back below the tree with the lighter rig and had a couple more net roach but they wouldn't settle in one place, I also lost one shipping back. Frank arrived and I asked how long was left and he said about three minutes so I had time for one last fish and when I checked the clicker, I'd finished up with 102 fish (plus a few minnows) and I thought I had around 20lb but by all accounts, Karl had caught all day as well so it could be close between us and I thought H4 and H5 at Hambridge would also do well today.
I packed up and Jake arrived with the scales, he had 2oz and was the only one to weigh in from the three pegs below me, I pulled my net out and he called it at 22lb 14oz, a lovely net of fish but I couldn't help wondering if I'd have beaten my best ever Isle weight if we'd have fished the normal five and a half or six hours.
We loaded the cars and then headed above the bridge to watch the weigh in there, Terry 'The Toast' had struggled for 4oz of mainly small fish from peg 123, Justin's three 'chublets' weighed 5lb 14oz and he pulled out of one although he'd also managed to snap a section of his pole so he was in no mood for a photo! Ben had already gone and then we got to Karl and when he pulled his net out, I thought it was going to be really close, Frank called it at 19lb 12oz, another cracking net of quality fish.
Back at the results and as the anglers from Hambridge started arriving back, the top weight was Digger with 11lb 4oz from H5 followed by Adie with 10lb 4oz from H4, Rob did well to catch 7lb 12oz from H6 as there was a huge raft of rubbish in his peg which made fishing it really awkward and Baz had a decent weight with 6lb from H3 so it had fished pretty well down there. So to top off a brilliant day, I'd won and had a nice pick up of £90 although Steve P managed to sneak off without paying me his squid! Karl was second with Digger third and Justin and Adie both won their sections. Special mention must go to Adie Bishop who went back to Hambridge after the results and removed some of the branches causing the problem in H6 with his loppers and the swim looks brilliant now – you're a star mate and it's help and support like this that makes it a such a great little league to fish! Thanks to Rob Cox for the photo**
1 – Jamie Rich (Against Men and Fish) – 22lb 14oz
2 – Karl Aplin (Ilminster) – 19lb 12oz
3 – Phil Denslow (Taunton) – 11lb 4oz
Sections
A – Justin Charles (Ilminster) – 5lb 14oz
B – Adie Bishop (Taunton) – 10lb 4oz
So it looks like the fish have moved up around the bridges again, is it a temperature thing? If the weather goes milder again will they spread back out? It's going to be a bit of a nightmare pegging the open next week!
In the nine Isle matches so far we've had seven different winners with Digger and me both winning two, in the V.E.S. Precision League, after six rounds and dropping the worst result, it's going down to the wire with just two points separating the top four,
Rob Cox – 12 pts (dropping 6)
Phil Denslow – 13 pts (dropping 5)
Terry Morgan – 13 pts (dropping 20)
Jamie Rich – 14 pts (dropping 5)
Jake Woodard – 17 pts (dropping 6)
Adie Bishop – 20 pts (dropping 7)
I've updated the list of framing pegs (top three) from all the river matches so far,
H5 – 4 times (won 2)
128 – 3 times (won 1)
125 – 3 times (won 2)
126 – 3 times (won 1)
14 – 1 time (won 1)
M3 – 1 time (won 1)
H4 – 1 time (won 1)
124a – 1 time
H3 – 1 time
95 – 1 time
17 – 1 time
20 – 1 time
126a – 1 time
H9 – 1 time
M1 – 1 time
M2 – 1 time
120 – 1 time
129a – 1 time
Also I had some amazing feedback on the back of last week's match report from the canal,
Dominic Garnett from the Angling Times said 'Nice write up. Real winter fishing that! You had more than I did on the Tivvy Canal, anyway. Struggled for a pound of bits (and nearly had my pole snapped the wind was that brutal).'
On Facebook, John commented 'I am getting hooked on your match reports mate'
and Don said 'Good read as always, glad you got a pickup and good luck for the last round'
Via text, from Russell 'Good writing this week my friend – just shows its more than the catching of fish that makes a good read'
And then comments on the blog,
from Chris 'Hi Jamie just like to say i really enjoy your blog keep up the good work mate.',
Steven said 'Hi Jamie, I read your blogs every week, absolutely love them. Just a quick question, on the river matches you fish, do you or any of the other anglers use rod and line, it's seems that you only fish the pole, why is this?' Keep up the good work matey'
Gordon commented 'I think your blog is entertaining my friend – keep it up'
Fantastic comments, I love hearing what you think of the blog and as always if you have catch reports, comments, feedback or fancy writing a guest post, send them to me and I'll put them on the blog.
Loads more great Bait-Tech products being announced, keep an eye on the blogs Facebook page for all the juicy details.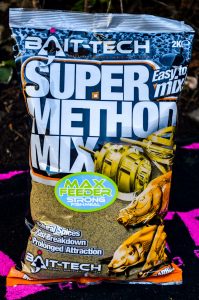 Next up – Ilminster Open
Coming soon – Another brilliant interview
Check Out – My latest match (below)