Etang de Korong
I absolutely got the wrong impression of this venue the first few times that l went to weigh it up. From the usual point of arrival through the village of Glomel l got the impression of arriving at an aquatic leisure centre and holiday camp.There is a beach of sorts and facilities for all sorts of sports, people everywhere and us anglers aren't always the best at sharing so it didn't appeal to me. It was only when l met the four Brummies (see previous posts) that l took a renewed interest in this venue. They have fished here on numerous occasions and they really rated it.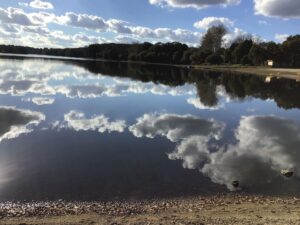 They intended to fish there the next day so l thought l would seek them out to see how they were doing, l couldn't fish myself as Lady Morgan had other plans for the morning. We did get there mid afternoon and they were nowhere to be seen. We were just about to give up when we spotted them some distance away on the right hand bank, surely they hadn't lugged their kit that far! Indeed they hadn't, their cars were parked on the track behind them. Problem was there were only two Brummies. Oh dear! Had they got peckish and eaten the other two? No all was well, the other two had gone to the other side by the dam.They were fishing the feeder and getting a bite a chuck, one had a big tench while we were there but they were struggling to avoid smaller fish, roach, rudd, skimmers and perch.They did say that if and when the bream arrived they would push the smaller fish out. Meanwhile up by the dam the other two had caught big bream and tench (sorry no photos, forgot to charge my i-pad).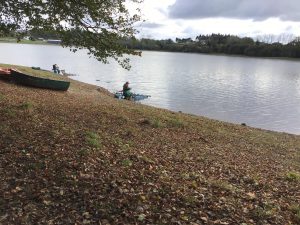 On the last day of this visit l decided to have a go myself. The weather was about as bad as could be imagined, gale force winds and torrential rain but l couldn't just come back when it improved so l decided to give it a go, feeder or straight lead the only real option in this weather even my Gortex was struggling to keep me dry. To my surprise it was a bite a chuck almost from the off but nothing over a pound, to be honest more bloody minded endurance than pleasure.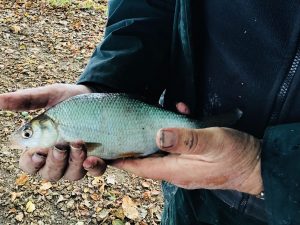 About a month later her Ladyship and I were back in Brittany (it is work and someone has to do it!). The conditions were the complete opposite, clear blue skies and heavy night frost, the level much lower, on the count down of the feeder and the angle of the line l estimated maybe two or two and half metres deep at approx 25 metres, with the temperature and bright sun l wasn't expecting a bite a chuck this time. To my surprise within a few minutes the tip went round and soon once again it was a bite a chuck, l was very tempted to have a go on the float for the roach but decided to stay on the tip in the hope of bream or tench, it didn't happen as planned but l caught smaller fish steadily, roach mainly but with the odd hybrid, rudd or perch.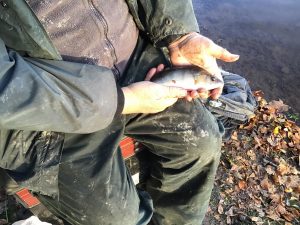 The important thing if you visit is to find this area away from the main activities. Just before the main entrance turn right keeping the lake on your left, after maybe a kilometre you come to a T junction, turn left then left onto the track looking back towards the 'beach', it sounds more complicated than it is just keep the main lake on your left. Asking around l think the lake is some 150 acres but not all is easily accessible, when you put a bait into this volume of water and get bites straightaway you do ponder just what head of fish is there. There are a few negatives with this venue despite its size there aren't limitless swims and the lake is popular with carp and predator anglers, who by the nature of the way they fish can take up a lot of bank. Sometimes there are a lot of boats and l have been told other water sports as well, mid summer may not be the best time to fish. There is some access on the opposite side but it might be difficult to find. On the plus side there are clearly plenty of fish, they are in tip top condition and it's pretty much weed free and a picturesque area. Lady Morgan really enjoyed her walk through the woodland and this had the added bonus of the sangliers (wild boar) having the day off from being the most fearsome creatures in the forest.
Tight lines Baz