For round three my destination was A section at Perry St and I was hoping to draw pegs 4, 5 or 17 as they all have plenty of room and they've been the most consistent pegs in the first two matches. After another fantastic Millfield cafe breakfast we headed out to Perry St to do the draw. The Sadborow section drew first and were on their way and then the Tart's section went next, his drawing arm continues to be on fire as he pulled out corner peg 10 with two empty pegs to his right, Smithy was opposite in peg 11, Bushy was on 7, Mike on 12 and Butch on 13. Their section was two short today as Chilly had done his back in and Roy had another commitment.
Then it was our turn and along with my wish list of pegs, I also wanted to avoid 1 and 20 as they'd been poor in the first two rounds, I opened my little canister and the number 5 was staring back at me! The peg I wanted and on current form the best peg in the section! I got to my swim and it looked nice but it had been chilly in the morning and there weren't many fish cruising about. Exeter Mike was next door on peg 4 and as we were setting up he was telling me about his recent holiday to Lincolnshire, there are some lakes nearby and he normally fishes a few matches whilst there. He said he was booked into a match and one of the regulars approached him and asked if he was Exeter Mike as he recognised him from a blog he reads! So if you're reading this, thank you so much and I hope you continue to follow our exploits!
I set up my favourite little inline dibber to fish shallow, a Drennan 0.4 gram Carp 1 for the top two plus two and 11.5 metre lines and a little handmade float for down the edge. On the side tray I had live and dead red maggots, meat, 6mm Bait-Tech Carp and Coarse pellets and I'd also mixed up some groundbait the night before. It was starting to warm up and the odd dark shape started to appear which prompted me to come up with one of my infamous predictions that I thought it would fish it's head off! I was ready in plenty of time and walked up to see the Tart, I stopped to talk to Bushy on peg 7 and there were loads of carp cruising about and when I got up to Jack Horner in his corner, there were fish with their lips out of the water just waiting for the whistle to blow!
With a couple of minutes to go I headed back to my peg before the Hoff got us underway with a toot on his whistle. I fed some meat on the short line before starting shallow, I was pinging out a few pellets when I saw a cruiser to my left, I couldn't resist and flicked the rig in front of it, the float buried and a fish was on! After a decent scrap I slid the net under a five pounder, what a start! There were now loads of carp shallow and I really thought I was going to empty it.
Paul Homewood over on 17 was into a carp quite quickly and then famous Mike from somewhere near Exeter had one as well. I wasn't getting any indications fishing shallow but managed to hook another with a skilful bit of stalking, it wasn't doing much only for the hook to pull out as I shipped back. After an hour I only had the one fish, Paul had another and lost a couple of foulhookers and Mike had doubled his tally as well. After the Tart had gone over in one net in the last round, Mike had brought a little set of spring balance scales to weigh each fish in his landing net as he went along so he wouldn't make the same mistake!
Going into the second hour, Paul and Mike were getting regular bites fishing on the deck while I was going nowhere fast so I had to try something else and had my first look on the meat line much earlier than I would have liked. After five minutes or so, the float sailed away and I missed it! No more bites and the 11.5 metre line was fizzing like a jacuzzi so I went out with meat on the deep rig and missed two good bites out there, this was definitely not going to plan!
I tried a banded 6mm pellet and on the deck and a positive bite resulted in a decent carp around the 7-8lb mark, Mike had another that went 8lb on his scales and Paul was starting to catch quite well. I had another about 4lb quite quickly and thought I'd cracked it but that jinxed it and that was it for the second hour. The Tart and Smithy were catching up the other end and it looked like I'd be handing the Tart one of his pounds back.
Back on the short meat line and another good bite but this time I actually connected with it, around 3lb it wasn't a big fish but welcome all the same, it was nearly ready for netting when it tore off and the hook pulled out! Things then got even worse when I hooked a decent 6-7lb fish on the long line and again it wasn't posing me too many problems when it went around a snag just in front of me and I could feel the line grating against something before the hooklength gave way!
The Tart, Bushy and Smithy were all now bagging up the other end and every time I looked up, somebody was landing a fish. I did manage to mug another to put me on four but I was several fish behind Paul although there wasn't much between Mike and me. The long line was still fizzing like crazy and I started to get regular bites on meat but I was missing too many, most were coming after I slowly dragged the rig to one side or lifted the rig out of the water, I tried banded pellet again but no more bites. Over the next couple of hours I added three more carp on meat but also lost a couple of foulhookers. I had a couple more goes shallow and on the short line but didn't add anymore fish from either.
With around an hour to go, Paul was several fish ahead of me although it was still nip and tuck between Mike and me, I hadn't really seen much else happening in our section, Dunner on 19 had a couple of carp as had Rich in peg 20 and apparently Oz had caught some decent skimmers on peg 2, I didn't know how the Hoff was doing in peg 1 but as I hadn't heard anything, I assumed he was struggling. I went around half an hour without any indications and Mike had slowed up as well and I was just saying how I couldn't get a bite now when the float went and I was into a fish (moaned that one on then!).
Mike had a couple of fish from his margin line but also had a few rigs trashed (he was telling me before the start how he had 160 rigs made up so there's a few empty winders again now!). I missed two unmissable bites on meat in the space of ten minutes and was sure I'd get another chance in the remaining quarter of an hour but it didn't happen. My final tally was 8 carp which I thought would go around 32lb (at an average of 4lb apiece) and shouted across to see how many Paul had, he said 11 or 12 and Mike had 42lb on his clicker so I thought I'd be third in the section but then somebody said the Hoff was admitting to 50lb!
After packing up we gathered at Hoff's peg to start the weigh in, his two nets totalled 52lb so a really impressive estimate, Oz had 25lb 4oz which included 8lb of silvers and then Exeter Mike pulled his net out and his fish went 32lb 6oz which was less than he thought and this could be close. I pulled out my second net containing three carp which weighed 14lb and the other net went 24lb 10oz to give me 38lb 10oz (so they were closer to 5lb each).
Bushy had done really well on peg 7 to weigh 75lb 14oz with most of his fish coming down the edge and then we got to the Tart, after his three nets were totted up, his total was 90lb 2oz another really good weight (nearly 200lb in two matches at Perry St). Smithy had 46lb 10oz from peg 11, Mike Collins had three carp for 9lb 8oz from peg 12 and Butch weighed 12lb 4oz next door.
Paul was next and his first net went 27lb 12oz and when he pulled out his second net, it was going to be very close to Hoff's weight, it was called at 23lb 2oz and he also had a 4oz skimmer to give him a total of 51lb 2oz so less than a pound in it! Pup had three carp for 14lb 2oz from peg 19 and then Rich had a couple of carp and loads of roach and rudd for 9lb 2oz from peg 20.
So I finished third in my section which was better than I first thought but I was still a bit disappointed and didn't feel I'd done the peg justice. Losing six fish (three foulhooked) didn't help but then again, Hoff lost ten and Paul lost several foulhookers as well. I didn't even feed my margin line which was a mistake but with all the reeds and lilies, I thought I'd just get smashed up in there and as I was getting bites long, I stuck at it, even though I missed loads! So all in all, I haven't really fished a very good match!
The Sadborow section got back and it had fished really hard out there, Derek Hounsell (fishing for Mark G) had won the section with 20lb 12oz from peg 9 with Les in second from peg 8 with 17lb 8oz and Bish third with 13lb 6oz from peg 2. Les made me chuckle when he said he'd caught using a 'Jigger' but as the fishing was so slow he's float was more like a 'Jogger!'.
Sadborow
1 – Derek Hounsell (Chard) – 20lb 12oz
2 – Les Braunton (Chard) – 17lb 8oz
3 – Steve Bishop (Chard) – 13lb 6oz
Perry St A
1 – Mark Hollister (Chard) – 52lb
2 – Paul Homewood (Taunton) – 51lb 2oz
3 – Jamie Rich (Against Men and Fish) – 38lb 10oz
Perry St B
1 – Brendon Ions (Torquay) – 90lb 2oz
2 – Steve Bush (Chard) – 75lb 14oz
3 – Mike Smith (Torquay) – 46lb 10oz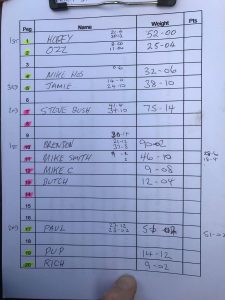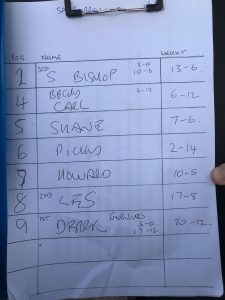 Hoff did the results and I picked up £30 for third in the section and here's how the league looks after three rounds,
Steve Bush – 20 pts
Jamie Rich – 18 pts
Brendon Ions – 17 pts
Mike Smith – 16 pts
Paul Homewood – 16 pts
Mark Hollister – 16 pts
Steve Bishop – 15 pts
Carl Everton – 14 pts
Mike Hosgood – 14 pts
Les Braunton – 13 pts
Mark Garner – 13 pts
As we are now a third of the way through, there was another open draw to determine which section we'd be in for the next three rounds and I've ended up in the same section as the Tart (earplugs required), Hoff, Bish, Paul, Smithy and Mark G so a proper section of doom!
Here's a list of the framing pegs in each section so far,
Sadborow
2 – 3 times (won 2)
9 – 2 times (won 1)
8 – 2 times
4 – 1 time
5 – 1 time
Perry St A
5 – 3 times (won 2)
1 – 1 time (won 1)
4 – 2 times
17 – 3 times
Perry St B
7 – 2 times (won 1)
10 – 2 times (won 1)
13 – 1 time (won 1)
14 – 2 times
11 – 2 times
The score on the world famous Nuggetometer now stands at 4-3 and the Tart could draw level with victory at Goodiford next Saturday.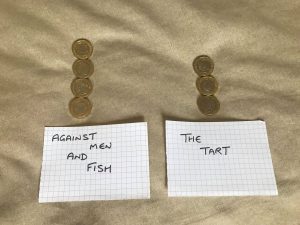 Lastly, the blog flew past the 2,000,000 hits mark (if only I had 50p for each hit!) in the last couple of days so thank you so much to everyone who reads the blog, I really appreciate all your comments and feedback and when I hear that people enjoy reading it from as far afield as places like the Philippines and Canada (and Lincolnshire!), I find it very humbling. I've got loads more stuff coming up over the next few weeks so please stay tuned for visits to new venues, reviews and guest blogs and if you haven't signed up for the newsletter yet, please just subscribe, it doesn't cost anything and you'll get monthly updates along with exclusive content and some great competitions.

Next up – Summerhayes
Coming soon – Another great guest post
Check Out – My latest review below