After three rounds, there was another open draw for sections which put me in with the Tart (so no chance of drawing a corner then!) and they also re-jigged the pegging slightly with Perry St reverting to the high and low numbers and the section draw put us on the high numbers this week (pegs 11 to 20). Another brilliant breakfast at Millfield cafe set us up for the day before we headed out the pond to do the draw, after the Sadborow gang had drawn and gone, it was our turn. I pulled out peg 17 which I was more than happy with, Bish was on peg 16 which is one of the new pegs, the Tart drew 14, Mark G was on 13, Smithy was on peg 11 for the second match running (even though we were in a different section this week!), Hoff was on 19 and Paul H drew 20 again.
It was overcast and there was a nice ripple on the pond with the wind blowing up towards peg 20 and I really thought it was perfect conditions for fishing shallow. I set up my favourite little inline dibber, a Drennan 0.4 gram Carp 1 for the top two plus two and 11.5 metre lines and a Drennan Margin Crystal for down the edge. On the side tray I had live and dead red maggots, meat, 6mm Bait-Tech Carp and Coarse pellets and I'd also mixed up some groundbait the night before.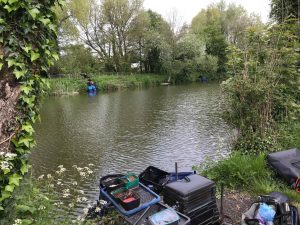 Most of us were ready with ten minutes to spare and the Tart wandered up to have a chat with his new Tackle Trader Team mate, Bish who was sporting a nice new hoodie!
With a minute to go we all headed back to our pegs before Hoff tooted on his whistle, I fed some meat on the short line before starting at 11.5 metres with the shallow rig, I really thought I'd catch straight away but apart from a couple of little knocks, I still hadn't caught after half an hour, Picky had one first chuck on peg 2, Bushy opposite on peg 5 had a couple and he also said Smithy up on 11 already had three carp. Bish landed a decent skimmer and I could hear splashing from the pegs on my left and I felt I needed to try something else so I went out with banded 6mm pellet on the deep rig.
I was pinging out a few pellets and lifting and dragging the rig and I started getting the odd bite but just couldn't hit them! As the first hour came to a close, I still hadn't put anything in the net! The only good news was that apparently the Tart was still blanking as well. Finally after ninety minutes, I lifted the rig out of the water and as it settled, the float sailed away and this time I connected with it, it didn't fight too hard and it did cross my mind that it may be foulhooked but it surfaced by my keepnets and I netted it without too much fuss. It was hooked in the mouth and around 5lb, a nice fish to get me off the mark.
I missed a couple more bites but typically a few more carp could be seen cruising around so I couldn't resist another go shallow and as we reached the two hour mark, I finally mugged one which tore off and I just couldn't get it under control before it eventually snapped me and I think it may have been foulhooked. Not long after I hooked another and got that one in to put me on two fish and I hoped I might start to get a few now but it just wasn't happening, Bish had added a carp to his skimmer but the Tart and Mark G still hadn't got off the mark.
In the other section Bushy was still catching, Rocking had caught a few next door, Dunner down in peg 1 was getting the odd fish and Shane up on 8 was doing well. After two and a half hours, the news filtered down that the Tart had finally got one and apparently the smug grin was back! I was still stuck on two carp and just couldn't get a bite shallow or on the deck, I tried my meat line earlier than I would have liked and that was barren as well! Bushy was catching in the edge so I cupped in half a dozen pots of loose groundbait and dead reds and would leave it for half an hour or so before coming in on it.
I was going through the motions a bit and then out of the blue I had one shallow that pulled the elastic out, no more bites out there so I tried the margins for the first time and it was a massive anti-climax. According to the bankside jungle drums, Smithy was still catching and the Tart was now bagging which definitely wasn't music to my ears. With just an hour and a half left, I was back on the meat line and finally had a bite which of course I missed, next chuck I had a 2.5lb skimmer that was all rough and ready for spawning, another missed bite before I had another skimmer of the same size and all of a sudden I was interested again.
The next bite resulted in a fish tearing off across the pond and I knew it wasn't hooked in the mouth, after a lengthy battle I reversed a three pounder into the net. There was still an hour to go and I started to think an unlikely comeback could be on the cards. I hooked another that I couldn't do anything with and that one snapped me as well and then with five minutes to go, the floats gone again and as the fish moved off, I wanted to make it count so went to put some more sections on, only for the hook to pull out and I'm sure both of those fish were foulhooked so they just weren't having it properly.
I'd ended up with four carp and two skimmers and as Bish had four carp and one skimmer it would be close between us but we were going to finish well down as the Tart had nine carp and some eels, Smithy was admitting to 45lb, Hoff had nine and Paul had ten carp.
We packed up before gathering around Smithy's peg and eating some of his cookies while waiting for the scales, after two weighs, his total was 48lb 4oz so top clicking from him, Mark G had really struggled for one carp of 4lb 15oz and then we got to the Tart, it was really close (which was surprising as he said he only had 'squeakers'!) and he had a couple of 'Ian Beale's' which swung the scales in his favour to go into the lead with 49lb 8oz. Bish had 15lb 10oz and then I weighed 21lb, Hoff had 42lb 2oz and then Paul did have some smaller fish and weighed 36lb 12oz so it had been close between the top four weights. As we headed back to the car park, I gave the Tart my pound but he said wait until there's more people around, I'll leave you to guess my reply!
In the other section, Shane had done really well to win the section and the lake with 58lb 8oz followed by Bushy who weighed 51lb 6oz from peg 5 but had lost eleven carp! Dunner was third in that section with 34lb 14oz followed by Chilly with 29lb 10oz from peg 10, Roy had 26lb 10oz which included a lump he'd caught on the feeder near the end, Picky had 22lb from peg 2 and Rich C on peg 7 weighed 10lb 8oz.
The guys arrived back from Sadborow and it had fished a little bit better than the last match with Exeter Mike winning the section with 37lb from peg 7, Carl was second with 32lb 4oz from peg 5 and just behind was Howard with 32lb 2oz from peg 4. Mike C had 28lb 14oz from peg 9, Oz weighed 27lb 8oz from peg 8, Les had 17lb 8oz from peg 3 and Butch weighed 16lb 8oz from peg 1.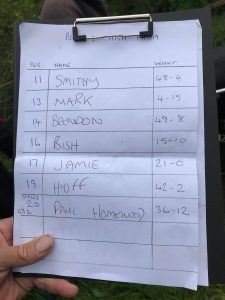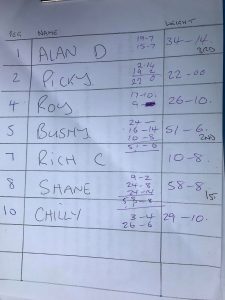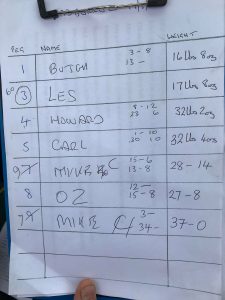 Sadborow
1 – Mike Hosgood (Nr Exeter) – 37lb
2 – Carl Everton (Torquay) – 32lb 4oz
3 – Howard Watts (Torquay) – 32lb 2oz
Perry St Low
1 – Shane Jeffrey (Chard) – 58lb 8oz
2 – Steve Bush (Chard) – 51lb 6oz
3 – Alan Dunn (Chard) – 34lb 14oz
Perry St High
1 – Brendon Ions (Torquay) – 49lb 8oz
2 – Mike Smith (Torquay) – 48lb 4oz
3 – Mark Hollister (Chard) – 42lb 2oz
So a disappointing match for me although unlike the last round where I felt I didn't fish a good match, today I don't really think I'd done a lot wrong, even with the three (foulhooked) fish I'd lost, it wouldn't have made any difference. The league is now really tight and it's shaping up to be an exciting little competition,
Steve Bush – 26 pts
Brendon Ions – 24 pts
Mike Smith – 22 pts
Jamie Rich – 21 pts
Mark Hollister – 21 pts
Mike Hosgood – 21 pts
Paul Homewood – 20 pts
Carl Everton – 20 pts
Shane Jeffrey – 19 pts
Steve Bishop – 17 pts
Here's a list of the framing pegs in each section so far,
Sadborow
2 – 3 times (won 2)
9 – 2 times (won 1)
7 – 1 time (won 1)
8 – 2 times
4 – 2 times
5 – 2 times
Perry St
5 – 4 times (won 2)
14 – 3 times (won 1)
1 – 2 times (won 1)
7 – 2 times (won 1)
10 – 2 times (won 1)
8 – 1 time (won 1)
13 – 1 time (won 1)
11 – 3 times
17 – 3 times
4 – 2 times
19 – 1 time
Lastly, here's the Nuggetometer. I've had a few problems with it, I think it's malfunctioning!
Next up – Todber Manor
Coming soon – Another great guest post
Check Out – My latest review below